Rosemary Water Is Beloved For Healthy, Lush Hair — Here's A DIY Rinse To Try

mbg Beauty & Wellness Editor
By Jamie Schneider
mbg Beauty & Wellness Editor
Jamie Schneider is the Beauty & Wellness Editor at mindbodygreen. She has a B.A. in Organizational Studies and English from the University of Michigan, and her work has appeared in Coveteur, The Chill Times, and Wyld Skincare.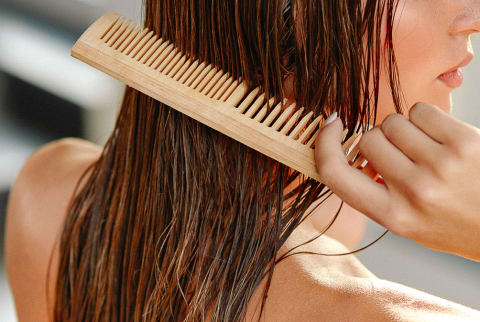 June 16, 2021
To level up your hair care routine, we believe rinses reign supreme. The primary reason we hold them so dear: They're incredibly easy to whip up whenever you want to give your tresses extra TLC. No matter which rinse you choose (apple cider vinegar! Rice water! Green tea!), the treatment will coat your hair in nutrients and practically zap the strands back to life—a total win, especially when the summer heat crisps your ends.
To load up on hair-healthy antioxidants (and maybe even help it grow), might we suggest rosemary? In a recent TikTok video, user Katya Niomi explains how to create a DIY-friendly rinse with the delicious herb.
Advertisement
This ad is displayed using third party content and we do not control its accessibility features.
Rosemary benefits for hair. 
Before diving into DIY, let's address what you're probably wondering: What does rosemary do for hair?
Not only does the plant have a long history of use in herbal medicine (it was highly valued in Egypt, Greece, and Rome for its beauty benefits), but research today also presents promise. A 2015 randomized comparative trial found that rosemary essential oil was just as effective1 as minoxidil (the active ingredient in brands like Rogaine) for reversing hair loss caused by androgens—also known as male- or female-pattern baldness. Of course, these participants diluted the solution in a carrier oil base (you should never apply potent essential oils directly onto the scalp).
That's not to say rosemary works for everyone; holistic board-certified dermatologist Cybele Fishman, M.D., once told mbg that while she has not found it effective for hair loss, "it is an impressive antifungal." Plus, rosemary is brimming with polyphenols, like carnosol, carnosic acid, and rosmarinic acid2. Considering these antioxidants can help neutralize free radical damage on the scalp and hair, the rinse can help strengthen the strands you have and keep them vibrant and lush.
Now let's get into the recipe, shall we?
A DIY rosemary water rinse. 
All you'll need is a few rosemary sprigs, water, and a jar with a lid for storage. Then proceed with the below:
Pour 5 cups of water into a large pot. Drop in 5 sprigs of rosemary (1 sprig for each cup of water), and turn the heat on medium-high. Let the water come to a boil.
Once you have a rolling boil, leave the mixture for 15 minutes.
After 15 minutes, turn off the heat and then let it sit for another 25 minutes. "After 25 minutes, you can see it has a pinkish, reddish hue," notes Niomi.
Strain the mixture and pour the liquid into a jar. Store at room temperature away from sunlight and use within 3 months for the best results.
Advertisement
This ad is displayed using third party content and we do not control its accessibility features.
When you're ready to use the rinse, measure out about ¼ cup of the liquid into a shower-safe container or squeeze bottle for more dexterity. "Unlike rice water, you're going to use this as a last-step rinse," says Niomi. (You would typically use a rice water rinse after shampooing, pre-conditioner; rosemary water is more like a tea rinse, as you want those antioxidants to linger on the hair shaft).
Pour the treatment generously over your scalp and hair, massage it into your roots, and let it set for up to 20 minutes. Rinse and style as usual.
The takeaway.
Add rosemary water to your rinse rotation. Given the herb's polyphenol power (and some data on hair growth), it's a worthwhile add to your hair care routine.
Advertisement
This ad is displayed using third party content and we do not control its accessibility features.