An Easy Roasted Pumpkin Seed Recipe With Immune-Supporting Ingredients*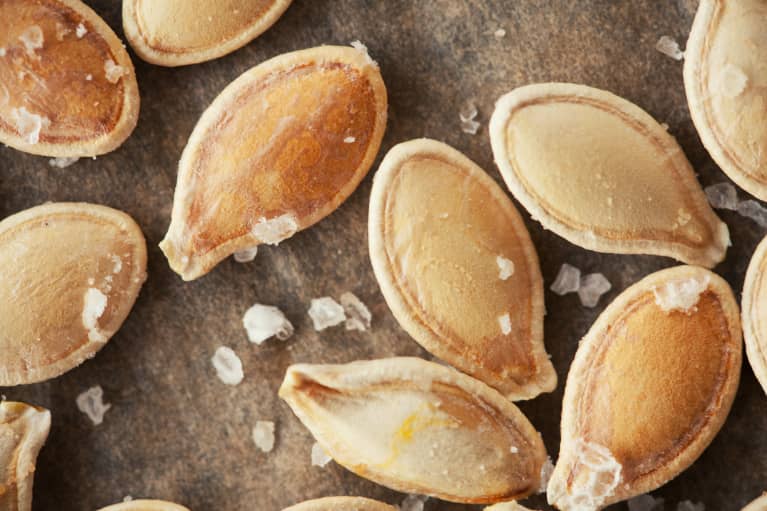 This article was produced to support the mindbodygreen supplements+ line. Our supplements adhere to the highest standards of ingredients and quality. We hope you enjoy these products, for more information
click here
.
While Halloween celebrations may look different this year, there are still plenty of ways to bring the spook, like pumpkin carving. To reduce waste (and get plenty of nutritional benefits), keep and roast the seeds for a low-lift, nutritious snack.
Along with the classic salt and pepper seasoning, adding mindbodygreen's organic veggies+ greens powder can turn the already healthy seeds into an immune-supporting bite.*
Health benefits of pumpkin seeds.
Calories: 163 calories
Protein: 8.46 g
Fiber: 1.84 g
Calcium: 14.7 mg
Iron: 2.29 mg
Magnesium: 156 mg
Phosphorus: 333 mg
Potassium: 223 mg
Zinc: 2.17 mg
While the seeds are healthy on their own, sprinkling veggies+ on top of them is an easy way to increase overall health benefits. "It contains a healthy blend of dark leafy greens, including kale and spinach, which are loaded with beneficial nutrients," professional chef and nutritionist Danielle Shine, previously told mbg.* "The greens powder also features hard-to-find sea vegetables, which provide numerous antioxidants and nutrients, including vitamins A, C, E, and beta-carotene; flavonoids; and carotenoids, among many others.*"
Spices, like ginger and turmeric, encourage nutrient absorption and enhance digestion, which supports gut health.* What does this have to do with the immune system?
Well, "the gut and the immune system are completely intertwined," functional medicine doctor Amy Shah, M.D., previously told mbg. In fact, about 70% of the immune system lies in the gut, she adds. So when the gut is healthy, the immune system follows suit.
As the weather cools down and cold and flu season starts creeping in, keeping the immune system top of mind is critical—and making these pumpkin seeds is a fun and festive way to do just that.
Immune-Supporting Pumpkin Seed Recipe
1 cup unsalted pumpkin seeds
1 Tbsp olive oil
1 tsp. salt
1 tsp. pepper
1 Tbsp. mbg organic veggies+
Preheat oven to 325°F.
Grease a baking sheet with olive oil.
Pour dried pumpkin seeds onto the sheet, and sprinkle with salt, pepper, and veggies+.
Roast for 20 to 30 minutes, or until golden brown.
Season with additional spices, depending on taste.