6 Natural Remedies To Soothe Nausea (Even If You're Pregnant)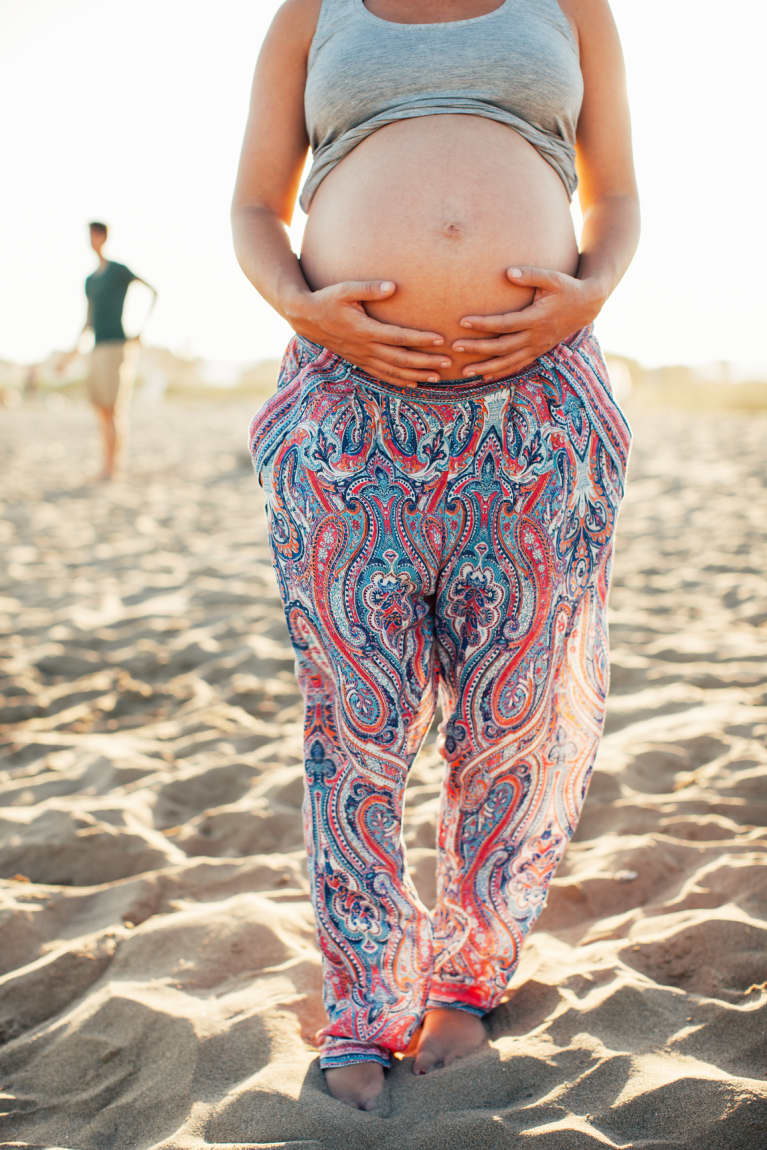 Our editors have independently chosen the products listed on this page. If you purchase something mentioned in this article, we may
earn a small commission
.
Nausea sucks. We have yet to find anyone who disagrees with this statement.
When you partner nausea with a potential three-month time period (or, for some women, longer), in the midst of already heightened and swirling emotions, it can really wear on a woman mentally and physically.
While there isn't one magical food that erases all pregnancy nausea, we utilized the most effective foods and eating strategies to create the recipes for the nausea reduction chapter of our new cookbook, Healthy Happy Pregnancy Cookbook. Here are a few of the most powerful tips:
1. Eat when opportunity strikes.
Pregnancy-related nausea is a fickle, fickle thing. One minute you're bent over the trash can in your office, and the next you actually feel like you could eat something. So, EAT SOMETHING.
Take advantage of any time you feel good (or, at least less nauseated) and have a snack or small meal. Have snacks at the ready, at home and at work.
This may sound counterintuitive since protein-rich foods like animal meats, dairy, and beans are often the types of foods that sound (and smell) the most off-putting, but trust us. Protein-rich foods can actually quell nausea.
If hot protein choices like meat and poultry trigger your gag reflex, you can use yogurt, protein powder, or silken tofu in smoothies to add a protein boost. Or, add nuts, seeds, and nut butters to snacks to boost the protein content.
We love chia pudding that's been frozen in ice-pop molds as a cold, refreshing, protein-rich breakfast or snack.
Cold foods often have a less potent scent, making them easier for a nauseated gal to stomach. In addition, they can feel more refreshing.
Keep the freezer stocked with frozen berries, banana slices, and grapes, which are typically tolerable even when your stomach is turning against you and are rich in nutrients.
Use nutrition-packed smoothies as a meal or snack or try chilled or frozen chia pudding, like in the chia pudding-pop idea we mentioned above. Even cold veggie soups, like gazpacho, can be more tolerable.
There is some decent research related to ginger and nausea reduction. In addition, it's got a really bright, clean flavor that's a welcome addition to a nausea-filled day.
The Lemon-Ginger Zing Cubes (see recipe below) from our cookbook are loaded with spicy fresh ginger and sour lemon to create an ice-cold flavor combo that is soothing to a nauseated stomach.
They can also be added to club soda to create a less sugary version of ginger ale.
B vitamins, specifically B6 and B12, might also help reduce nausea. Some of the best food sources of B6 are chickpeas, liver, salmon/tuna, turkey, potatoes, banana, and marinara sauce. B12 is found in meat, eggs, and dairy products.
We love stirring chickpeas (mashed or whole) into baked goods to boost the protein and B6. Since carb-rich foods are often the ones we crave in the midst of first-trimester nausea, adding protein-rich chickpeas is a win-win.
Cooking fish en papillote (in parchment) can reduce the amount of kitchen smells and make eating B6- and B12-rich fish easier.
An empty stomach can increase the intensity of nausea in the morning (that's part of the reason many women experience the worst nausea in the morning and why it's often called morning sickness––though it certainly can, and does, strike at any time).
Keep whole-grain crackers or a piece of fruit on your bedside table to nosh on before you even sit up in the morning. Or, you can try making something like peanut butter toast (or half a peanut butter sandwich) to snack on first thing in the a.m. as soon as your eyes open.
These cubes are not for the faint of heart ... but they are for the nauseated. A strong (emphasis on strong) ginger flavor dominates and helps soothe an upset stomach while the tart lemon delivers a bright flavor.
Pop one first thing in the morning or whenever nausea strikes. Or plop one or two into a glass of seltzer water for a sort of homemade lemon-ginger ale.
Makes 16 servings (1 cube per serving)
Ingredients
3⁄4 cup freshly squeezed lemon juice (about 5 large lemons)
3⁄4 cup water
1⁄4 cup honey
2 tablespoons grated fresh ginger
Preparation
Puree the lemon juice, water, honey, and ginger in a blender until smooth, about 1 minute. Strain through a fine-mesh sieve or cheesecloth into an ice-cube tray and freeze until solid, 4 hours or overnight.