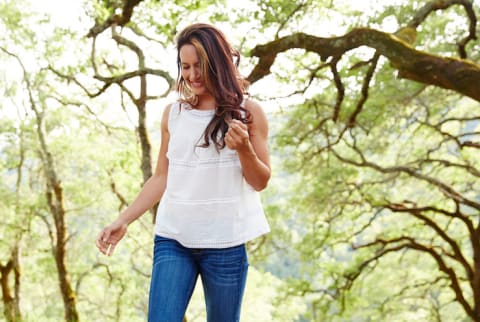 November 22, 2015
No, I wasn't on death row — but it sure felt like it when I was sentenced with Stage 4 lung cancer back in February 2012.
I was 47 years old and not yet ready to leave this world. Being on the receiving end of news like this, with a dim prognosis of ever seeing my 48th birthday and in a world that had already given up hope on me surviving the No. 1 killer cancer… my life was without a doubt going to change.
I was determined to fight my disease and to make the best of whatever time I had left. My diagnosis had caused me to change my life in many ways — and all for the better.
Once my life had a deadline, I made decisions, got it done, and never looked back.
Almost immediately, I started making radical changes to improve my quality of life. (I was otherwise healthy and never smoked a day in my life, so I had a head start.) I loved all the improvements I made so much that I have no plans to go back to my old ways. Ever.
Here are some of the wonderful changes that my diagnosis caused me to make:
1. I eat healthy and take better care of myself.
In addition to my making exercise and meditation habits, my cancer diagnosis caused me to switch to a primarily plant-based diet.
Among other things, sugar quickly became a big no-no. Since I was addicted to sugar, processed and junk foods, and pretty much anything that tasted good (i.e., anything that's bad for you), this was an especially big challenge for me.
But knowing that eating a healthy diet was an important part of my treatment made the change worth it. Bonus: I got down to a size six for the first time in my life!
2. I grew my faith.
As part of my faith journey, I pondered the most difficult times in my life — my parents' cancer diagnoses, their deaths, my divorce, times of unemployment — and realized that God had gotten me through all of them. So, why wouldn't I trust that He'd get me through this?
I asked God for healing and believe I received a miracle. I'm a Stage 4 lung cancer survivor that has been off all treatment (except prayer treatment) for almost two years. All things really are possible, and I find my life so much more fulfilling with God in it.
3. I'm doing things I never would have dreamed of doing.
My diagnosis opened many doors for me, and I've really stepped outside my comfort zone. I've shared my story publicly; I've become a passionate lung cancer spokesperson and have raised close to $200K and funded two lung cancer research studies.
I push myself physically, like racing up 2,340 stairs every year for charity (with lung cancer!). And I put fear aside and try new and different things as often as possible — not always successfully, but I enjoy trying!
4. I rid my life of negativity.
After my diagnosis, I pruned the people, things, relationships, and situations that had a negative impact on my life. Instead, I devoted more time to those people and things that bring me joy.
The result: stress-free living.
5. I do more for others and love the way it makes me feel.
I've made gift-giving a habit. I don't mean just wrapping and giving presents to people (which I love doing and do often!) but also giving generously to charities that have special meaning to me, volunteering, and passionately giving hope to other cancer patients.
After all, how can being a blessing to others not make you, yourself, feel blessed? For me, it's worth more than the money spent on the gift or the time sacrificed for someone in need.
6. I handle life situations better.
I'm stronger. So much so that when I look back at all the changes I made and the challenges I faced during my two years of treatment, I think, Who was that person?!
I realized I had an inner strength and tenacity (and an awesome support system) that I never knew I had. You really don't know just how strong you can be until it's the only choice you have!
7. I don't put things off to that unforeseeable day.
Shortly before I was diagnosed, I bought a new home. I'd been living in it for about a year before buying any furniture or decorating it because I kept changing my mind about the style I wanted. But once my life had a deadline, I made decisions, got it done, and never looked back. It caused me to make my home a healthy living environment, too, which my houseguests, my cat, and I can all benefit from.
I also stay better connected to my friends. Whenever I think of them, I pick up the phone and call them or send them an email, card, or text rather than waiting for a block of time to magically appear in my schedule.
And, although I loathe the term "bucket list" (especially having been diagnosed with a terminal illness), I've definitely been crossing things off my "to-do ... one day" list.
Life truly is a gift and can be taken away at any time. Be grateful for every day you are blessed to live in this world by making good-for-you changes in your life. But start today. With gusto (and a green smoothie).
November is Lung Cancer Awareness Month and, on behalf of all those living with lung cancer, I want to make you aware of this disease that kills more people than breast, colorectal, and prostate cancers combined. Please help support the researchers, scientists, and doctors that are working hard to eradicate this horrible disease. I am personally grateful to them since, due to their contributions, I was able to celebrate my 51st birthday last month (my fourth birthday post-diagnosis)!

Susan Warmerdam
Susan is a stage IV lung cancer survivor, a passionate advocate and supporter of research, and is fighting hard for a world free of the disease. She is a spokesperson for and recipient of several volunteer awards by the American Lung Association. You can read her inspiring story HERE. Susan lives in Chicago and eats a primarily plant-based diet that she believes played a crucial role in her healing and can only imagine what it could do for someone that doesn't have cancer!