5 Quick, No-Fuss Hairstyling Tips For Your Virtual Meetings

Beauty & Health Editor
By Jamie Schneider
Beauty & Health Editor
Jamie Schneider is the Beauty Editor at mindbodygreen. She has a B.A. in Organizational Studies and English from the University of Michigan, and her work has appeared in Coveteur, The Chill Times, and Wyld Skincare.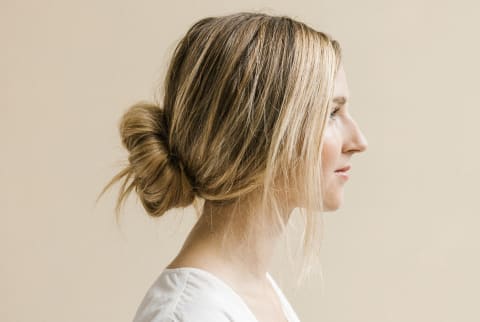 Image by Nicole Mason / Stocksy
April 20, 2020
We carefully vet all products and services featured on mindbodygreen using our
commerce guidelines.
Our selections are never influenced by the commissions earned from our links.
While there are benefits to committing to an all-natural look (physically, for your skin and hair, and perhaps mentally, for your confidence), you might be aching to get ready for a social event, even if said social event is a weekly touch-base with co-workers. And that's OK! For some, getting primped and preened can offer some semblance of routine in this time of uncertainty.
To prepare for those aforementioned meetings and virtual get-togethers, here are some expert-approved styling advice (don't worry, no hot tools or makeup brushes required) that don't take much time or product (you know, in the event you're running low on your beauty favorites). The most important thing, though, is that you feel good about yourself and that you're finding joy in new ways:
1.
Lean in to sleek styles.
If your grease is past the point of no return, perhaps the best move is not to fight it at all. Rather, accept the grease; better yet—make it your own.
Slide an oil hair treatment through your strands and let it soak throughout your next Zoom call. Twist your oiled-up hair into a high pony or tight bun, and the result is actually pretty chic: "A little shine looks great on a sleek hairstyle," says hairstylist Clay Nielsen. You'll be rocking an on-trend, slicked-back look while simultaneously adding shine and repairing your strands. When you're done, of course, just remember to thoroughly rinse the oil so you don't cause too much buildup.
2.
Braids are your friends.
Whether you go full pigtails or opt for an elegant French braid down your back, rely on those plaits to keep your hair out of your face (and away from the view of others, if you choose). Plus, pulling your hair up and away can help you resist the urge to twirl your fingers through your strands, which as we know can lead to even more oil and frizz.
You can even use braids to get some heatless curls if you're feeling fancy: "When your hair is wet, put it in a quick simple braid. Once the hair is dry, you'll have the perfect cool-girl wave," says hairstylist Alicia Miller, national master trainer for Davines North America.
3.
Dig up your playful accessories.
Perhaps the best way to take the attention away from an untamed mane is to add an accessory. Have greasy roots? A headband is your new best friend. Suffering from split ends? Weave a colorful scarf into a side braid.
Call upon your inner teenager and dig up your old hair clips, scrunchies, and barrettes—the bolder the accessory, the bigger distraction from your unwashed hair (or, uh, an at-home haircut gone wrong).
"I'm a huge fan of a (purposefully) messy pony to bring some life into my hair if I don't have time to wash," says Faith Huffnagle, hairstylist and education director at Prose. Grease can cause your hair to lie limp and flat at the root, so throwing it up into a tousled pony or top knot can help you fake some volume.
5.
Highlight your on-camera features.
If wearing zero makeup isn't something you want to do, you can of course take a peek into your makeup bag. There are plenty of effortless makeup tricks you can turn to that aren't a full face of makeup. Makeup, let's remember, isn't all-in or all-out; there's a spectrum of looks you can pull inspo from. Let's say you might want to steer clear of the heavy-duty foundation, but a swipe of brow gel or mascara can help you feel more put-together, even if you have a strict, sweatpants-only quarantine uniform.
For makeup artist Elyse Frieri, store manager at clean beauty retailer Credo, she's partial to a pop of color on the lips to help them stand out. Choose a fun shade you normally wouldn't go for (it's the time to experiment, after all), and tap the product onto the center of your lips and on the apples of your cheeks to give them some camera-friendly color.
You can also throw a cream highlighter into the mix: "Adding a touch of dewy finish to the center of your eyelids and inner corners of the eyes will make them look bright and awake," says makeup artist Jenny Patinkin. As for that unforgiving computer screen glare, Patinkin recommends tapping some loose powder on the T-zone—especially on the forehead where the camera tends to reflect the most light. Just a touch of product can work wonders.
There you have it: quick, expert-approved tips that will have you feeling fresh in seconds—well before you click Join Call.

Jamie Schneider
Beauty & Health Editor
Jamie Schneider is the Beauty Editor at mindbodygreen. She has a B.A. in Organizational Studies and English from the University of Michigan, and her work has appeared in Coveteur, The Chill Times, and more. In her role at mbg, she reports on everything from the top beauty industry trends, to the gut-skin connection and the microbiome, to the latest expert makeup hacks. She currently lives in Brooklyn, New York.