A Pumpkin Soup Recipe With Secret Digestion-Supporting Ingredients
Registered Dietitian
By Ella Davar, R.D., C.D.N.
Registered Dietitian
Ella Davar, R.Dd, C.D.N. received her education in Nutrition Science from New York University, and an Integrative Nutrition Certification from the Institute for Integrative Nutrition.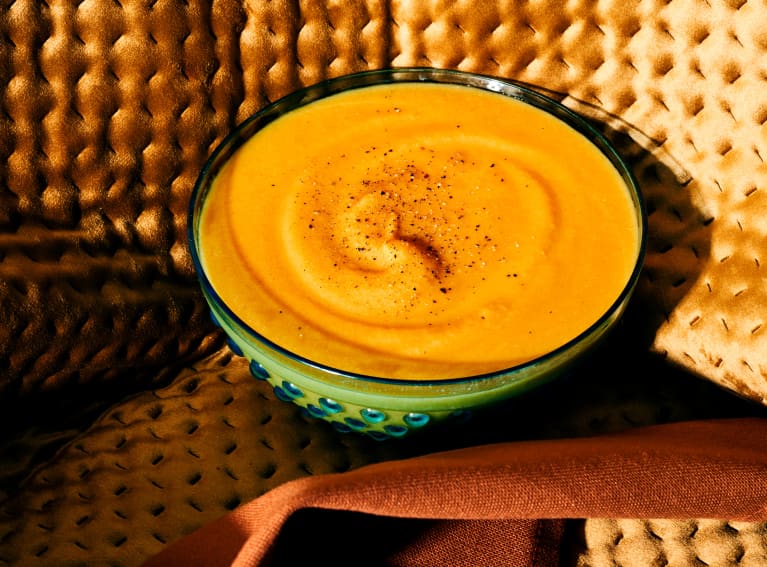 This article was produced to support the mindbodygreen supplements+ line. Our supplements adhere to the highest standards of ingredients and quality. We hope you enjoy these products, for more information
click here
.
If you're not the pumpkin-patch or apple-picking type, a trip to the farmers market can just as easily get you into the fall spirit. While there's plenty of fall produce to choose from, stick to just three on your next visit—that's all you need to make my healthy pumpkin soup recipe.
Along with the immune-supporting benefits of autumn produce, this simple soup also contains a secret digestion-supporting ingredient: mbg organic veggies+.
Pumpkin soup health benefits.
The greens powder contains a digestive blend of ginger, turmeric, and cinnamon. These quintessential fall spices are paired with digestive enzymes, which have been proved to help break down food and enhance nutrient absorption while supporting gut health and digestive function.*
This creamy vegetable soup is also rich in natural fibers, like cruciferous vegetables and flaxseed, as well as pre- and probiotics to nourish the microbiome.* More specifically, it contains Lactobacillus and Bifidobacterium strains, which have been shown to promote regularity, even in constipated adults.*
The warm orange hue of the pumpkin and carrots comes from beta-carotene, which converts to vitamin A in the body. This antioxidant helps manage inflammation and fights free radicals, playing a role in overall immune functioning and even eye health.
Yes, all those benefits with just five ingredients and three simple steps. Here's more on how to make it.
5-Ingredient Pumpkin Soup Recipe 
½ pumpkin (or butternut squash), peeled and chopped
1 carrot, chopped
1 onion, diced
1 cup bone broth
1 to 2 tbsp. mbg organic veggies+
Optional: Add Himalayan sea salt and a drizzle of extra-virgin olive oil on top.
Steam all 3 vegetables together.
Add to a pot of hot bone broth and mbg organic veggies+.
Blend together, using an immersion or a standard blender.