mbg Food Contributor
By Elissa Goodman
mbg Food Contributor
Elissa Goodman is a cleanse expert based in Los Angeles, California, certified in integrative nutrition through the American University of Complementary Medicine. She holds a bachelor's in advertising and marketing from Arizona State and a bachelor's in business from the University of Arizona.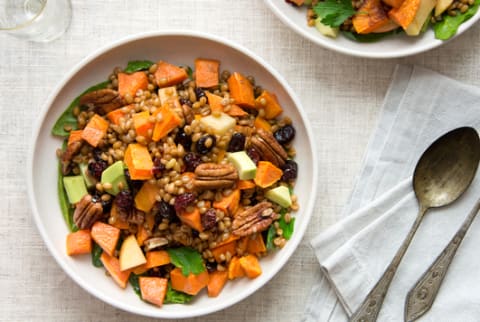 December 20, 2016
Is it possible to get your beauty benefits from a protein packed, superfood bowl? On a consistent basis, eating this way will do wonders for your skin! Starting with the wild rice base and building up to the beta-carotene-rich sweet potatoes, probiotic tempeh, and sweet bite of dried cherry, this winter bowl contains essential minerals, vitamins, and antioxidants that promote younger-looking, more vibrant, and radiant skin.
I love using wild rice in a bowl because it contains up to 30 times more antioxidants that white rice, and these antioxidants equal major free-radical-neutralizing benefits. Why tempeh over animal-based protein? This fermented soybean has a whopping 16 grams of protein in as little as 3 ounces, and fermented soy products increase hyaluronic acid in your skin, the component that helps keep your skin firm, toned, and hydrated. Adding in a vitamin C and beta-carotene-rich sweet potato helps the body produce collagen that maintains the elasticity of youthful skin and protects against signs of aging. The addition of walnuts gives this bowl an omega-3-fatty-acids boost and omegas lock moisture and nutrients into the skin, helping it look plump and glowing.
Every ingredient in this bowl is exactly how one should be eating for a healthy, glowing complexion during these dry winter months!
Wild rice
Because of its essential mineral and antioxidant content, wild rice stimulates growth and repair all throughout the body and slows the visible signs of aging. Wild rice contains 20 to 30 more times antioxidants than white rice, neutralizing free radicals that accumulate in the skin. There's about 7 grams of protein in 1 cup, cooked.
Sweet potatoes
Beta-carotene and carotenoids in sweet potatoes protect against the effects of aging, promoting younger-looking, more radiant skin. They are a good source of vitamin C, which produces collagen to maintain our skin's elasticity.
Tempeh
This fermented soybean has the same protein quality as meat; it packs in a whopping 16 grams of protein in a 3-ounce serving. It offers the health benefits of soy without the drawbacks of processed soy products, because it's fermented. Tempeh has a good amount of isoflavone genisten, which provides anti-inflammatory benefits. Fermented soy products increase the hyaluronic acid in your skin, helping to keep it firm, strong, and moisturized.
Dried cherries
Cherries slow the aging of skin; they have the highest antioxidant level of any fruit and fight free radicals that speed up our signs of aging.
Walnuts
Walnuts contain several unique and powerful antioxidants that are available in only a few commonly eaten foods. This includes the quinone juglone, the tannin tellimagrandin, and the flavonol morin. Walnuts are omega-3-fatty-acid powerhouses, and the healthy fats found in walnuts reduce skin inflammation and can protect your skin against UV rays.
Celery
Celery is a good source of vitamins A and C, which act as antioxidants and protect your skin from the signs of aging caused by free radicals. They also contain vitamin E, which nourishes and moisturizes your skin.
Lemons and oranges
Lemons are rich in vitamin C and citric acid, so they can help brighten and lighten your skin over time. They also have antioxidant, antibacterial, antifungal, and astringent properties that help improve the appearance and condition of your hair, skin, and nails.
Wild Rice Winter Wonderbowl
1 cup wild rice blend, uncooked
½ teaspoon Herbamare seasoning blend
2 tablespoons organic olive oil or coconut oil
2 cups sweet potato, diced
2 tablespoons coconut oil
8-ounce package of tempeh
2 tablespoons coconut nectar
2 tablespoons Bragg's Coconut Aminos
½ teaspoon chili powder
¼ cup dried cherries
½ cup fresh, finely chopped celery
⅓ cup walnuts, chopped
juice and zest of 1 lemon and orange
½ cup fresh parsley, finely chopped
extra-virgin olive oil
sea salt and pepper
Preheat oven to 400°F. Line a baking sheet with parchment paper.
Add wild rice blend to a pot and cook according to directions (add salt).
Toss the diced sweet potato in coconut oil or olive oil, sprinkle with Herbamare. Arrange in a single layer on the baking sheet. Bake for 20 minutes, until fork tender but not mushy. Set aside.
While sweet potato cooks and rice steams, prepare tempeh. Add the coconut nectar, coconut aminos, and chili powder into a small mixing bowl and whisk; set aside. Cut tempeh into 1-inch cubes.
Heat coconut oil in saute pan over medium-high heat. Place tempeh in the hot oil in a single layer and cook until golden and crisp on each side (approximately 1 to 2 minutes per side).
Remove cooked tempeh from pan and place into the mixing bowl with the coconut nectar and aminos. Toss tempeh to coat.
In a large bowl, add the steamed rice, sweet potato, coconut tempeh, walnuts, celery, dried cherries, and chopped parsley.
Add lemon juice and zest and the orange juice and zest, along with a generous drizzle of olive oil. Add salt and pepper as needed and garnish with additional fresh parsley.

Elissa Goodman
mbg Food Contributor
Elissa Goodman is a cleanse expert based in Los Angeles, California, certified in Integrative Nutrition through the American University of Complementary Medicine. She holds a bachelor's in advertising and marketing from Arizona State and a bachelor's in business from the University of Arizona.
Through her journey of healing herself from Hodgkin's lymphoma at age 32, losing her husband, and raising two daughters, Goodman has found that balance, nutrition, and self-love are the best medicine. Her mission is to educate and encourage healthy, mindful living, helping others embrace the concept that we are a product of what we eat and how we treat ourselves.
Goodman specializes in a unique blend of conventional nutrition paired with holistic, supplement, and superfood recommendations that support clients with a range of health goals. Creator of Cleanse Your Body, Cleanse Your Life, and the S.O.U.P. Cleanse, she makes cleansing accessible to those looking to renew, recharge, rejuvenate, and maintain their healthy lifestyle.
Her first book, Cancer Hacks, was released in June 2016.