I'm A Naturopathic Physician & This Is My Go-To Mineral Rich Broth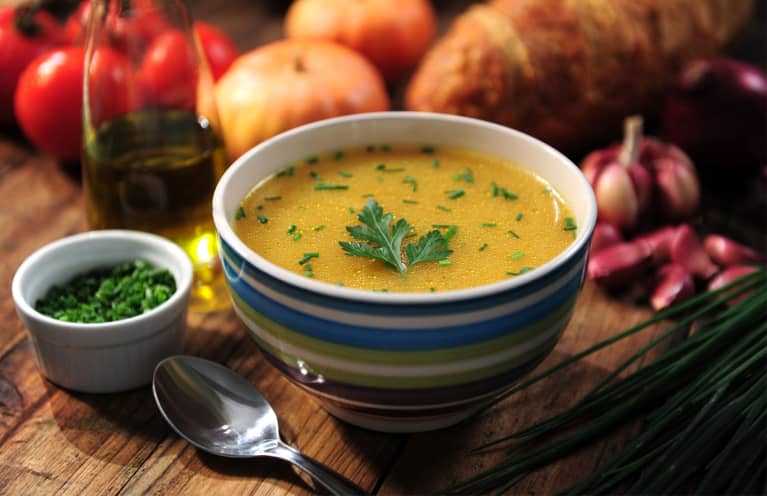 Our editors have independently chosen the products listed on this page. If you purchase something mentioned in this article, we may
earn a small commission
.
While many people may just sip on bone broth on its own, it can also be a base for recipes like soups, or a way to add more nutrients to your grains as they cook.
Some lesser-thought-of ways to use a nutrient-packed broth like this one? Add it to homemade sauces and condiments, or try mixing it into scrambled eggs for extra flavor.
Vegetarian Potassium-Rich Broth
2 medium or 1 large sweet potato or yam, scrubbed and cut into 2-inch pieces
1 bunch Swiss chard, cut into 2-inch pieces, including the stems (about 6 leaves)
2 to 3 big handfuls spinach, about ½ to ¾ of one 5-ounce box/bag
3 medium zucchini, cubed into 2-inch pieces
2 stalks celery, cut into 2-inch pieces
2 to 3 plum tomatoes, quartered (optional)
Medium onion or 1 leek; cut the onion into wedges; slice the white part of the leek into 2-inch pieces
½ bunch parsley
Garlic cloves, smashed 2 to 3 teaspoons salt
1 teaspoon ground black pepper or 8 whole peppercorns
2 bay leaves
1 or more tablespoons of coconut aminos (optional)
Wash all the vegetables well and put all ingredients except for the coconut aminos into a large pot.
Cover with 1 gallon of filtered or bottled water.
Bring to a boil over high heat, then immediately reduce the heat to low, cover, and simmer for about 2 hours.
When done, let cool, strain, and add the coconut aminos (if using), 1 tablespoon at a time, to taste.
Store broth in glass jars or covered containers in the refrigerator in glass jars for up to 5 days. If you are not using immediately, freeze for up to 1 month.
Note: You can also make this broth in a slow cooker. Cook it on low for about 2 hours. To make a smaller amount of broth, halve the recipe. Because of the short cooking time, a pressure cooker is not recommended.
Recipe from DR. KELLYANN'S BONE BROTH DIET. Copyright © 2021 by Dr. Kellyann Petrucci. Published by Rodale Books, an imprint of Penguin Random House.