How Your Home Can Be A Force Of Support After A Breakup Or Divorce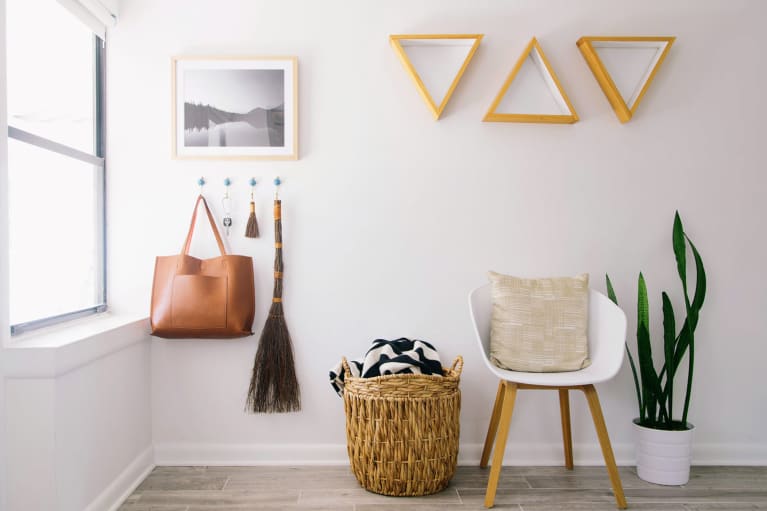 When I was a little girl, my parents let me pick my own bedroom paint color. I chose a jarring and generally awful Pepto Bismol pink, but at the time it was everything. In those days I'd walk home from school back into my room and instantly become the queen of my castle. I reigned over my queendom of books, colored pencils, sketch pads, music, and boy band posters lining nearly every inch of my perfectly pink walls. When I looked around, I only saw things that made me happy. I was free!
And that's what it should feel like to craft a home that helps you find your shine again after a breakup or divorce. Here's how you can use what I like to call conscious interior decorating strategies to turn your home into your own personal paradise:
The best thing about a fresh start is the chance to start again and realign with what you really want out of life. First things first: Decide what exactly you want your home to welcome. Are you after healing, freedom, getting your sexy back, the simple life? Journal about it and get clear on what you are choosing to call in at this point in time. This will be the foundation of how you decorate your new space.
2.
Decide how YOU want it to function.
How often did you make choices—from how to decorate your space to how to dress—based on the needs or expectations of others? Now, it's all about you.
Who says you need a formal living room if you've always wanted a yoga mat and plenty of space to practice at home? Pile up colorful and beautifully embroidered floor pillows that can be moved around. If you choose to work from your kitchen table, why do you need a desk? You're finally in the position to choose what you keep in your home based on how you most authentically live. So get rid of the things that no longer serve you and get to owning who you really are.
3.
Carve out space for self-care.
No matter how you feel at the time of a breakup or divorce, all wounds require healing. Create a home that allows you to be compassionate with yourself. Add nurturing areas for practices that will support balance, healing, and wellness—like a self-love altar or meditation area. The elements of your home should converge to make you feel good. As you're purchasing your sofa, your bedding, your mattress and rugs, ask, is it comfortable? How does it feel to touch? Does this make me feel anxious or relaxed?
4.
Add some life—literally.
Starting a mindful practice goes beyond meditation. In this case, it even goes beyond being present. It's about considering what will fill your soul and bring you peace in this moment. Asking those sorts questions will help you recalibrate and return to center.
A great way to do this is by bringing living energy into your home. Fill it with plants, buy yourself flowers every week, or even take the plunge and adopt a furry friend. Few things are more effective at bringing us back to love than caring for living beings.
If ever there was a time to change up your style, it's now. If your old place was traditional, consider going modern, eclectic, or boho chic. If your old home was painted in neutral tones, add color. Were you a maximalist? Maybe this is a chance to go minimalist or blow it completely out of the box and really bring the drama. The best way to shift energy is to do something different.
Make it sexy! Become fully expressed. We're all sexual beings after all. Use this as an opportunity to explore your femininity or masculinity or anything in between. Do a boudoir session and use the images as wall art. Buy satin sheets. Add pinks and reds to the love area of your home based on the bagua in feng shui.
Finally, use elements that heal. Colors have a profound psychological influence on us, so choose yours based on which emotions you want to inspire. Oh, and don't forget your crystals! Hematite for healing, rose quartz for love, amethyst for compassion, and pyrite so you can shine like the star you are.
May your new space, infused with the purest essence of your authentic self, help you thrive and blossom into your next chapter.