The Glowing-Skin Diet: 3 Plant-Based Dinners Designed To Plump, Brighten, And Tone

By Lily Kunin
mbg Contributor
Lily Kunin is an Integrative Nutrition Health Coach, cookbook author and business owner living in New York City. She is the owner of Clean Market, a café, apothecary and functional tonic bar.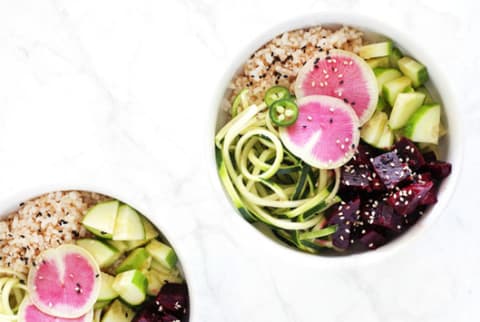 June 29, 2017
Minimalist rockstar Lily Kunin knows where it's at when it comes to plant-based meals and glowing skin. You'll often spot her collaborating with makeup guru Bobbi Brown on how to be beautiful from the inside out—so we thought we'd pick her brain (and her kitchen!) for some easy, plant-based dinners designed to give you that lit-from-within quality. These recipes, excerpted from her new cookbook, Good Clean Food, are all easy, inexpensive, and super quick to make.
Advertisement
This ad is displayed using third party content and we do not control its accessibility features.
Sweet Potato Noodles With Pesto Sauce
You know how retinoids are a godsend for anti-aging topically? Consider sweet potatoes the internal version. The Vitamin A in these sweet potato noodles helps trigger your body to slough off old skin cells.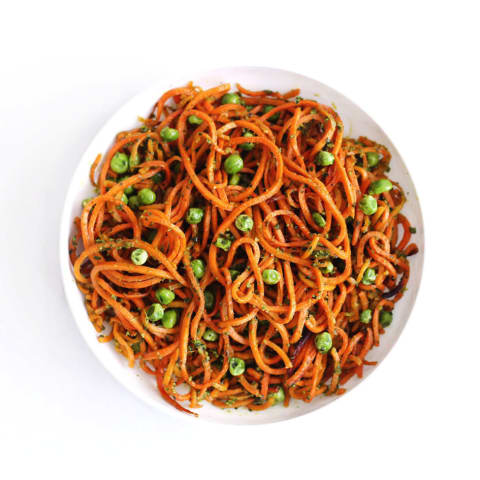 Advertisement
This ad is displayed using third party content and we do not control its accessibility features.
Ingredients
For the sweet potato noodles:
2 tablespoons OmegaOil or olive oil
2 small to medium sweet potatoes, spiralized
1/2 cup frozen organic peas
4 large kale leaves, stems removed and roughly chopped
1/4 cup raw pepitas
1 clove garlic, grated
Juice of 1/2 lemon (about 1 tablespoon lemon juice)
1/2 teaspoon salt
1/3 cup extra-virgin olive oil
Water as needed, to thin
Advertisement
This ad is displayed using third party content and we do not control its accessibility features.
Preheat the oven to 375°F. Line a baking sheet with parchment paper and set aside.
Heat a large skillet over medium heat and toast the pepitas until they start to turn golden, being careful not to burn.
Toss the sweet potato noodles with oil and a few pinches of salt. Bake in the oven for 18-20 minutes, or until the noodles are cooked through.
Meanwhile, prepare the kale pesto by combining the kale, toasted pepitas, garlic, lemon, and salt in a blender or food processor. Blend on the lowest speed while slowly adding the olive oil. Increase the speed slowly until pesto is relatively smooth. Add a couple teaspoons additional oil or water to help this process along as needed.
In same pan you toasted the pepitas, add the frozen peas and cook for a minute or two, stirring occasionally. You may need to add a splash of water here to help the process along. Once the peas are heated through, add the sweet potato noodles to the pan and about half the pesto. Toss until the noodles are well-coated, adding more pesto as needed.
Divide between bowls and enjoy!
Walnut Taco Salad
Walnuts are packed full of healthy fats that will help make your skin look plumper and more moisturized. Carrots add in Vitamin A, and the greens give a healthy dose of fiber, which moves things along in your digestive system (in Ayurveda, blocked digestion is considered a leading cause of blocked pores).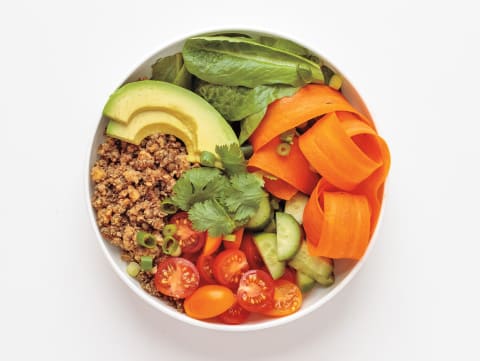 Advertisement
This ad is displayed using third party content and we do not control its accessibility features.
2 tablespoons olive oil
Juice of 1 lime
1 teaspoon raw honey
1 garlic clove, peeled
Sea salt or pink salt
Freshly ground black pepper
1 cup cooked French green lentils
1 cup walnuts
1 tablespoon low-sodium gluten-free tamari
1 teaspoon ground cumin
½ teaspoon paprika
1 tablespoon olive oil
Advertisement
This ad is displayed using third party content and we do not control its accessibility features.
2 handfuls spinach and other mixed greens
1 small cucumber, thinly sliced
1 carrot, shredded
1 Handful cherry tomatoes, halved
1 avocado, halved and thinly sliced
2 scallions, thinly sliced
Cilantro, for garnish
For the dressing: In a small bowl, combine the olive oil, lime juice, and honey. Smash the garlic clove and let it marinate in the mixture for 10-15 minutes while you prepare the rest of the salad. Remove the garlic clove just before serving and add salt and pepper to taste.
For the walnut taco crumble: In a food processor, pulse all the ingredients until the mixture is just combined, and the texture is a rough crumble. Taste and adjust seasoning, as needed.
For the salad: Toss the greens, cucumber, carrot, and tomatoes with just enough of the lime dressing to coat the veggies. Divide the salad into two bowls and serve it with a big scoop of the walnut taco crumble, sliced avocado, scallions, and cilantro. Drizzle on the remaining dressing as desired.
Chilled Avocado Gazpacho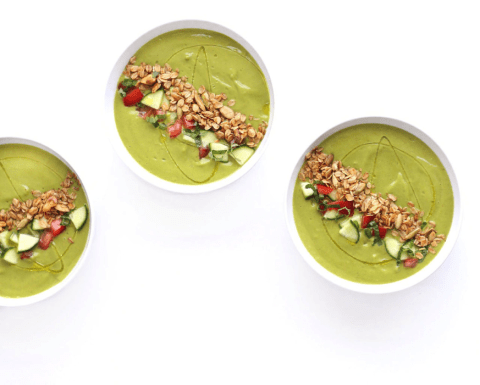 This soup is all about hydration, from the silica-rich English cucumber, which helps draw water to your cells, to the mineral-rich pink salt and Vitamin C–packed lemon juice. The healthy-fat-filled avocados only add to the skin-glowing equation.
Ingredients
Soup
2 tomatoes
2 ripe avocados
1 large English cucumber
1 ½ cups cold water, plus more as needed
2 cups spinach
½ jalapeño, optional
Handful of basil
1 clove garlic
2-4 tablespoons lemon juice
1 teaspoon pink salt or sea salt
Olive oil
1 cup gluten-free rolled oats
½ cup pepitas
½ cup walnuts, roughly chopped
Dash of cayenne
Dash of paprika
½ teaspoon pink salt or sea salt
¼ cup oil of choice
1 tablespoon honey
For the granola: Preheat the oven to 350°F. Line a baking sheet with parchment and set aside.
In a medium mixing bowl, combine the oats, pepitas, walnuts, cayenne, paprika, and salt; mix well. In a small bowl, combine the oil and honey; mix and add the oats. Stir well and spread out on the baking sheet.
Bake for 20-25 minutes, stirring halfway through, or until golden brown. Let cool completely.
For the soup: Reserve one tomato, half of the cucumber, and a couple basil leaves for the topping. Combine the remaining ingredients in the blender and blend until smooth. Add additional water as needed; it should be a creamy but pourable consistency. Season with lemon and salt to taste. Refrigerate before serving.
Dice the reserved tomato and cucumber. Add it to a medium bowl and combine it with thinly sliced basil, olive oil, lemon, salt and pepper. Jalapeño is a nice addition here as well.
Serve soup in small bowls topped with granola, tomato-cucumber salsa, and a drizzle of olive oil. Enjoy!