Why Tackling Period Stigma Is Necessary For Ending Period Inequality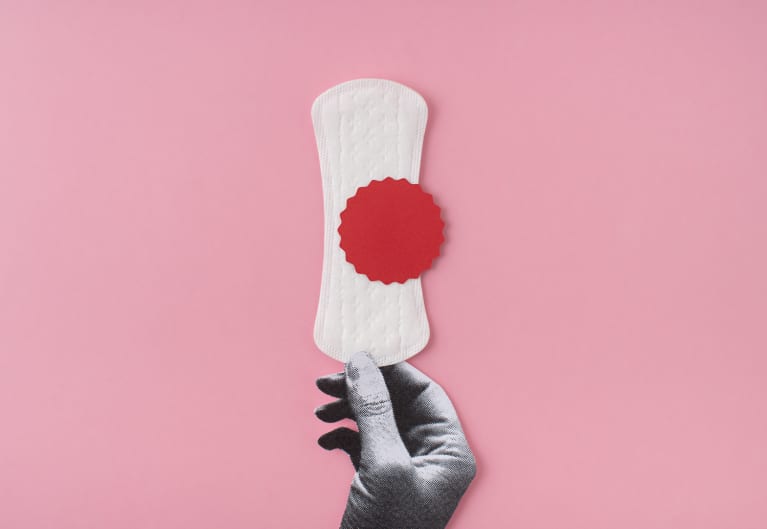 In the last several years, we've seen a tremendous rise in conversations and activism around period inequality, which typically refers to the lack of access to menstrual care products and facilities in low- and middle-income communities, in addition to among the incarcerated and those suffering from homelessness. Many studies have shown that in some countries, being unable to afford or get access to period supplies can directly affect girls' and women's educational and economic opportunities, with girls in certain cultures opting to skip class on their menstruation days or even drop out of school because there's no affordable or accessible way to manage their bleeding.
A lot of the work to combat this overarching menstrual inequity involves getting pads, tampons, and other care products into the hands of these populations, including pushing for free period supplies in schools and creating funnels to donate supplies to communities that need them. Providing these tangible resources is a crucial part of the work. That said, especially when it comes to tackling period poverty on a global scale, new research led by Johns Hopkins University and the University of Exeter Medical School find there needs to be a second and equally prioritized push as part of any solutions to menstrual inequity: We need to destigmatize periods.
That might feel like a no-brainer in the U.S. these days, but the new study—a systematic review of 76 past studies on over 6,000 women and girls from 35 countries, just published in the journal PLOS Medicine—found the ongoing cultural stigmas around menstruation in many countries had as strong an effect on women's and girls' physical and psychological health, education, employment, and social participation as lack of access to menstrual products and facilities.
The narratives about period care.
"Our integrated model suggests that changes to girls' perceptions of their practices may cause distress as they struggle to adopt new practices advised in education interventions in an unsupportive physical environment," the researchers write in the paper on their findings. "Interventions that focus on products may maintain menstrual stigma and reinforce behavioural expectations that concealing menses is paramount. Such interventions may have positive impacts on containment in the short term but risk greater harms if access to more reliable menstrual materials is unsustained."
In other words, although providing access to reliable menstrual care products demonstrably improves the lives of menstruating people and their ability to participate in society without fear of leaks or embarrassment, we need to be careful about the message we're sending. It's easy for the underlying message to women and girls, especially those without quality sex education, to be confused as supporting existing demoralizing narratives about menstruation: Here are better products that make it way easier to hide your periods, because periods are gross and need to be hidden.
The biggest take-away here is that, as we move to provide access to these necessary health supplies for communities around the world, we must simultaneously be providing broader education that deconstructs menstrual stigma and creates new cultures of empowerment, pride, and normalization of periods.
The researchers' recommendation: "Future interventions should seek to address identified antecedents of menstrual experience, including knowledge, social support, restrictive behavioural expectations, and the physical and economic environment."
"Menstruation as a pride, not a taboo."
Fortunately, there are already many incredible organizations doing this work of both improving access to menstrual care supplies and helping communities challenge and rewrite the narratives around menstruation.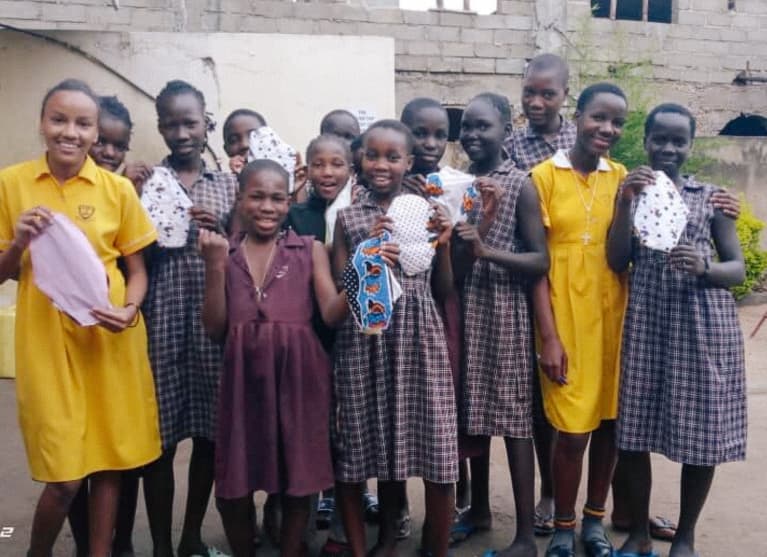 The HerStory initiative of international nonprofit Global G.L.O.W., for example, collaborates with young women in 27 countries to develop and lead grassroots programs tackling their social and educational needs, including two local groups in Uganda and Cameroon that are working to tackle period inequity and period shame in their communities. The Cameroon project, called "Menstruation: A Pride NOT A Taboo," is done in partnership with Cameroon-based organization World Vision for Education and Development. In addition to running workshops to teach girls how to make their own pads, they also run workshops meant to educate women and men about periods and shift to a more empowering view of menstruation.
"Menstruation is still regarded as a taboo since our mothers are not able to discuss topics of menstruation with their daughters, and there are certain families where girls cannot cook in their homes or enter certain rooms due to the fact that they're menstruating," says Blessing, a 14-year-old girl who is one of the leaders of the Cameroon project, in a video documenting their work. "I have been visiting church groups or gatherings which have educated our community parents on the importance of teaching their daughters about menstruation."
Blessing adds, "I call on the government, organizations, and NGOs working on girl-related issues to take action by funding the production of reusable sanitary pads and to educate girls on menstruation as a pride and not a taboo."
For individuals, there are plenty of ways to support the fight for period equity. Donating money and products to the many organizations and projects like these is a great way to get involved. Another great way to integrate this support into your normal routines: Cora, a wellness company known for its organic tampons and customizable period subscription boxes, maintains partnership programs with groups in India and Kenya, wherein they provide a girl with a month of period products and sex education for every month's supply of Cora products purchased.
And perhaps the most underrated way to help? Keep the conversations going. Talk about your periods, wherever you are and with whoever will listen. Periods are a natural and beautiful part of the human experience, and everyone deserves to be happy, healthy, and empowered during them.
Answer the quiz below and learn how you can take action: