The 10-Minute Clean Beauty Routine This Peloton Instructor Swears By

Contributing Wellness & Beauty Editor
By Lindsay Kellner
Contributing Wellness & Beauty Editor
Lindsay is a freelance writer and certified yoga instructor based in Brooklyn, NY. She holds a journalism and psychology degree from New York University. Kellner is the co-author of "The Spirit Almanac: A Modern Guide to Ancient Self Care," with mbg Sustainability Editor Emma Loewe.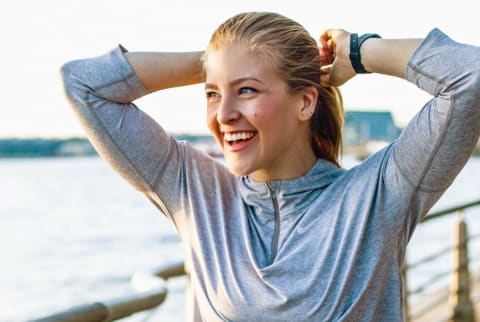 Photo by Courtesy of Rebecca Kennedy / Contributor
November 20, 2018
Last year, Peloton's master tread instructor Rebecca Kennedy was using conventional beauty products during her workday, which requires her to be in front of clients and/or in front of a camera performing, demoing—and a whole lot of sweating. Between teaching and her own self-care, sometimes she's doing upward of three workouts a day. That's a lot of perspiration for the skin to handle!
"I'm acne-prone," Kennedy told mindbodygreen, "and I noticed it got better when I made the switch to clean beauty." Like any transition, she took it slow, being careful to replace products one at a time versus all at once. "It's expensive to swap your beauty products at the same time, but I also try not to throw anything away because it feels wasteful." Right on.
Advertisement
This ad is displayed using third party content and we do not control its accessibility features.
She's always sharing her workouts, outdoor runs, and clean beauty journey on Instagram. "People always ask me about products I'm loving and are so curious about my switch to naturals." Whether you're one of her followers or simply natural-curious, today's your lucky day. "I use clean products because our skin absorbs everything we put on it—so if I'm mindful about what I put IN my body, I felt the natural next step would be to be conscious about what I put ON my body," she said. We caught up with the newly minted clean beauty enthusiast and got the inside scoop on her 10-minute daily routine:
Kennedy does the same skin care routine morning and night.
She bookends her day by washing her face with Dr. Bronner's tea tree oil soap. "It's really easy to buy wherever I am in the world, especially if I forget my skin care while traveling," Kennedy said. Because she sweats for a living, the tea tree oil helps to clear her face of buildup from oil, sweat, and leftover product. "It's been a game-changer—it's easy enough on my skin without drying anything out."
Then she uses Marie Veronique's B12 Serum for hydration and allows it to dry before judiciously applying Suzanne Kaufmann's (a mindbodygreen Beauty Award winner!) Skincare Line T Regeneration Cream and waits a few moments for it to sink in.
Like a pro, she keeps her jade roller in the fridge and uses it at night to help release the muscles in her face. "I didn't realize how much tension I build up from talking all day, smiling for cameras, and spending more hours in front of a blue screen than I probably should," she said. "I use it a lot along my jawline and my forehead, which helps with jaw release and tension headaches." Noted.
Advertisement
This ad is displayed using third party content and we do not control its accessibility features.
Rebecca Kennedy's natural-ish makeup routine.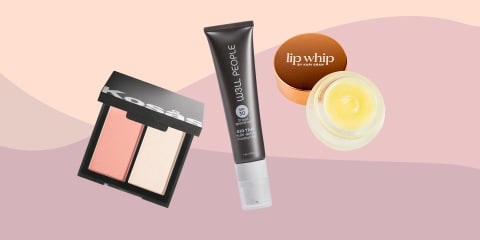 It took her the better part of a year to transition into green makeup, but she's finally comfortable with the swaps she's made and the steps she's taken to clean up her makeup regimen.
First, she uses W3LL People's Bio Tint Multi-Action Moisturizer with SPF 30 as a foundation. "It gives me just enough coverage while allowing my skin to breathe," she said. Wearing this from work to a workout and sweating in it "doesn't do horrible things to my skin," she noted, and the versatility and gentle nature of the product is one of the reasons she loves it.
If she needs more coverage for a photo shoot or a close-up, she likes to dab a little Koh Gen Doh foundation around her nose and her under-eye area. "It lasts a long time and provides exactly what I need as a cover-up," Kennedy said.
"One of the best things I ever did was swap out my eyelash curler to Kevin Aucoin," she exclaimed. "I had no idea that the quality was going to be so different!" She also recommends Blinc mascara for its tubular technology—no need to worry about ruining towels with black smudge stains. The formulation of this mascara comes off in tiny tubes, preventing messy smears on your face, your towels, and anywhere else.
For eye shadow, she uses MAC makeup pots. "My makeup artist and I worked together to find a color and format that was quick and easy for me to apply," Kennedy said. She's on the lookout for a natural version.
She's finishing up the last of her Tarte blush and has her eye on Kosas' highlighter and blush duos. Kari Gran is her go-to for lipsticks, and she loves to apply the "naked" peppermint nightly before bed.
Advertisement
This ad is displayed using third party content and we do not control its accessibility features.
Self-care is important.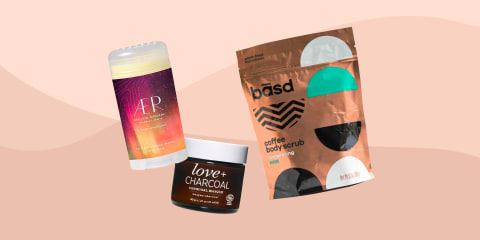 All throughout the day, she spritzes Josh Rosebrook's Hydrating Accelerator whenever she needs some hydration or a pick-me-up, and she also loves RMS Beauty's "un" powder to blot out any shine on set. Deodorant is especially important when you're working out all the time—Kennedy's favorite is Vapour Organics' AER Next-Level deodorant in the blood orange and Palo Santo scent. "It's expensive, but I love the way it smells. So worth it," she said.
Once a week she does a full-body scrub. "I've never used a scrub that hasn't made me break out, and BASD makes one that has coffee grounds and coconut oil, and it's next-level," Kennedy said. While she's cleaning, she does a charcoal mask from One Love Organics and uses a hydrating spray from the same brand afterward.
Considering the skin care and makeup routine doesn't take longer than 10 minutes, we asked Rebecca to show us how she does it. Check out our Instagram stories to see!
Advertisement
This ad is displayed using third party content and we do not control its accessibility features.