This Year, Our Best Home Advice Had Nothing To Do With Decluttering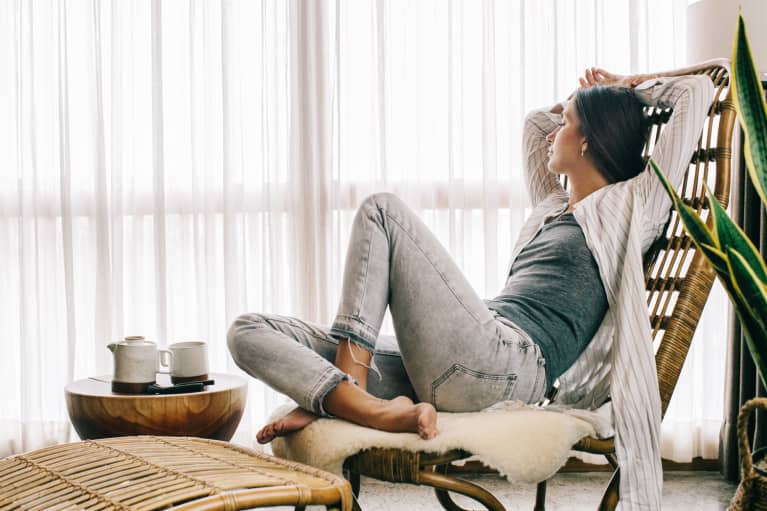 Our editors have independently chosen the products listed on this page. If you purchase something mentioned in this article, we may
earn a small commission
.
Here at mbg, re-sharing decluttering advice is an end-of-year tradition. In Decembers past, we've reflected on the importance of cutting yourself some slack when organizing at home, extolled the virtues of buying less but buying better, and spilled the secret to a painless closet clean-out. It's all been in the name of clearing up physical and mental space for the year ahead and leaving some of the icky, heavy stuff behind in the one that's almost up.
But this year, as we all know, has changed many traditions.
While decluttering will never go out of style, a lot of the advice we've shared in 2020 has been about inviting things into the home instead of carting them out in black plastic bags. So it makes sense that our favorite "decluttering" tip of 2020 doesn't require throwing a thing away.
Our top tip of the year: Reserve a zone in your home for you.
Before the pandemic even hit the U.S., interior designer Tobi Fairley wrote an article about the importance of let's call it "functional zoning." Beyond the typical designations of the bathroom, bedroom, and living area, Fairley recommended carving out little microclimates at home: a detox area to rest, an idea incubator to inspire creativity, a work area for productivity.
Flash-forward to March, and this suggestion became gospel for those of us quarantining at home. We all needed to deliberately designate space for work and play, exercise and relaxation.
The zone for resting and re-centering was arguably the most important—and that's the one to lean into in the coming year.
Fairley referred to it as a self-care sanctuary. In her new Fundamentals of Tidying masterclass, organization icon Marie Kondo called it a power spot. Maybe in your home, it goes by "cool-down chair" or a "chill corner." By any name, this space is where you go with the sole intention of doing something that fills you up—be it journaling, meditating, doodling, etc. Here's how to make it:
1.
Choose a spot that gets decent light.
Reserving physical space for a habit can help you stick to it—and it doesn't need to be an entire room. Anywhere you can comfortably sit—the side of the couch, a certain cushion on the floor, or a seat by the window—would work. When deciding on placement, designer Kelly Robinson offers up this helpful tip: "I really like to take into account where the sunlight and moonlight come into a space and create little sanctuaries around [them]."
If you live in a smaller space, this special area will likely need to serve multiple purposes throughout the day. And that's fine; as intuitive counselor and sacred space designer Elana Kilkenny reminded us earlier this year, 2020 is about prioritizing the practical.
"It's thinking about functionality first and then about a way to make it energetically work," Kilkenny said on a call. That might mean that your self-care area is also your dining table. Spaces can do double duty when we approach them with intention.
Decide one way you want to use this space moving forward to support your mental and emotional health in the year to come. Then, place an object on or near it that will help you work toward this intention.
"I think this is a time when we have to work harder to stay inspired and continue to dream," Kilkenny said. Adding one of the items below (or another object that speaks to you) can set the stage for ritual and remind you of your commitment to setting aside time and space for yourself this year:
After a year that has taken so much away from us, this little area can be where we go to start to fill ourselves back up. Here's to leaving the sorting bins by the wayside for now and kicking off 2021 with a more functional, fulfilling home.