This Supplement Helped Me Stay Nourished & Energized When I Had NO Time To Cook*
Health Writer & Editor
By Kristine Thomason
Health Writer & Editor
Kristine is a writer, editor, and editorial consultant who lives in Long Beach, CA.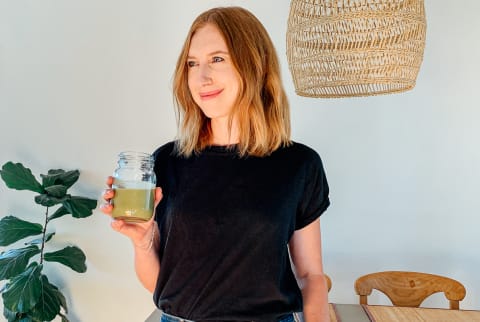 Image by Kristine Thomason / `
November 14, 2020
I've come to the conclusion that no matter how prepared you are, no matter how much you do in advance, moving is an absolute nightmare.
At the end of this summer, my partner Ryan and I made the decision to pack up our beloved Brooklyn apartment and start a new chapter closer to family in our home state, California. As if saying goodbye to my NYC home of nine years wasn't difficult enough, preparing for a cross-country move with all its logistic intricacies was an...endeavor, to say the least.
Advertisement
This ad is displayed using third party content and we do not control its accessibility features.
While I expected relocating would be mentally and physically draining (after my third time moving in five years, I knew the drill), I didn't anticipate the toll it would take on my usual healthy eating routine. I soon realized how challenging it would be to keep prepping nutrient-rich meals while also trying to clear out our pantry and refrigerator—something I hadn't tackled with local moves. Not to mention, preparing for the move quickly consumed all of my free time.
Luckily, I had one pantry-stable product that helped me get through it all: mbg organic veggies+.
Why organic veggies+ was a lifesaver when I had no time (or ingredients) to cook.
As mindbodygreen's senior health editor, I've spent a lot of time getting to know the health benefits of our organic veggies+ greens powder.* So when I realized nutrients would be few and far between during my move (after all, a woman can't live on takeout and canned chickpeas alone), I was eager to make the supplement a regular part of my routine.
Here's why: organic veggies+ contains an impressive blend of nutritious fruits and veggies, including dark leafy greens (kale, spinach, broccoli), carrot, strawberries, raspberries, and blueberries—basically all the ingredients I try to sneak into my plant-based meals on a regular basis. Dark leafy greens are always a top priority in my diet because they're loaded with a variety of antioxidants, like beta-carotene, vitamins A and K, and lutein.* The antioxidants in leafy greens have also been shown to protect against free-radical damage1.* Kale (my favorite), has been shown to support heart health, blood pressure, and blood sugar.*
This greens powder also features a number of valuable ingredients that my kitchen doesn't see quite so often, like beetroot, spirulina, and sea vegetables. Sea veggies, in particular, are one food category I've been wowed by recently. The veggie variety is rich in vitamins and minerals like iron, copper, manganese, folate, zinc, sodium, calcium, and magnesium. But what makes these veggies especially fascinating to me is the fact that they're a plant-based source of omega-3 fatty acids2. (Fun fact: Fatty fish contain so many omega-3s because of their algae diet3.
Advertisement
This ad is displayed using third party content and we do not control its accessibility features.
I love starting the day doing something positive for my body—which is a bonus for my mental health.
To make sure I was making each and every one of these fantastic foods a part of my daily routine, I opted to take organic veggies+ first thing in the morning with breakfast. I mixed a spoonful into my go-to bowl of oatmeal, sipped it with water like a green juice, or blended it into my favorite smoothie recipe. I loved that, no matter how I decided to consume it, the taste wasn't overpowering like many greens powders I've tried. Plus, it didn't create a chalky or gritty texture.
Personally, I'm very aware of my body's signals, and I feel completely out of whack if I'm not fueling it properly. Making organic veggies+ part of my daily routine helped mitigate that concern during my move. I started the day doing something positive for body—which was also a bonus for my mental health.
More reasons I can't get enough organic veggies+.
As I've noted, I try to fuel my body with beneficial, nourishing food as much as possible. So in addition to the standout fruit and veg content in organic veggies+ I'm also a huge fan of these superstar ingredients:
Advertisement
This ad is displayed using third party content and we do not control its accessibility features.
Since I've settled into my new home in California, organic veggies+ has continued to be a mainstay in my pantry. I've mixed it into baked goods, chili, and so much more, for an extra dose of beneficial nutrients. Now, brb, going to make some of this scrumptious veggies+ pumpkin bread.
Kristine Thomason
Health Writer & Editor
Kristine is a writer, editor, and editorial consultant who lives in Long Beach, CA. Kristine is a New York University graduate with a degree in journalism and psychology, and also a NASM-certified personal trainer. She has spent her editorial career focused on health and well-being, and formerly worked for Women's Health and Health. Her byline has also appeared in Men's Health, Greatist, Refinery29, HGTV, and more. In her current role she oversees, edits, and writes for the health, food, and movement sections of mindbodygreen.