How To Most Effectively Hydrate Skin With Oral Hyaluronic Acid*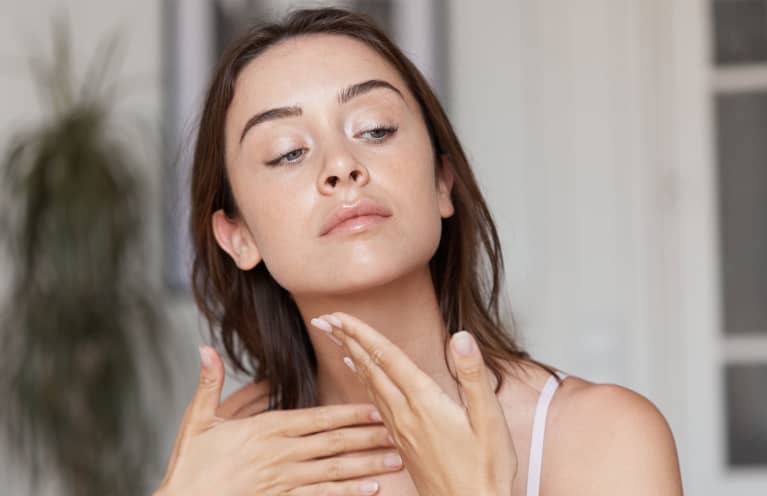 This article was produced to support the mindbodygreen supplements+ line. Our supplements adhere to the highest standards of ingredients and quality. We hope you enjoy these products, for more information
click here
.
Skin is a complex, dynamic organ made up of many different components that have to work together to function in good health. To name a few, there's the role of the skin microbiome, acid mantle, lipid layer, elastin, and collagen.
Now, when we talk about premature skin aging—collagen tends to get the most attention. For good reason: The structural protein is what gives our skin lift, hold, and that firm appearance. Its loss—which comes naturally with time and from exposure to UV damage and stressors—is one of the main drivers of fine lines, loss of volume, and sagging. Elastin tends to get runner-up, as it's what helps our skin snap back into place with ease and helps our skin appear bouncy.
But then there's hyaluronic acid. If you stay up on skin care, you've probably heard of it. The natural humectant is a famous serum and lotion active that helps your skin bind and hold on to water. And if you really stay informed on skin health, you may also know that it's naturally occurring in your body and skin as well.
But did you know you can ingest it via oral supplementation? And taking it internally could help your skin stay plump and hydrated more effectively?* Allow us to explain.
The role of hyaluronic acid in the skin. 
Hyaluronic acid, also known as HA or glycosaminoglycan, is a compound created by the human body that serves several important functions. It is the key molecule involved in skin moisture, and its decline plays a huge role in the skin's aging process.* Hyaluronic acid works by drawing in water and holding it—up to 1,000 times its weight, making it an incredibly effective and hardworking molecule.*
Now 50% of the body's total HA is in the skin, but it's also present in every tissue and fluid in the body (and has other high concentrations in the joints and eyes). In the skin, it's primarily found in the epidermis (outermost layer that acts as a shield) and the subcutaneous layer (the innermost layer that absorbs damage and provides structure to the skin).
This is important because it helps us understand how the molecule nurtures our overall appearance. In the outermost layer, HA attracts and holds on to water—this function is what provides a dewy, supple, and hydrated appearance to the skin's surface.* (This is also why people use topical HA!) Now for the innermost layer, this is what helps skin stay plump, as the lubricating molecule can provide a bit of cushion to the subcutaneous layer.*
And remember how we said it declines with age? According to Nigma Talib, N.D., a naturopathic doctor, by the time we reach our 40s, we have roughly 50% of the HA we had during our younger days. That drastic drop is why many people also notice physical signs of aging—like loss of suppleness and increased dryness—in their 40s.*
The most effective way to take HA orally.
Recently, companies have started adding the ingredient to their supplements. Oral forms of HA have also been shown to support skin hydration and appearance.* The available evidence suggests that oral HA supplements are absorbed in the digestive tract and then migrate to the tissues that are most in need of more HA.*
But if you really want to help your skin's reserves of HA, it's best to take the supplement alongside other skin bioactives, such as collagen peptides and antioxidants. Since collagen production decreases with age as well—and provides the structural component—this can help bolster the skin's appearance when the two naturally occurring molecules work together.
Clinical studies on the strategic combination of collagen peptides and HA supplementation for skin hydration show that with regular use, they support your skin's hydration levels.* And collagen peptides have hydrating power on their own, too. For example, this double-blind, randomized, placebo-controlled clinical trial found that participants' moisture levels in the skin were seven times higher than those who did not take collagen supplements.* Antioxidants—from nutrients and bioactives like SGS, vitamins C and E, and turmeric—can help neutralize free radicals, which deplete HA and collagen in the first place.*
Hyaluronic acid is a major player in the skin care industry. It may be most famous for its star-powered turn in serums and creams, but oral supplementation can help support even the innermost layers of the skin, while topical use tends to only sit atop the epidermis.* Now that's hydration from the inside out.*