Planning A Fall Getaway? Make Sure It's Eco-Friendly With These Smart Tips

By Bonnie Culbertson
mbg Contributor
Bonnie Culbertson is an Ohio-based freelance writer and ethical travel consultant. She has a bachelor's in strategic communications from Miami University.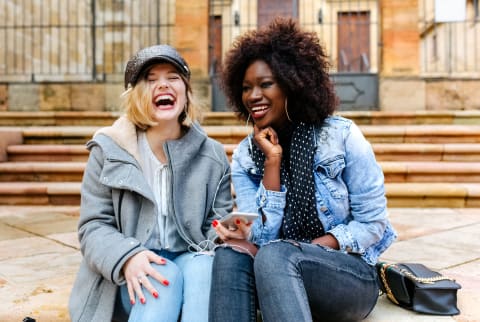 Image by Marco Govel / Stocksy
September 11, 2019
This summer, Prince Harry announced an upcoming sustainable travel initiative, Travalyst. Aptly named from a portmanteau of "travel" and "catalyst," the program seeks to ease the carbon toll of a long-haul flight with advice on using travel for positive social and environmental change.
When it's released to the public, it'll be just another resource for the growing number of globe-trotters actively trying to travel more sustainably: Recent polls show that 71% of global travelers think travel companies should offer more sustainable choices, and 66% of travelers say they're willing to pay a premium to ensure their trips are as eco-friendly as possible. (It's no wonder that mindbodygreen named sustainable adventure vacations a big travel trend to watch in 2019.)
Advertisement
This ad is displayed using third party content and we do not control its accessibility features.
As an ethical travel consultant, I'm always on the hunt for resources that make it easier to tread lightly on this beautiful planet of ours. If you, too, are looking to lower the impact of your next trip, here are my favorite tools for every step of the process.
For scoping out farm-to-table restaurants at your destination:
Having worked in food and restaurant PR for most of my 20s, I make finding delicious food when traveling a big priority. I've yet to find one comprehensive list of every tasty and eco-friendly restaurant out there (probably because there isn't a universally accepted standard for what "eco-friendly eatery" really means. Does it use locally sourced ingredients? Is it zero-waste? Is it an entirely meat-free menu?), but Surfrider Foundation, an activist network dedicated to ocean conservation, is great if you're planning a trip seaside. Its site has a helpful list of Ocean-Friendly Restaurants across the country that are committed to making ocean- (and lake-) friendly choices like reducing single-use plastic and sourcing seafood sustainably. I've also found Kynder Travel very helpful when planning trips. The site is like an eco-conscious Yellow Pages for destinations and promises to "only list hospitality establishments that care about you, their staff, their environment, and the planet." Finally, Zero Foodprint is a collection of restaurants working to fund climate-friendly farming practices to help improve soil health. The site lists all of its restaurant partners on the homepage, including ones in bold that have already completed their commitment to this more regenerative way of being.
For discovering a sustainable adventure:
If you'd rather book a preplanned adventure, there are tons of tour operators pioneering environmentally and socially responsible travel. Intrepid Travel is one that believes "with great travel comes great responsibility." One of the first carbon-neutral tour operators, at this point it offsets the carbon emission of thousands of trips (more on how it does that here). The company also helps travelers to give back to the people and places they visit through their nonprofit, The Intrepid Foundation. Another operator I love is Canadian-based G Adventures, which offers tours for wellness, wildlife, adventure, and even train travel. G Adventures works with small, locally owned companies, supports community-based rural tourism projects, and created a scoring system, known as a ripple score, to determine how much money spent on each trip will stay in the local economy.
Advertisement
This ad is displayed using third party content and we do not control its accessibility features.
For finding a hotel that's doing it right:
When it comes to finding and comparing eco-friendly and socially impactful hotels, KindTraveler.com is incredibly easy to use. While the site doesn't offer a ton of destinations, more are being added every day. It uses icons to clearly denote the Wellness Factors, Green Features, and Community Impact for each hotel listed. For example, when I arrived at The Palms Resort & Spa in South Beach for a recent stay, I was welcomed by a member of its Green Sustainability Team—a "Green Feature" noted by Kind Traveler—which regularly brings together members spanning every level of hotel employee to brainstorm how the hotel can continue to improve its sustainable efforts.
Established hotel chains like Westin, Marriott, Hilton, and Hyatt are also incorporating more sustainable features into their properties around the world. From Westin's initiative to repurpose old sheets into pajamas to Hilton's commitment to cutting its environmental footprint in half and double its social impact investing by 2030, there's lots of positive momentum in the hospitality space right now.
And finally, for offsetting the carbon it takes for you to get there:
Until there is an equally efficient, zero-emission alternative to air travel, it's important to always offset your trip (and take alternative means of public transportation whenever you can). I find CarbonFund.org the easiest online calculator for determining how much to buy in carbon offsets based on where I flew. And good news: It's pretty cheap! Depending on where you fly, carbon offsets can cost as little as a cup of coffee.
It's certainly encouraging to see that sustainable travel is a growing trend. Travel has the power to connect us to one another across cultures, shift our perspectives on life, and remind us how amazing our planet truly is—and how worthy it is of our help.
Advertisement
This ad is displayed using third party content and we do not control its accessibility features.

Bonnie Culbertson
Bonnie Culbertson is an Ohio-based freelance writer and ethical travel consultant. Through her blog, Earth Regarded, Culbertson seeks to empower people to make more eco-friendly choices while traveling, and help them feel more hopeful about the state of our planet by connecting them to the people and places across the globe working to create positive change. She received her bachelor's in strategic communications from Miami University.