This No-Bake Key Lime Pie Recipe Contains A Surprising Healthy Ingredient

Author:
Expert reviewer:
April 30, 2022

Registered Dietitian
By Jessica Cording, M.S., R.D., CDN
Registered Dietitian
Jessica Cording, MS, RD, CDN, INHC is a registered dietitian, health coach, and author with a passion for helping people simplify their wellness routine and build sustainable healthy habits.

Expert review by
Ashley Jordan Ferira, Ph.D., RDN
mbg Vice President of Scientific Affairs
Ashley Jordan Ferira, Ph.D., RDN is Vice President of Scientific Affairs at mindbodygreen. She received her bachelor's degree in Biological Basis of Behavior from the University of Pennsylvania and Ph.D. in Foods and Nutrition from the University of Georgia.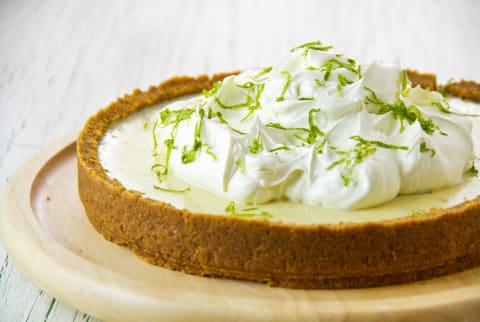 Image by Kirsty Begg / Stocksy
April 30, 2022
Key lime season is quickly approaching, and with it comes the craving for cooling desserts perfect for any springtime celebration. This is where no-bake treats can come in handy, like my healthy take on creamy, citrusy Key lime pie.
Key lime pie is known for its zesty flavor, velvety center, and crumbly crust. This particular recipe is especially versatile, and if lime isn't your flavor of choice, you can swap in any other citrus fruit for an equally tasty dessert. This healthier version switches out a few standard ingredients for more nutritious alternatives while still maintaining the pie's classic flavors and textures. The Key limes are still there, of course, but this pie gets its vibrant green color from another key ingredient: mbg's organic veggies+.
Along with adding a nice green hue, the greens powder conveniently works some extra vegetables and nutrients into this dessert. The organic kale, spinach, sea vegetables, turmeric, ginger, and more deliver antioxidant benefits and enhance immune function.* It also contains digestive enzymes, prebiotic fiber, and probiotics to help support digestion.*
As for the pie's decadently creamy texture? You can thank ripe avocados, which also provide additional fiber, and healthy monounsaturated fats, so you'll stay fuller, longer. And while there's nothing wrong with a crunchy graham cracker crust, this recipe opts for a more gut-friendly base made of rolled oats.
If the health benefits aren't convincing enough, this pie is also simple to make (no baking required!) and easily customizable to suit any dietary needs.
Looking for something special to serve up on Mother's Day? You may have found your recipe.
No-Bake Key Lime Pie
Ingredients
Crust
2 cups rolled oats
⅓ cup ghee, butter, or coconut oil, melted
1 to 2 tablespoons sweetener of choice
Filling
2 medium ripe avocados
8 ounces plain skyr
4 small limes, zested and juiced
½ cup powdered sweetener
¼ to ½ cup organic veggies+ (depending on preference)
1 teaspoon vanilla extract
Method
Line a pie plate or 8-by-8-inch baking pan with parchment paper.
To make the crust
Pulse oats in a food processor or blender until achieving a flour-like texture.
Mix together oat flour, ghee, and sweetener. Push the crust mixture into the pie pan to cover the surface. Set aside.
To make the filling
Scoop out the avocado flesh and add to a blender or food processor.
Add in skyr, powdered sweetener, organic veggies+, and vanilla extract. Blend on high until smooth.
Add the lime zest and juice to the blender. Blend until smooth.
Pour the filling into the pie crust and smooth over the top using a spatula or spoon.
Refrigerate the pie for at least 2 hours or until the filling is firm. Garnish with more lime zest and whipped cream, if desired.
Variations
Dairy-free: Sub coconut oil for ghee or butter. Use plant-based yogurt instead of skyr.
Gluten-free: Use gluten-free oats.
Keto-friendly: Sub almond or coconut flour for oats. Use a non-nutritive sweetener, such as allulose, organic monk fruit, or a blend.
If you are pregnant, breastfeeding, or taking medications, consult with your doctor before starting a supplement routine. It is always optimal to consult with a health care provider when considering what supplements are right for you.