This Snack May Be The Key To Long-Term Brain Health, New Study Finds
mbg Associate Movement & Wellness Editor
By Ray Bass, NASM-CPT
mbg Associate Movement & Wellness Editor
Ray Bass is the associate movement and wellness editor at mindbodygreen and a NASM-Certified Personal Trainer. She holds a degree in creative writing from the University of Pennsylvania, with honors in nonfiction.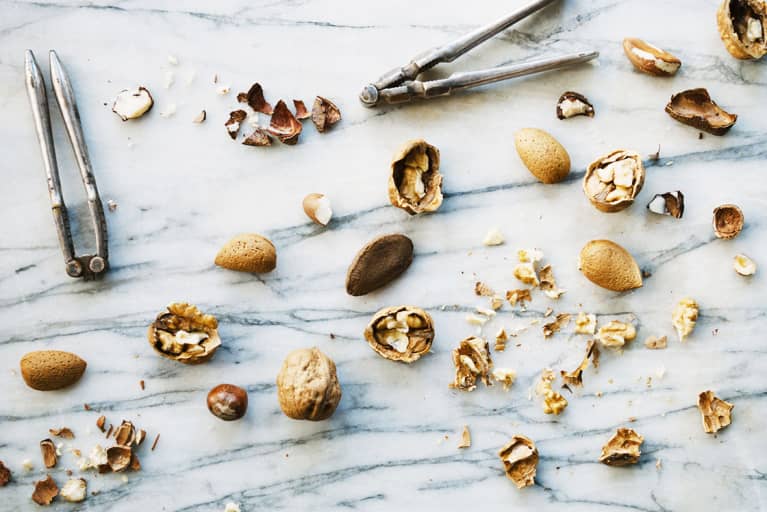 March 20, 2019 — 20:50 PM
Brain health has become a popular topic in the wellness world over the last few years—breaking into our 2019 Wellness Trends and taking over our podcast. Here at mbg we, quite literally, have brains on our minds, and we're always looking for new research around preventing cognitive decline (with an emphasis on preventing Alzheimer's and dementia) and alleviating brain fog.
New research, however, has us reaching for our nut butters even more than usual. In a study done by the University of South Australia, researchers found that eating nuts could be the key to better long-term cognitive health.
Specifically, they found that "eating more than 10 grams of nuts a day was positively associated with better mental functioning, including improved thinking, reasoning and memory" in Chinese patients ages 55 and up. According to the study, people eating nuts could improve their cognitive function by up to 60 percent compared to those not eating nuts. Crazy, right?
Of course, we've known for quite some time that nuts are a superpowered food—pistachios, walnuts, Brazil nuts, you name it—but this study adds even more support to claims that nuts can have a substantial and positive impact our brain health. Beyond brain health, nuts can help improve insulin sensitivity, enhance your gut health, and even give you glowing skin. Did we mention that they're delicious and make for some tasty, grain-free desserts (like this chocolate mug cake for one and these blueberry streusel muffins)? Sign us up this instant.
Given that China has one of the fastest growing aging populations—the World Health Organization says that by 2020 there will be more people aged 60-plus than children under the age of 5—this study has major implications for improved and preventive health care in nations where people are living far longer and experiencing cognitive decline (including the United States!). "As people age, they naturally experience changes to conceptual reasoning, memory, and processing speed," says lead researcher Dr. Ming Li. "This is all part of the normal aging process."
In other words, if you're looking to justify your nut butter obsession (or, you know, ensure your brain stays in tiptop shape for more of your life), rest assured that adding some more nuts to your day really is doing something good for your health. So go ahead—go nuts.