New Study Finds PFAS Present In About Half Of US Beauty Products — Many Unlabeled
mbg Beauty Director
By Alexandra Engler
mbg Beauty Director
Alexandra Engler is the beauty director at mindbodygreen and host of the beauty podcast Clean Beauty School. Previously, she's held beauty roles at Harper's Bazaar, Marie Claire, SELF, and Cosmopolitan; her byline has appeared in Esquire, Sports Illustrated, and Allure.com.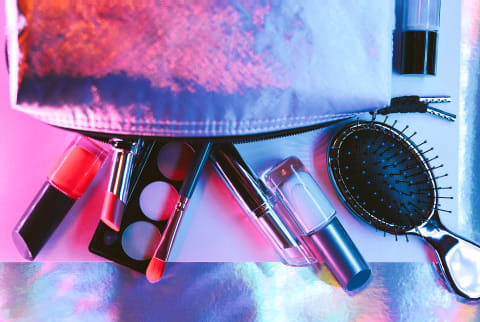 Image by Ani Dimi / Stocksy
June 18, 2021
We have a long-held belief that if you want to be responsible players in the clean beauty industry, it is vital that you stay on top of the research. What we advocate for in regards to skin and hair care products, makeup, and ingredients changes with the time and available data. This is why our definition of clean and safe beauty is always evolving and adjusting.
Well, recent research conducted at the University of Notre Dame and published in the journal Environmental Science & Technology Letters1 found some pretty alarming news: About half of U.S. and Canadian cosmetics contain per- and polyfluoroalkyl substances (PFAS), an industrial compound associated with serious health conditions. The researchers tested many types of makeup products to detect high levels of fluorine, an indicator that PFAS are present. Most of the products tested did not indicate having PFAS on their ingredient list. Yes, really.
Allow us to explain what this means, and what it means for your products going forward.
First up: What are PFAS, and why should I care?
PFAS are common industrial compounds, often found in things like nonstick frying pans. Past research has connected PFAS to things like lower birth weight, weakened immunity, and certain cancers. Here we will note that many of the studies were done on populations with higher degrees of exposure to the ingredients; while more research is needed to make definitive claims, many people—ourselves included—avoid them altogether out of caution.
Additionally, they are actually what's known as "forever chemicals," meaning they don't break down. Both scientists and environmental activists see the concern in this as it means it can bioaccumulate in your body and the earth, like our water supply as an example. As Graham Peaslee, Ph.D., a physics professor at Notre Dame and the principal investigator of the study, said in this Associated Press article: "PFAS is a persistent chemical. When it gets into the bloodstream, it stays there and accumulates."
Now, this study was only about the presence of PFAS in cosmetics—it did not look at outcomes, side effects, or the like. So we cannot draw health-related conclusions at this time, but Peaslee did describe his findings (especially the products with higher concentrations) as, "worrisome," according to the AP article.
What does that mean for the beauty industry? 
To put this all into context in the beauty space: PFAS have traditionally been known to show up in cosmetics previously—most notably in long-wear and waterproof formulas. However, given their reputation as a "forever chemical" and potential negative side effects, they've fallen out of favor in cosmetics.
But that's why this report was so jarring. Of the products tested in this study, few actually labeled it on the ingredient list. Yes, that means consumers were inadvertently and unknowingly using PFAS.
The researchers originally tested north of 300 products—they then zeroed in on 29 products that had shown higher concentrations. In those 29 products, they did more thorough testing and found between four and 13 PFAS-specific chemicals in each product. Only one of the products had one PFAS shown on its ingredient label.
Here's the breakdown of what they found in the study.
The study divided their findings by product type, so here's how likely it is that PFAS could be in your products:
All lip products: PFAS were detected in 55% of products.
Liquid lipstick: PFAS were detected in 62% of products.
Foundations: PFAS were detected in 63% of products.
Concealers: PFAS were detected in 36% of products.
Additional face products like powders and blushes: PFAS were detected in 40% of products.
Mascara: PFAS were detected in 47% of products.
Waterproof mascara: PFAS were detected in 82% of products.
Eye products: PFAS were detected in 58% of products.
So what should I, the consumer and wearer of makeup, do? 
Like most things in the beauty space, unfortunately the burden rests on the consumer. (Don't worry, though; you're not alone—we'll be keeping our eye on this too.) That means consumers will need to be extra cautious with makeup for the time being.
And right now, you may be wondering: But how can I spot these in products? And the short answer is since so many of these aren't labeled on the ingredient list, you can't.
However, as board-certified dermatologist and mbg Collective member Whitney Bowe, M.D., tells us in a recent TikTok, "You'll find these in longwear mascara, lipstick, and waterproof products because they resist water and moisture, so your product will last longer," she says, noting to always look for anything starting with perfluoro on the label. "Right now I'm recommending avoiding any sort of product that claims to be waterproof or long-lasting just to be safe."
The takeaway.
An alarming study, of course, but just another indication that more rigorous standards need to be placed on the beauty industry. Currently, there are several pieces of legislation in Congress—with bipartisan support, we might add—that aim to do so, albeit in small doses.
Alexandra Engler
mbg Beauty Director
Alexandra Engler is the beauty director at mindbodygreen and host of the beauty podcast Clean Beauty School. Previously, she's held beauty roles at Harper's Bazaar, Marie Claire, SELF, and Cosmopolitan; her byline has appeared in Esquire, Sports Illustrated, and Allure.com. In her current role, she covers all the latest trends in the clean and natural beauty space, as well as lifestyle topics, such as travel. She received her journalism degree from Marquette University, graduating first in the department. She lives in Brooklyn, New York.