Struggling With Sleep? Try Being More Optimistic, Say Researchers
mbg Editorial Assistant
By Christina Coughlin
mbg Editorial Assistant
Christina Coughlin is an editorial assistant at mindbodygreen. She graduated from Georgetown University in 2019 with a degree in psychology and music.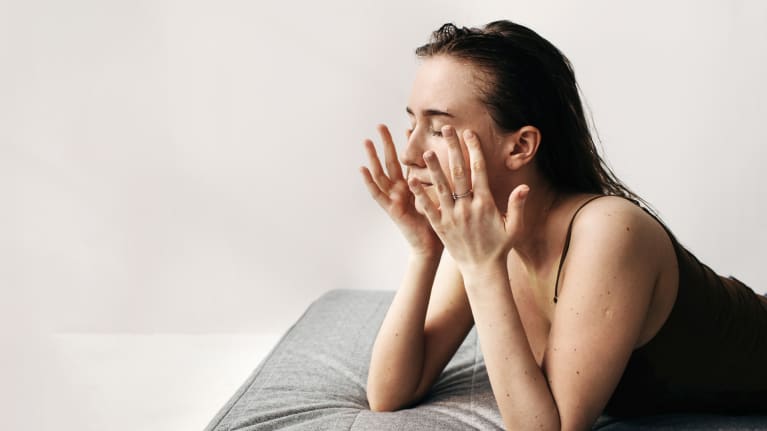 This article was produced to support the mindbodygreen supplements+ line. Our supplements adhere to the highest standards of ingredients and quality. We hope you enjoy these products, for more information
click here
.
Are you a glass half full or glass half empty kind of thinker? The answer may affect more than just your personality. New research from the Medical University of Vienna shows us that a person's optimism or pessimism has a strong influence on how well they sleep at night.
What did the research find?
Researchers studied the behavior of over 1,000 Austrian citizens, assessing personality traits along with lifestyle behaviors and sleeping patterns. The research showed that participants who tended toward optimism were around 70% less likely to suffer from insomnia or any other sleep-related disorder.
While research has previously identified a link between optimism and health, this study was the first to find a connection between positive thoughts and sleeping patterns. "Other studies have shown that optimists take more exercise, smoke less and eat a healthier diet," Jakob Weitzer, the study's head researcher, explains. "On top of that, they have better strategies for coping with problems and experience less stress in challenging situations. All these factors could contribute to better quality sleep."
Can you "train" yourself to be optimistic?
This research seems great for those of us with optimistic tendencies, but what can you do if you naturally fall more on the pessimistic side? According to the Weitzer's team, it is possible for a person to train themselves to be more optimistic. Weitzer suggests the Best Possible Self method as one way of doing so: "This involves trying to imagine an ideal and writing down how one's best possible life could look in the future," he says. "After several weeks of regular practice, it can help to increase an individual's level of optimism."
The link between sleep and better health.
Sleep deprivation is extremely detrimental to health, so getting in those hours is essential, especially in times of high stress. In fact, insufficient sleep has been linked to an increased risk of diseases like type 2 diabetes, cardiovascular disease, and obesity. Besides optimism, there are plenty of ways to improve sleep, from taking calming supplements to establishing nightly rituals.