Close Banner
Advertisement
This ad is displayed using third party content and we do not control its accessibility features.
Best Natural Healthy Aging Tips For People In Their 50s

Contributing writer
By Erin Flaherty
Contributing writer
Erin Flaherty is a beauty expert who has worked for publications such as Allure, Jane, Marie Claire, V, and Harper's Bazaar. She received her B.A. in english literature from The College Of Santa Fe.

Medical review by
Keira Barr, M.D.
Board-certified dermatologist
Keira Barr is a dual board-certified dermatologist and founder of the Resilient Health Institute.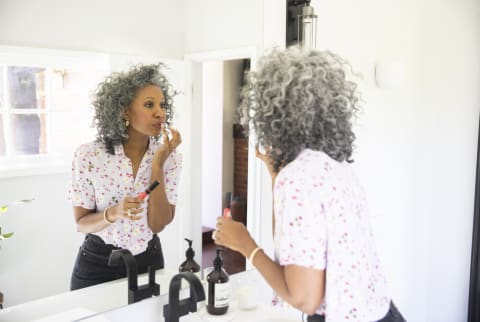 Image by adamkaz / iStock
According to a Harris Poll, the adults surveyed tended to agree that 50 is the so-called perfect age. (Whatever perfect means, mind you.) You feel comfortable in your skin, and the data suggested that it's "the average age Americans would like to live at if they could skip time and live forever in good health at a particular age." That said, major changes such as menopause can affect the way you'll want to approach skin care. "This is the time when you really begin to see collagen loss and saggy skin," says holistic esthetician Elle Feldman. "Hormone [issues] cause collagen production to drop off sharply and the skin to become drier."
By now you probably have some sort of skin care routine in place, even if it's just the standard two- or three-step routine. But now is the time to get into specifics. Think about every step and the ingredients you are using: Do they serve a purpose? Could you be better served by something else? Think about what your specific skin care goals are, and feel free to adjust from there.
2.
Mind your morning and evening wash.
The classic silver screen star Joan Crawford allegedly swore by splashing ice water on her face for 25 minutes each day. Obviously, this is an extreme measure, and according to the American Academy of Dermatology, lukewarm water is actually the ideal temp when it comes to cleansing. This is because extremely hot water brings more blood to the surface of the face, exhibiting any broken capillaries (those tiny thin red lines that show up around your nose and cheeks). These become more prevalent in your 50s, so you want me to be mindful to avoid anything that might trigger more. After your lukewarm rinse, follow up with a cold splash can instantly help combat morning puffiness.
3.
Take a smart supplement.
Listen, you'll want a well-rounded supplement routine that helps the skin from multiple angles from collagen support and wrinkles to age spots and dryness. Ideally, you don't have to take too many options to achieve this, either. We recommend finding a few edited, sophisticated formulas that combine target actives that address all your needs.
Or look for skin care supplements that combine antioxidant protection with barrier support, so you can enhance the dermal layer while protecting it from aggressors. Phytoceramides can help support your lipid layer and enhance hydration. * In one study, participants with clinically dry skin who took a phytoceramide-rich wheat extract oil for three months saw up to a 35% improvement in skin hydration3.* Then, combined with antioxidants like astaxanthin, you'll get added barrier support: In one study, astaxanthin supplementation significantly improved skin elasticity, smoothness, and hydration in just 12 weeks.* Another study found astaxanthin improved skin wrinkles, age spot size, and skin texture4.* And in a recent double-blind clinical, subjects reported significant improvement in moisture levels (especially around the eyes), overall improved elasticity, and appearance of tone.* Another recent double-blind clinical found that it can even help skin's water-retention capacity and suppress barrier damage.* (For more anti aging supplement recommendations, check out our roundup.)
"Lifestyle factors will help keep your skin glowing. Exercise can be one of the best ways to reduce inflammation in your body, which is a contributor to the breakdown of collagen and elastin," says board-certified dermatologist Keira Barr, M.D. She points out that even if you've skimped on your workout regimen in the past, "it's not too late!" and cites a study that showed exercise can help reverse skin aging even in those who start an exercise regimen later in life. That said, there's no need to push it to your limit. According to Feldman, "This is the time to find exercise that does not over stress the body. Too much adrenaline decreases blood flow and diverts nutrients and oxygen away from the skin."
You might have avoided this step as an unnecessary addition to your routine. Time to reconsider. "Skin around the eyes starts to become crepey during this decade," Feldman explains. She says to treat crow's feet, dark circles, and puffy under-eyes with cream and under-eye patches. "Pat, don't rub," this delicate area. This Fleur&Bee Eyes Baby Natural Eye Cream contains caffeine to encourage circulation in the area, resulting in de-puffed eyes and lightened dark circles.
One of the most important things you can do for your skin right now is to infuse it with all the things that support its primary structural components: collagen and elastin. Internally, eat collagen-supporting foods and take a hydrolyzed collagen supplement.*
Externally? It's all about antioxidants. Antioxidants are such a core part of skin care because they protect your body from all the things that damage it: oxidative stress, sun, pollution, you name it. And by protecting your skin from these aggressors, you are keeping your collagen intact for as long as possible. If you want firm skin, this is key. So load up on antioxidants in your skin care routine—the good part is they can be formulated into just about anything. Including serums, face creams, and washes, like Youth To The People's Superfood Cleanser.
In order for your skin to get the nutrients it needs, you need to have proper blood flow to the face. Your body's pretty good at encouraging circulation on its own, but it does slow down with age. You can help it holistically, with regular facial massage of any kind. Research shows that daily facial massage does improve skin tone, elasticity, and just overall skin health5. This may include gua sha, rollers, or even a tech-forward tool. Just be sure to pair it with a firming serum so you can further your skin care benefits. We prefer JuiceBeauty's Signal Peptides Firming Serum. Or board-certified dermatologist Zenovia Gabriel, M.D., has a hands-on approach, too: "I'm not even kidding, slap your cheeks 20 times to stimulate circulation and collagen."
8.
Consider an ampoule treatment.
Ampoules are small vials of highly concentrated, active treatments. The problem with highly concentrated actives? They're notoriously unstable. (The more potent the active, the more finicky it is typically.) That's why ampoules are encapsulated in sealed glass, usually, so they are not exposed to air, which can degrade the formulas. This makes for pretty powerful treatments. This also means they don't need heavy-duty preservatives, so the formulas are simple and clean.
And they've become something of a trend lately, too. So no matter your need, you can usually find one that is tailored to you: You can find options with soothing botanicals for redness, acids for cell turnover, hydrators for dry skin. This Vichy LiftActiv Peptide-C Ampoule Serum uses phyto peptides, a natural hyaluronic acid, and a very potent vitamin C to encourage collagen synthesis.
The takeaway.
With age comes wisdom. Use that well-earned wisdom and home in on a smarter skin care routine. This simply means taking the things you love, leaving the things that no longer serve you, and finalizing your skin care goals.
If you are pregnant, breastfeeding, or taking medications, consult with your doctor before starting a supplement routine. It is always optimal to consult with a health care provider when considering what supplements are right for you.