Best Natural Healthy Aging Skin Care Tips For People In Their 30s

Contributing writer
By Erin Flaherty
Contributing writer
Erin Flaherty is a beauty expert who has worked for publications such as Allure, Jane, Marie Claire, V, and Harper's Bazaar. She received her B.A. in english literature from The College Of Santa Fe.

Medical review by
Keira Barr, M.D.
Board-certified dermatologist
Keira Barr is a dual board-certified dermatologist and founder of the Resilient Health Institute.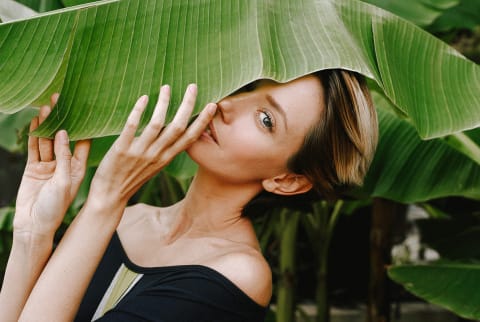 Image by Lyuba Burakova / Stocksy
September 8, 2021
We carefully vet all products and services featured on mindbodygreen using our
commerce guidelines.
Our selections are never influenced by the commissions earned from our links.
Your 30s can actually be a really good skin time. Wrinkles and fine lines generally aren't too pronounced, and hopefully, acne issues have eased, if not completely subsided. But it is an ideal time to start smart prevention. "[This age] is when collagen production naturally begins to slow down, and stressors like UV exposure and dietary factors can speed up its breakdown and prevent new collagen formation," says holistic and board-certified dermatologist Keira Barr, M.D. Here, a few tips on how to take care of 30-something skin:
1.
Understand your basics.
Ideally, you developed good skin care habits when you were in your 20s (teens even!), but if you're late to the skin care game, that's OK. There's plenty of time to catch up. But here's the baseline: You need to care for your skin morning and night, no days off. The most basic of routines goes as follows: cleanser, moisturizer, SPF. The specifics from there are often highly tailored to your skin type, needs, price points, and personal preferences. But as long as you have some skin care plan in place, you can start building off of it with smart, age-specific skin care recommendations.
These are changes in pigmentation (usually darker patches of skin that show up on your forehead, nose, or cheekbones) that can start to appear in your 30s thanks to sunbathing in your teens and 20s. "It isn't painful and doesn't present any health risks but can cause significant emotional distress for the estimated 6 million American women who develop these dark patches on their faces," says Barr. "Because it can be difficult to treat, minimizing triggers, like sun damage, is important."
"Around the age of 35, I always advise patients to add antioxidants like vitamin C in the morning," says board-certified dermatologist Zenovia Gabriel, M.D. She also explains that due to hormonal changes, like pregnancy, many women are more likely to develop melasma. As for vitamin C, Biossance Squalane Vitamin C Rose Oil is an elegant option.
3.
Take a smart supplement.
While you've likely collected some environmental exposure from your younger years, you still have plenty of time to treat skin proactively. What you do in your 30s can set you up for success later. What do we mean by this? Making sure your body has all the tools it needs to fight things like inflammation, UV damage, collagen loss, free radicals, pollution, increased mental stress, oxidative stress, and external stressors. One vital way we should be doing that is from the inside with a skin care supplement.*
You'll want to be highly targeted with your approach. It's your 30s after all: This is a time in your life when you know what you like, what you don't, what works for you, and what's BS. We like photo-protective antioxidants like astaxanthin and pomegranate whole fruit extract (to help with continued sun exposure).* Hydrating actives like phytoceramides and hyaluronic acid (the skin may start to become dryer around this time).* And ingredients that promote collagen production, like vitamin C, E, and of course, collagen peptides.* (And for more product picks, check out our anti aging supplement roundup.)
The effects of smoking—not just on health but on your complexion—are beyond well-documented. However, if you can break the habit before your 40s, you can seriously mitigate some of the damage. One prominent study showed that quitting by age 35, could help you regain your health1 as much as someone who never smoked.
"In addition to boosting your daily sunscreen habit for sun protection, add in whole foods with UV-protective benefits like tomatoes, spinach, pomegranate, and wild caught salmon, which are rich in lycopene, vitamin C, and omega-3 fatty acids respectively," says Barr. "All of these nutrients help combat the free radicals, oxidative stress, and inflammation generated by UV exposure."
She also recommends minimizing processed foods and added sugars, as the latter is a big culprit for contributing to skin sag and wrinkles. "Consumption of excess sugar contributes to formation of proteins called 'accelerated glycation end products (or AGES), which bind to collagen, making it stiff and brittle leading to its degradation." In several studies, researchers found that eating a high-sugar diet made it more difficult for collagen to repair itself2, resulting in accelerated collagen decline and premature aging.
If you haven't gently incorporated exfoliation into your skin care regimen, the time is now. Many dermatological studies have confirmed that regular, gentle exfoliation3 is an effective way to accelerate cell turnover, promote collagen production, and so on. Choose a gentle formula that you can use semi-regularly without redness, irritation, or inflammation. And what that means for you will be very different from what works for someone else, as we each have differing levels of tolerability with exfoliators. But a natural, simple option is Tatcha The Rice Polish, which uses rice bran and papaya enzymes to encourage cell turnover. And always avoid harsh ingredients like microbeads or large, scratchy particles, which can cause microtears in the skin—leading to damage.
7.
Consider an oil cleanser.
Your skin barrier is essential for skin health. And all the things that make your skin barrier strong—ceremonies, hyaluronic acid, elastin, collagen—start diminishing around your 30s. What does this mean? You need to tend to your barrier function above all else. And one of the major ways that people damage their barriers is through harsh cleansers that disrupt the skin's microbiome and therefore trigger inflammation. "Oil cleansers are perfect for almost all skin types," says holistic esthetician Elle Feldman. "Oil cleansers don't strip the skin and gently exfoliate, soften, detoxify, and tone. They're really great for dry, dehydrated skin yet concentrated enough for all skin types." One Love Organics Botanical B Enzyme cleanser is the ultimate makeup remover that effortlessly lifts away impurities while restoring skin's natural moisture barrier and pH balance.
"Not all oils work well with all skin, though; for example, olive oil can be irritating for some people, but argan oil and grapeseed oils have been found to be well tolerated by most, though, so before you slather any oil on your face, do a test spot in an inconspicuous area first," notes Barr.
8.
Make friends with serums.
Incorporate serums, which deliver high concentrations of active ingredients, into your arsenal. According to Feldman, "The molecules in serum are small enough to penetrate into the skin to strengthen cellular walls to repair stressed skin, balance hydration, and brighten uneven skin tone." Given that in your 30s, your skin's range can vary between oily and breakout-prone to dry and sensitive, consider a good multitasking option, like Good Skin Day Barrier Restore Squalane. Feldman says ideally you'll find something that can check all the boxes, "Find plant-based ingredients that soothe, smooth, plump, hydrate, and tackle anything that's 'off' with your skin."
The takeaway.
If you're going to learn one thing on your skin care journey in your 30s, make it this: Enjoy the the skin you're in. Once you learn to appreciate your skin, you'll learn to care for it. Coincidentally, your 30s are just the time to start thinking about serious skin care—if nothing else but as a preventive measure.
If you are pregnant, breastfeeding, or taking medications, consult with your doctor before starting a supplement routine. It is always optimal to consult with a health care provider when considering what supplements are right for you.