What Living With Lyme Disease Taught Me About Hope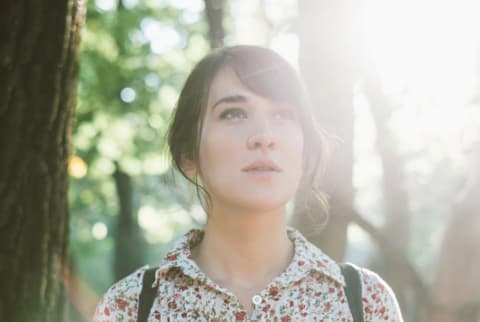 April 13, 2017
Mom, will you ever get better?
It's a cold Saturday morning here in New Hampshire. Our original plans for this weekend were to be on the slopes skiing. However, due to so-so weather conditions and the fact that I'm in the middle of a Lyme flare-up, we decided to stay put. As I lay here on my couch with so many thoughts swirling through my head, I am reminded of a question my son asked me long ago. Over the past three years now, both my boys have asked me this question many times. But the first time I heard those words, I froze:
"Mom, are you ever going to get better?"
I was instantly filled with anxiety, sadness, and fear. The truth was, I didn't know if I would ever get better. But I didn't want to tell my son that. So I lied.
"Yes, Jack. I will, for sure. It's just going to take some time." I then asked myself, "Will I ever get better? Will I always be in almost unbearable pain? Will I always have uncontrollable twitches? Will I always have severe mood swings? Will I always be so anxious? Will I always have this maddening ringing in my ears? Will I lose my mobility for good? Will I get my libido back? Will I keep forgetting where I'm going with my kids when I get in the car?" The questions and symptoms are too many to count. The fear was almost as paralyzing as the illness itself.
I don't remember exactly when the switch occurred. I just realized that this struggle was here to teach me something.
Lyme pushed me to the point of asking "What do I want?" "What am I living for?" It pains me to write these words. But there was a time that everything was so dark. I felt hopeless, powerless, and lost.
I don't remember exactly when the switch occurred. I just had a realization, deep in my core, that this struggle was here to teach me something. This illness was not who I was and I was not going to let it define me. I had a beautiful life and for that I was very grateful. I knew there was something much greater for me on the other side of the struggle. What that was, I did not know.
Lyme put my body and mind through utter misery. It was visions, dreams, and love that kept me going through the hardest times. There was a point during my treatment, which consisted of both Eastern and Western medicine, that I realized it was going to take more than a pill, herb, tincture, or being hooked up to an IV to heal me.
Healing happens on all levels.
I finally stopped and took time to listen. I surrendered. I turned my despair into hope, my impatience into patience, my fear into courage, my resistance into acceptance. I started shifting my mindset; I changed my story. In my willingness to look inside and see with new eyes, I propelled my healing journey forward.
Healing is a personal journey, unique to every individual. It is not a linear path. It requires patience and determination. Facing the pain of my disease has allowed me to awaken. That is a gift. I came across this quote long ago and it stuck with me:
"By embracing and remembering, we experience that in the heart of the pain is the awakening and the healing. We come to understand that all sickness is homesickness and all healing is self-healing—the journey home to our true self."
The journey home to my true self. Yes, please, and thank you. This is the answer to the question from long ago. "What do I want and what am I living for?" This—all of this. To come home to my true self. Not just for myself but for my beautiful family and for all of the people I am meant to help on their journeys.
So, as I lay here on my couch, I am actually crying tears of joy—ecstatic in the realization that I can have my life back and relieved to be able to answer my sons' question—"Mom, will you ever get better?"—with a resounding "Yes!" and believe it.
I'm not going to lie: There have been times when I wish I could go back to the person I was before I was diagnosed with Lyme. Could I be that version of myself again? The answer is no. She will always be a part of me, but I am so much stronger and more vibrant now. As I continue on my journey—even in the middle of a painful flare-up—I do so with trust. I trust the emergence of whatever will be. I believe that whatever my future holds, it's going to be beautiful.

Meegan Sciretto
Hi! I'm Meegan. I am a Health & Lifestyle Coach, wife and mother of two boys living on New Hampshire's Seacoast. I am a lover of all things healthy for the mind, body and soul.