3 Must-Have Herbs for Skincare
RYT 500
By Amy Jirsa
RYT 500
Amy Jirsa, LMT, is a master herbalist, E-RYT 500 yoga teacher, forager, and writer from Maine. She is the author of Herbal Goddess: Discover the Amazing Spirit of 12 Healing Herbs with Teas, Potions, Salves, Food, Yoga, and More and the founder of Quiet Earth Yoga.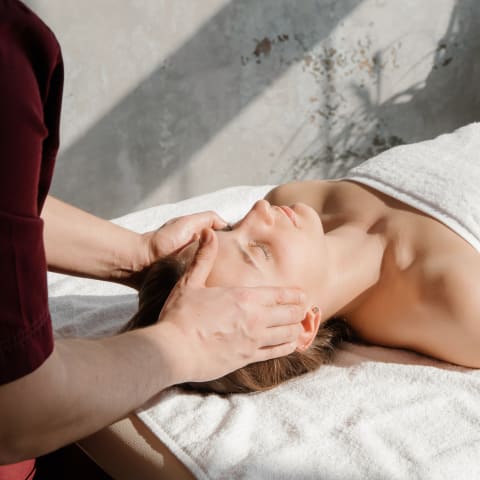 Image by Alina Hvostikova / Stocksy
My grandmother always taught me, if you can't eat it, don't put it on your skin. Good advice. After all, we're probably all at least vaguely familiar with the strange and dangerous cosmetic habits of our ancestors: arsenic in face powder, copper or lead to color the eyes, not to mention lead-based face masks used by the Greeks to 'improve' skin condition. Yikes, right?
Not surprisingly, these cosmetics led to madness, scarring of the skin, illness and, eventually, death. According to journalist Diane Mapes, "Some beauty products of yesteryear contained high concentrations of lead, mercury, arsenic, even radiation, thanks to ignorance, indifference and narcissism."
Well. Thank goodness we don't suffer from ignorance, indifference, and narcissism anymore.
Okay. To give ourselves some credit, there has been a big push for natural health, natural cosmetics, and education about such dangers as parabens and phthalates. But, how safe are our so-called natural products? I mean, I work with a community of pretty hip and healthy cats, and almost daily I'm approached by someone who has some sort of issue with fertility, cysts, and any number of reproductive and hormonal complaints.
The truth of the matter is, our skin is one big absorptive organ and everything we spray, apply, slather, or walk on makes its way through our hormonal system (especially the thyroid–hypothyroidism is on the rise, as is issues with fertility and other reproductive and hormonal problems). Are these issues connected? I'm going to go out on a limb here and say, yes.
We've been hearing about BPA (bisphenol-A, or the material in plastic bottles and can linings) and its dangers: depression, irritibility, sleeplessness, weight gain, excess estrogen, and maybe (in animals, anyway) insulin resistance. And what about the anti-bacterial craze? Triclosan, the chemical found in most anti-bacterials, can interfere with testosterone and the thyroid.
So, what the heck can you do? A few things, actually. First: grab every skin-care, cosmetic, and hair care product you have. Dial up the Skin Deep Cosmetic Database and start typing in your products, searching for their level of safety; they rate on a 1-10 scale. I threw out everything that was above a 4 (btw many of my 'natural' products were coming up with scores of 6 and 8). And make some tea. You'll be here a while.
Then, head to the kitchen. You probably have plenty of stuff in there already (or that can be purchased easily and cheaply) to make your own skincare apothecary.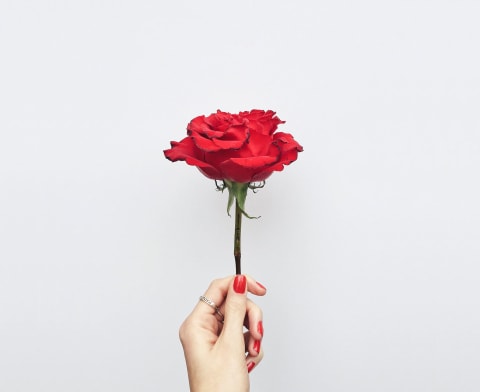 Image by Taylor Kampa / Stocksy
Most of us are probably familiar with how often roses are used in personal care products—as rose water, rose scented lotions and, of course, perfume. Indeed, rose petals are a wonderful tonic for the skin. A cooled infusion (tea) of rose petals can be used as an eye or mouthwash, due to the antiseptic characteristics of the rose. Add in the anti-inflammatory qualities and you've got a wonderful toner for skin troubled by rashes, irritation, or acne. Just spritz it on the skin after cleansing. For acne-prone skin, mix a toner of one part rose infusion and one part aloe juice. Use this after cleansing in the morning and evening. Keep it in the fridge for the longest shelf-life.
Rose is also a wonderful tonic for mature and aging skin, due to its vitamin C content and ability to rehydrate and soothe the skin. You can add a few drops of rose essential oil to the moisturizers you already use, or blend an ounce of jojoba oil (which is readily absorbed by the skin, as it so closely mimics the skin's own sebum, or natural oil; it does not need to be refrigerated and has a long shelf life) with 8 drops of rose essential oil. Smooth this on your face at night, or anytime the skin feels tight and dry.
To cleanse dry skin, try the following: find rosewater or brew some rose petal tea (1tsp of herb per 6oz of water). Combine two tablespoons of rosewater or rose tea with two tablespoons of raw honey and 1/2 cup of almond oil. Massage a small amount into skin. Rinse well and pat dry. This cleanser can be stored in your medicine cabinet, no need for refrigeration. If your skin still feels dry after cleansing, massage in a little more almond oil.
The antiseptic nature of rose also makes it a wonderful treatment for wounds, bruises, rashes, and incisions. To use, take a clean washcloth, dip into the warm or chilled tea (1tbs per cup of water, steeped 10 minutes), depending on the nature of the injury, and place on the wound. For sore muscles, try rubbing the area with a rose-infused oil. Try two parts oil to one part herb. Grind the dry petals and infuse them in the oil. Let this sit at least two weeks in a dark spot, strain, and use, warming the oil as you wish.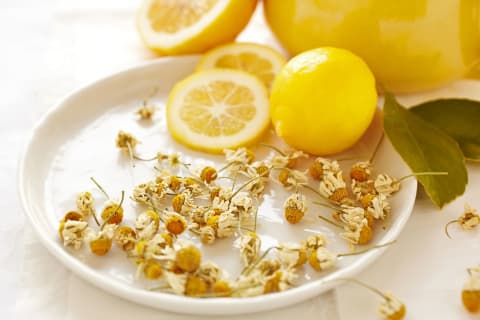 Image by Trinette Reed / Stocksy
The health of our liver is reflected in the health of our skin. Chamomile is an herb you can use internally to help tone the digestive system, liver, and kidneys. When these organs are working and healthy, wastes will be processed the way they were meant to be—through elimination—and not through the skin.
Chamomile is also a wonderful external addition to your skincare regime, especially if your skin is sensitive, mature, or irritated and chapped by the elements. Apply cool chamomile tea as a toner to the skin. Search out a chamomile hydrosol and spritz this on the skin. For helping the skin heal from sun or windburn, try adding a few drops of chamomile essential oil to an ounce of jojoba oil. Apply sparingly as needed. This herb's ability to ease inflammation as well as its ability to soothe the senses will calm the body and the mind.
To cleanse the skin (especially good for combination skin), try brewing a strong cup of chamomile tea (two tsp of loose herb or two teabags per 6oz of water, letting it steep 10 minutes). Blend this with one half cup of ground, whole grain oatmeal (rolled Scottish oats is what I use, then grind in a clean coffee grinder) and one tablespoon of raw (not pasteurized) honey (honey is a demulcent, which means it pulls moisture to the skin; it also fights acne and protects against damaging rays from the sun and regenerates skin, protecting against free radicals). Place a small amount of this in your palms and massage into skin. Rinse with warm water. Store the rest in the fridge–without preservatives, this cleanser won't last long on the shelf. If parts of your skin feel tight after washing, try a little almond or jojoba oil massaged into dry areas.
Finally, you can also apply chamomile externally as a paste to help heal burns, skin ulcers, eczema. To use, grind dried flowers with a (clean!) coffee grinder or a mortar and pestle, add some water and a bit of whole grain oatmeal (also soothing for the skin; you don't need to grind it for this recipe) until you've reached a desirable consistency. Keep the paste moist by covering the area with a warm, damp towel. Allow the affected area to rest for fifteen minutes or so, then bathe in cool water until the paste is dissolved. Repeat as often as necessary—until comfort is achieved and the area has healed.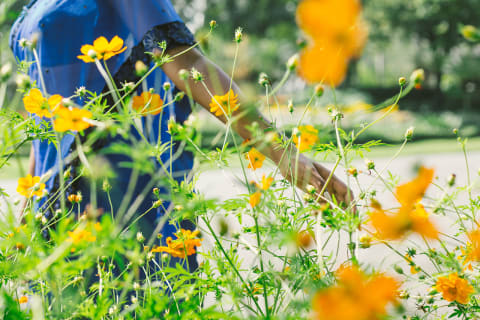 Image by Jovo Jovanovic / Stocksy
3. Calendula (Calendula officinalis)
Calendula is kind of the go-to herb for skin care. It can help dry skin, acne-prone skin, aging skin, as well as help to heal wounds, bruising and other injuries. For an all-around skin care and healing product, soak one part dried blossoms to two parts olive or almond oil. Store in a warm, dark place for two weeks, shaking the jar occasionally. Strain and add a bit of vitamin E as a preservative (you can just puncture two vitamin E capsules and squeeze these into the oil; as an added bonus: for some reason, squeezing these little capsules is highly satisfying…).
This oil can be used on anyone for anything; use it on a baby's skin to heal diaper rash and dry skin (test a small patch first for sensitivity, of course), use on yourself to heal acne, scars, wounds, rashes, eczema, and dry skin. Have sensitive skin? Calendula is soothing and cooling for any skin type.
For oily, acne-prone skin, try this cleanser: combine 3/4 cup strong calendula tea (follow guidelines for chamomile tea, above), 1/4 cup lemon juice (fresh, if possible), 2tbs baking soda, 1tbs aloe vera gel (check the ingredients–NO alcohol). Blend ingredients together and apply with a clean, wet washcloth, gently massaging into face and neck. Leftover cleanser should be refrigerated. Aloe vera gel can be massaged into the skin if it feels tight or can be placed directly on breakouts to treat them. If you are very acne prone, try drinking a cup or two of calendula and chamomile tea daily to help rid the body of toxins and aid elimination (this will be a slightly bitter tea, though not unpleasant).
Feel free to dive right in and start using these natural skincare recipes. However, just as with any drug (and all the chemicals currently found in your skincare line can be considered drugs, as your skin gets 'hooked' on them), there may be a withdrawal period. You may find you are breaking out a bit more. No worries! This is the body ridding itself of toxins. Allow a few weeks for the skin to adjust and it will settle into balance. In the meantime, relish in the idea that you are feeding your skin the food it needs. Go outside. Feel the wind, sun and rain on your chemical-free, toxin-released, beautiful, fresh face.
Amy Jirsa
RYT 500
Amy Jirsa, LMT, is a master herbalist, E-RYT 500 yoga teacher, forager, and writer from Maine. She is the author of Herbal Goddess: Discover the Amazing Spirit of 12 Healing Herbs with Teas, Potions, Salves, Food, Yoga, and More and the founder of Quiet Earth Yoga.