Estheticians Weigh In On The Most Common Skin Care Mistakes (And How To Remedy Them)

Contributing Wellness & Beauty Editor
By Lindsay Kellner
Contributing Wellness & Beauty Editor
Lindsay is a freelance writer and certified yoga instructor based in Brooklyn, NY. She holds a journalism and psychology degree from New York University. Kellner is the co-author of "The Spirit Almanac: A Modern Guide to Ancient Self Care," with mbg Sustainability Editor Emma Loewe.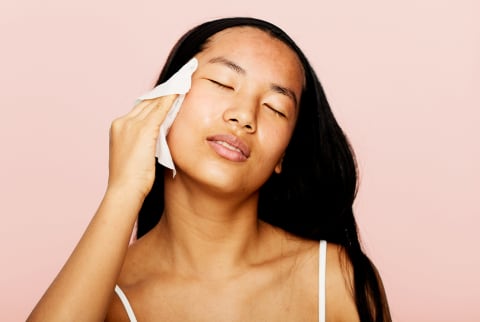 April 18, 2018
Estheticians, the technical title for people who administer facials for a living, get a close-up look at all different kinds of skin and skin problems—dry, oily, congested, rosacea, cystic acne, sensitive—by vocation. They're also constantly learning about their clients' skin care regimens in order to help them adjust and optimize based on their environment, lifestyle, and individual needs.
We asked three top-notch estheticians about the most common mistakes they see in their clientele's regimens. Here's what they said:
Advertisement
This ad is displayed using third party content and we do not control its accessibility features.
1. Overexfoliating.
"The most common mistake I see is putting way too much importance on exfoliation, especially aggressive exfoliation. The renewal process of our skin is related to lymph function. Instead of over-exfoliating, I focus on circulating blood in the skin, releasing chi stagnation, and unblocking all types of flow stagnation. Most people just don't have enough flow beneath their skin."
How to remedy: "I teach my clients home techniques to help support flow. My treatments are all about creating more flow beneath the skin, the products I carry support this, and I teach them how to further support this with face massage, warm towel compressing (similar to what is done in facials with warm towels), and tools like gua sha, rollers, and kansa wands." —Angela Peck, a leader in the no-extraction facial movement
2. Using too many or too few products.
"I see many clients who are not using the proper skin care products for the skin they have. People get caught up in buying what their favorite celeb uses, what their sisters use, instead of focusing on their own skin needs. With my clients, they're either using too many or too few."
How to remedy: "Sticking to the healthy ritual of cleansing properly, a gentle acid exfoliant (I recommend p50), face massage daily, and mask often, and yes, use serum and moisturizer as your skin requires. And for me, an eye cream is nonnegotiable." —Danuta Mieloch, founder of Philly and NYC cult favorite Rescue Spa
Advertisement
This ad is displayed using third party content and we do not control its accessibility features.
3. Undermoisturizing.
"I would say the most common mistake I see is undermoisturizing. I think many are afraid to embrace facial oils as a moisturizer, for fear that it will clog their pores and lead to more oil. This couldn't be more wrong! They use stripping cleansers and oil-free lotions, which can lead to an overproduction of oil in the skin and throw off the balance. Undermoisturizing can lead to more fine lines and damage down the road also."
How to remedy: "The best way to add more moisture is to find a light facial oil, like rosehip or marula, and massage into freshly toned, still-damp skin. In five minutes it will sink right into the skin and leave it feeling super soft. If more moisture is needed, layer a cream over this, which will prevent moisture loss." —Hannah Brady, in-house esthetician at natural beauty mecca Credo Beauty
Want to know more about skin care? Here's a skin care trend that's gaining more and more popularity.
Advertisement
This ad is displayed using third party content and we do not control its accessibility features.