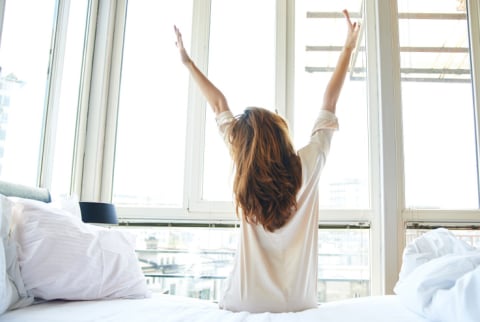 October 7, 2015
Having a go-to morning routine will transform you into an action-orientated individual who is driven, dedicated, passionate, and energized for the entire day. Here are the eight rules I follow to have my best day, every single day:
1. Ignore your phone for at least 30 minutes.
Limit your screen time as much as possible when you first wake up. It's a good way to not be a slave to your technology all day. (And, really, your phones shouldn't be in your room at all.) Drink a glass of cold water. It will wake you up and your body is usually dehydrated after sleeping for a full seven to nine hours.
Jump-start your day with a nice cold shower. Warm showers make you feel hazy and lethargic. Cold showers will shock you, wake you up, and bring you back to the present.
3. Start a meditation practice.
Meditate for at least five minutes. If you struggle with your meditation practice, just try breathing in through your nose and out through your mouth and try to let your mind be at ease. Set a timer so you know when it's time to stop.
4. Find a way to move your body.
Practice yoga for 5 to 25 minutes every morning. Establishing a yoga practice will help you get in tune and connect with your body, plus it will wake up your muscles.
A healthy breakfast will jump-start your metabolism and help prevent oversnacking later. Even if you don't have a lot of time, a quick breakfast (a handful of fruit and some nuts and seeds) will get your day on the right track.
It's important that you understand what you're striving for every single day. Read a personal development book, watch a motivational video, or listen to light and positive music while sipping green tea. You will find yourself listening to some pieces of music or videos over and over again and still learn something new each time.
7. Set a goal for the day.
Try jotting something down in your journal, or yelling out a positive mantra. Whatever it is, give yourself direction for the day.
8. Ask yourself these three questions.
What are three things you are grateful for?
What are the top five most important priorities in your life right now?
What are you feeling right now in this moment?
I know it will be tough to adjust to this routine, but in order to change your life, you must be willing to make some sacrifices, and the first is wasting the morning on Facebook, email, or anything else that distracts you. Make the time each morning to take charge of your life. Give this a try for a whole week and I'm sure you'll never go back to a stagnant morning routine.

Dan Harrison
Dan Harrison is on a journey striving to become better today then he was yesterday. Inspiring action is what fuels his passion for the work he does. Encouraging you to take control of your body and mind. Dan Harrison is host of the Beastified podcast on iTunes.