Moringa Oil: 6 Full-Body Beauty Benefits For Skin, Hair & Nails
Contributing writer
By Andrea Jordan
Contributing writer
Andrea Jordan is a beauty and lifestyle freelance writer covering topics from hair and skincare to family and home. She received her bachelor's in Magazine Journalism from Temple University and you can find her work at top publications like InStyle, PopSugar, StyleCaster, Business Insider, PureWow and OprahMag.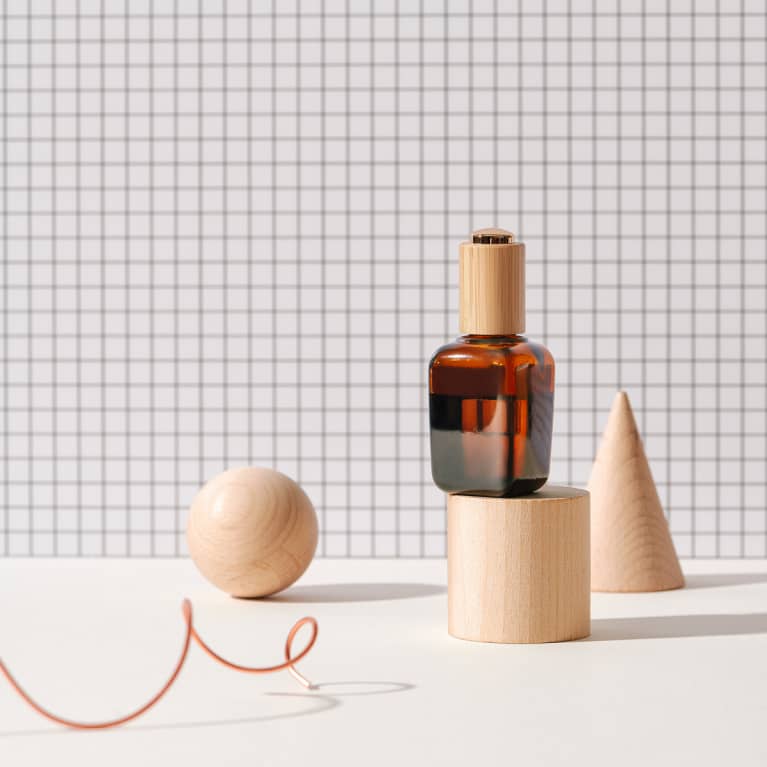 Since I live a nonstop, fit-everything-into-a-day kind of lifestyle, I reach for multitasking products to make my beauty routine just a smidgen easier. My latest beauty craze: oils. Oils are not only rich in moisture, but they have other properties that help keep my skin, hair, and nails healthy without the addition of any harsh ingredients. But there is a new(ish) plant oil that's caught my attention, and now I want to shout it from the rooftops.
Enter in, moringa oil. It's native to India, and beauty brands are catching wind of all of its benefits including healthy aging, balancing moisture, and speeding up the healing process of wounded skin. Intrigued, yet? We tapped two dermatologists to get the scoop on moringa oil and why it's the multitasking oil you need, stat.
Moringa oil is the oil that comes from the moringa oleifera tree indigenous to the Himalayan mountains in Northern India. The moringa tree is used to make several varieties or moringa products, including moringa powder. "The oil is loaded with omega fatty acids and antioxidants, which have a variety of benefits to the skin from soothing irritation to reducing fine lines and wrinkles," says board-certified dermatologist Deanne Mraz Robinson, M.D., FAAD. It's also chock-full of moisture and works on the hair, skin, and nails. Moringa oil is also made up of monounsaturated fatty acids and oleic acids that promote a strong skin barrier (more on that later). It's basically the multitasking oil your beauty routine is missing.
What are the beauty benefits of moringa oil?
Of course, moringa oil is hydrating, but there's so much more to this plant oil. Ahead, find six reasons to use moringa oil on your hair, skin, and nails:
1.
It strengthens the skin barrier.
According to board-certified dermatologist Hadley King, M.D., moringa oil is made up of 40% monounsaturated fatty acids, with 70% of that being oleic acid. "This combination makes moringa oil great for supporting the skin barrier," King says. A strong skin barrier helps to keep moisture in and protect against environmental elements like sunlight, pollution, and free radicals. The stronger the barrier, the more healthy, balanced, and hydrated your skin will be.
2.
It can help slow signs of aging.
Antioxidants are a go-to ingredient for keeping those premature wrinkles and lines at bay. "Because of its high content of vitamin E, moringa oil has potent antioxidant properties," King says. When it comes to aging, antioxidants help to neutralize free radicals that would otherwise damage our skin cells. One 2014 study found that the use of moringa leaf extract cream on the skin enhanced skin revitalization and supported anti-aging skin effects.
3.
It can help balance moisture levels in the hair and scalp.
Like almond and argan oils, moringa oil can help keep strands moisturized without weighing them down. And since it's similar to the oil that our skin naturally produces, it can help balance sebum production on the scalp, too. You can massage the oil into your scalp or rub a dollop from root to tips for added sheen and hydration.
4.
It may help with inflammation and wounded skin.
Thanks to the omega fatty acids and antioxidants in this oil, moringa oil can actually help soothe inflammation and wounded skin. Robinson says that the vitamins E, A, and C in moringa oil can help heal active lesions, cuts, and burns. One study found that nanofibers with moringa extracts had better wound healing than those without. Consider moringa oil the new Neosporin.
5.
It may help control eczema and psoriasis flare-ups.
If you suffer from skin conditions like eczema or psoriasis, you know how much of a pain (an annoyance) flare-ups can be. "Moringa oil has antimicrobial properties making it a good choice for patients suffering from eczema flares that might be on the verge of infection," Robinson says. Moringa oil is also an emollient, aka a moisture sealer, so it helps to keep dry, flaky skin at bay, too.
6.
It soothes dry cuticles.
If you want to practice better nail health, properly hydrated cuticles are a must. "Moringa oil is great for dry, cracked cuticles," Robinson says. "It nourishes and prevents infection and irritation from outside pathogens." Better yet, you can rub this hydrating oil all over your hands for a deep hydrating treatment, cuticles included.
"Most skin types see moringa oil as a positive addition," says Robinson. Since it helps with a slew of beauty concerns from wrinkles to cuticles, there are so many different uses for this oil. But as always, when incorporating any new product or ingredient into your regimen, it's always best to apply on a test area to avoid any widespread reaction.
Moringa oil is a natural do-it-all ingredient that can be applied from head-to-toe. It's great for oily and dry skin and can even help improve skin conditions like eczema and psoriasis. But all in all, it's definitely an oil you'll want to have in your medicine cabinet.