A Delicious Mocktail To Balance Your Blood Sugar & Help You Rehydrate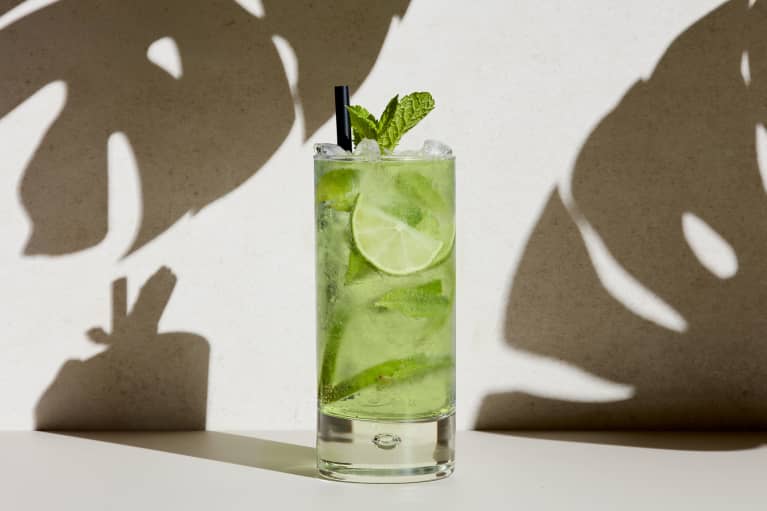 In the summer, booze seems to flow much more easily (wine in the park, margaritas by the pool, and happy hours galore!). With so many opportunities to soak up the sun with a drink in hand, it's normal to want to reach for a festive alcohol-free beverage, too.
Even if you aren't someone who avoids alcohol altogether, it can be nice to have the option for a bright and tasty beverage that feels a little bit fancier than water and actually fuels your body with an array of nutrients rather than acting as a depressant.
Well, you're in luck! Because we whipped up the perfect nonalcoholic drink (aka mocktail) recipe to spice up your weekend with one sneaky ingredient: veggies. Well, not whole vegetables exactly, but a greens powder.
This recipe requires only three ingredients, but mbg's organic veggies+ is the most valuable of them all, offering a good source of fiber, as well as a mix of organic sea vegetables, broccoli, spinach, ginger, turmeric, and more. It's hard to come by a greens powder that won't dramatically alter the flavor of your beverage, but trust us: This one won't. And your mocktail will be miles healthier than any boozy beverage you could whip up (so long, margarita).
Another highlight of organic veggies+ is the blood-sugar-balancing properties.* You'll also get some support for digestion, hormonal balance, and even nutrient absorption.*
"The mocktail is a refreshing way to work in veggies and antioxidants and to support hydration on a hot summer day," registered dietitian Jess Cording, M.S., R.D., CDN, shares.*
For a healthy and refreshing drink that easily replaces your cocktail of choice, this three-ingredient mixer is the way to go. Here's how to make it:
3-Ingredient Summer Mocktail
1 tablespoon organic veggies+
juice of 1 lime (about 2 tablespoons)
8 to 12 ounces water
½ to 1 teaspoon honey
Mix the ingredients together and stir until blended.
Add more lime or honey, depending on taste preference.