How To Nail Minimalist Makeup: 6 Nonnegotiable Tips, From Experts

mbg Beauty & Wellness Editor
By Jamie Schneider
mbg Beauty & Wellness Editor
Jamie Schneider is the Beauty & Wellness Editor at mindbodygreen. She has a B.A. in Organizational Studies and English from the University of Michigan, and her work has appeared in Coveteur, The Chill Times, and Wyld Skincare.
May 24, 2021
Our editors have independently chosen the products listed on this page. If you purchase something mentioned in this article, we may
earn a small commission
.
Minimalist makeup is so much more than cleaning out your makeup collection. Yes, the term "minimal" might inspire you to dig through your chasm of lippies and liners and toss the ones that have yet to see the light of day, but "minimalist makeup" is an entire look itself—one that strikes the balance between enhancing your natural beauty and having fun with it.
For what it's worth: Minimal does not mean boring. (Far from it!) Below, makeup artists fill us in on how to nail the modern look.
Advertisement
This ad is displayed using third party content and we do not control its accessibility features.
What is minimalist makeup? 
It's a dual-pronged venture: On one hand, you're reducing the number of products in your routine, decreasing the clutter, and keeping your vanity, you know, minimal. But minimalist makeup also entails a no-fuss approach: "Let's face it; there's something so liberating about waking up and not having to go through all the motions," says makeup artist Alexandra Compton, product development manager at clean beauty retailer Credo. You're picking a few products (ideally multiuse formulas, which we'll get into later) and rolling with the punches.
While you might conflate minimalist makeup with "no-makeup makeup," the two are very much distinct. See, the latter is still pretty detailed—even though it's hailed as an effortless glow, it takes time and skill to truly get right. "You really have to focus on getting all of these intricate details correct," says celebrity makeup artist A.J. Crimson. Whereas with minimal makeup, it's more of a tap-and-go process.
Advertisement
This ad is displayed using third party content and we do not control its accessibility features.
Tips to nail the look.
Minimalist makeup isn't about hiding the fact that you're wearing it—in fact, plenty of minimal looks feature pops of bright color and intricate swirls of liner. Here, makeup artists walk us through the nonnegotiables: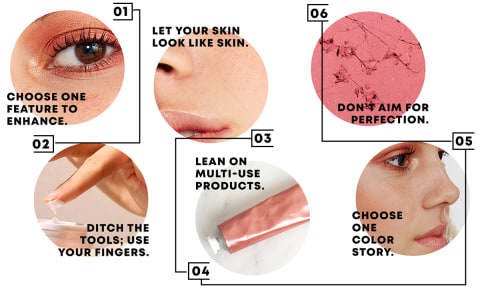 Image by mindbodygreen creative
Advertisement
This ad is displayed using third party content and we do not control its accessibility features.
1.
Choose one feature to enhance.
"My biggest tip is to focus on enhancing one feature of your face that you love: eyes, skin, lips, brows, etc.," says Compton. That way, you can still achieve a high-impact look, if you so choose (again, minimalist makeup is not "no-makeup makeup"), but you keep it simple with one focal point. "You're doing the bare minimum, but you're still doing something with a lot of impact," says Crimson.
That's why even negative space eyeliner looks can still appear minimal in the right context; if you choose to focus on the lids, go for it—just keep your cheeks, lips, and brows on the natural side.
2.
Ditch the tools; use your fingers.
Part of minimalist makeup is paring down the number of products you have in your arsenal—so fingerpainting is your best bet. A bonus? "No brushes to clean or sponges to wash," says Compton.
Advertisement
This ad is displayed using third party content and we do not control its accessibility features.
3.
Let your skin look like skin.
There is a time and place for sculpting and contouring, but minimalist makeup is not it. You can use highlighter and blush to carve the cheekbones if that's your chosen focal point, but both Crimson and Compton recommend steering clear of too-heavy coverage. This makeup look is all about ease and simplicity—so let your skin breathe.
You can always use your concealer to your advantage by applying precisely in the areas with the most discoloration (typically under the eyes, around the nose, and any spots you'd like to cover up). Crimson also recommends starting in the center of the face and working your way out to the perimeter of the skin to make the result as subtle and bright as possible. See here for our favorite creamy concealers to choose from.
4.
Choose one color story.
Minimalist makeup doesn't mean you should shy away from color. Quite the opposite! How many looks have you seen with rich shadows or intricate eyeliner designs that still manage to look minimal? Well, it's because they stick to one shade: Just like you should choose one feature to highlight, choose one hue if you decide to go vibrant.
For example, if you swipe a fuchsia number (like Beautycounter's Satin Powder Blush) on the apples of your cheeks, use that same color across your lids or dab it onto your lips. Or if you're partial to an electric blue hue (like this Kosas number), sweep it lightly over your cheekbones for a subtle, ethereal highlight. Bottom line? You can go bold with color without going overboard.
Advertisement
This ad is displayed using third party content and we do not control its accessibility features.
5.
Lean on multiuse products.
Of course, it helps to stick to one color story if you're using the same product across your features. We love a good multiple around here: Not only does it save time and maximize your dollar (talk about more bang for your buck), but it pares back your makeup routine by leaving more room in your beauty bag.
"Try using your blush or bronzer on your eyelids patted in with fingertips and on the lips for a soft monochromatic look," Compton suggests. Crimson's partial to a lipstick-as-blush moment: Tap the bullet onto the cheeks and diffuse with your fingertips, and perhaps run it through the crease of your eye as well. See below for our favorite multifunctional buys (or you can always just repurpose a proper lipstick or cream blush).
6.
Don't aim for perfection.
This is where minimalist makeup and "no-makeup makeup" arguably differ the most: With "no-makeup makeup," you may spend ample time in the mirror to make your blush look naturally sun-kissed, to let that highlight read undetectable. With minimalist makeup? It's more lived in and a bit undone—according to Crimson, it shouldn't take you more than 10 minutes.
"It's getting to the end result of your beauty [look] faster without overthinking it," he adds. "You're just tapping in color. The liner [may not be] perfect, but you're still achieving our beauty goal at the end of it all."
Why minimalist makeup is having a moment.
Of course, the trend has a practical element: Using fewer products is friendly on your budget and on your schedule. Rather than splurging on a handful of palettes, perhaps you indulge in one or two basics to use for your lips, cheeks, and lids. If you previously had products upon products spilling over your shelves, paring your routine down to a few versatile staples feels like a welcome relief.
But minimalist makeup itself is also, in a way, freeing. Especially in a world rife with video calls and virtual hangs, "maybe you became used to seeing what you look like every day and fell in love with yourself in a whole new way," says Crimson. As a result, maybe you actually forgo the concealer (dark circles be damned) but still feel like swirling on a rosy blush or having fun with shadow to add some life to the equation. "It's this breath of fresh air, really, in regards to beauty," says Crimson.
Compton agrees: "Makeup is not a mask but an empowering tool to boost confidence and spark joy," she says. "We wear makeup on our own terms because we love doing it, not because we have to." That's not to say we should completely abandon glitz and glamour—we just might have two or three products to nail the look rather than a robust 10-step regimen.
Try these products:
The takeaway.
Minimalist makeup isn't so cut-and-dried. Generally, it refers to a clutter-free cosmetic bag and a no-fuss technique, but there's a profound meaning behind this trend: The beauty world has shifted to a more lived-in, undone approach—but that doesn't mean you must relinquish all the fun.