A Microbiologist On How Often You Should Be Washing Your Towels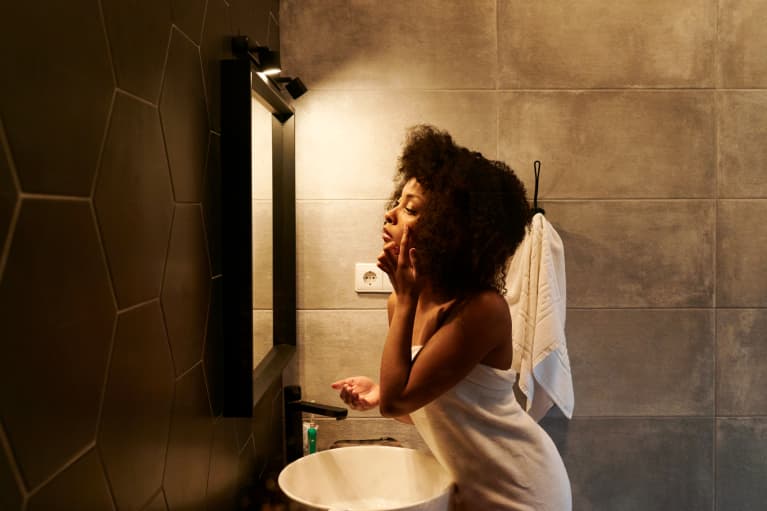 There's something super comforting about wrapping yourself up in a towel when you're fresh out of the shower or bath. Unless, of course, that towel hasn't been washed in weeks.
We might think that because we're clean when we dry ourselves off, our bath towels don't pick up many germs. But according to an expert, that's not the case. Bacteria and other microorganisms cling to towels and can contribute to the spread of germs—so here's how often you should be washing yours and how to do it right.
How often you should actually be washing your towels and why.
According to microbiologist Charles Gerba, Ph.D., bathroom towels need to be washed on a very regular basis. (And potentially after every use in some cases, but more on that in a bit.)
"From our testing," he says, "you should change your face and bathroom towels every three days at least." In a towel study Gerba did a few years back, he and his team found fecal bacteria on 80% of towels that hadn't been washed for three days or longer—yuck.
"Fecal bacteria that get in [towels] from hand-washing grow because of the moist conditions," he adds. Not to mention the fact that bacteria and other germs can get sprayed in the air when you flush your toilet and stick around since many bathrooms are particularly moist. This also makes it difficult for towels to dry completely.
The best way to clean towels before using them again.
Once it's time to wash your towels, Gerba let us in on a few best practices: "We found that a lot of the fecal bacteria survived cold-water washes," he tells mbg, "probably because the thickness of the towel makes removal difficult." For this reason, he says it's best to wash your towels in hot water and dry them on a high setting if you're using a dryer. (For most other laundry items, cold-water washes are effective—and more earth-friendly.)
You should also make sure your towels air dry completely between uses and have dried out before you throw them in the hamper.
If you have sensitive or acne-prone skin, you may want to wash your towels after every use to help your skin out and lessen irritation, says Gerba.
When you're freshly clean, the last thing you want to worry about is a dirty towel. And while it's definitely a bit gross to think about the germs that could be living on our bath linens, that's all the more reason to get 'em in the wash and wash 'em right.