Close Banner
Advertisement
This ad is displayed using third party content and we do not control its accessibility features.
Here's What Reviewers Have To Say About mbg's Targeted Supplement Line

mbg Sustainability + Health Director
By Emma Loewe
mbg Sustainability + Health Director
Emma Loewe is the Senior Sustainability Editor at mindbodygreen and the author of "Return to Nature: The New Science of How Natural Landscapes Restore Us."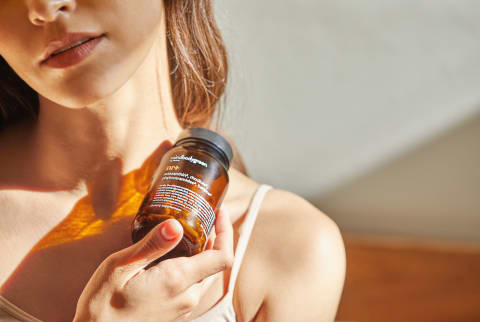 Image by mbg Creative / Contributor
We carefully vet all products and services featured on mindbodygreen using our
commerce guidelines.
Our selections are never influenced by the commissions earned from our links.
After over a decade working with leading functional medicine doctors and nutritionists, in 2020 mbg decided to break through the digital sphere and apply our accumulated well-being knowledge to the company's first line of physical products: supplements+.
mbg worked to create a line to help ease some of the health issues we've seen readers struggle with again and again: stress, poor sleep, an unhappy gut, and low energy levels, to name a few.* We blended some of today's most promising ingredients into six formulas that are heavily researched, rigorously tested, and targeted to work.*
We're super proud of the little line and love hearing about how it's helping folks get through a challenging time feeling a bit better.* Here are some of our favorite reviews of our signature amber jars that have come in from around the web this year.
sleep support+
Our bestselling supplement, sleep support+ promotes sleep using a combination of magnesium glycinate, a highly absorbable form of magnesium that can help spur relaxation; jujube, a fruit that has been used to ease insomnia in traditional Chinese medicine for centuries; and pharmaGABA, a neurotransmitter that helps reduce racing thoughts and get the mind to relax.* It's a gentle yet powerful blending of the old and the new that really works wonders.*
Back when traveling was a thing, Artful Living included it on their list of the best travel essentials, writing "Instead of stressing about how tired you're going to be for morning yoga, you should pop a couple mindbodygreen sleep support+ capsules. This gentle formula promises to help you fall asleep faster, stay asleep longer and wake up refreshed."*
People magazine also featured it on their roundup of favorite health and wellness products discovered during quarantine that make 2020 more bearable, while Town & Country included it on their list of supplements to take to fight Zoom fatigue. No easy feat!
nr+
nr+ supports beauty from the inside out by increasing the body's levels of NAD+, a molecule that helps our cells function at their best but declines with age.* Beyond reducing visible signs of aging like wrinkles, it can also help restore youthful energy.*
In an interview with Pure Wow on her daily health routine, wellness entrepreneur Rachel Krupa named it a must, saying, "Six weeks ago, I started to take mindbodygreen's nr+, and I can already see and feel the difference in my energy, mood, and skin. I have an extra pep in my step, and I can see the small lines around my eyes diminishing."*
And when Total Beauty rounded up their list of the buzziest supplements of the year, this one made the cut: "News flash: Fine lines and wrinkles don't form overnight...which means aging can't be reversed overnight, either. Luckily, NR (aka nicotinamide riboside) is clinically proven to encourage cellular metabolism, which means it helps the natural glow of your skin overpower any wrinkles after regular use," they wrote.*
veggies+
"Eat your veggies" is never bad advice, but hey, sometimes it's easier said than done. To make it simple to get your greens in a pinch, organic veggies+ packs broccoli and spinach, sea vegetables, and vegan digestive enzymes into a nutrient-dense, filler-free powder that can easily be sprinkled onto smoothies, salads, soups, or snacks (healthy popcorn, anyone?).*
When Goop tapped nutritionist Maya Feller, M.S., R.D., for her top 11 healthy habits, she gave it a special shoutout: "mbg veggies+ packs sea vegetables, which are helpful for supporting the thyroid, due to their iodine content."*
hemp multi+
Stress may be a part of life, but hemp multi+ makes it a little easier to manage.* The multivitamin is built on a base of organic, phytocannabinoid-rich hemp oil extract and includes other relaxing plants like hemp, rosemary, and black cumin seed to further promote calm.* Each serving also contains 25 mg of vitamin D to enhance immune function.
"mindbodygreen hemp multi+ is a next-generation 'multi' for the endocannabinoid system," reads Essence's list of 10 immunity-supporting products.* "The vitamin regulates any physiological and cognitive processes in the immune system, central nervous system, the brain, connective tissue and glands, and boosts the body's anti-inflammatory response, making it the perfect cocktail to fight off strange germs within your body."*
grass-fed collagen+
Our grass-fed collagen+ is a workhorse supplement that helps deliver youthful skin, healthy hair, and strong nails in each scoop.* It's Whole30-approved and sourced from grass-fed, pasture-raised cows in Argentina. Its mild flavor can disappear into anything, from your morning coffee to a tropical smoothie bowl.
"mindbodygreen's offering is proven to enhance skin elasticity and hydration thanks to amino acids. It also promotes healthy hair and nails thanks to biotin—a water-soluble vitamin that is tied to the B family," writes Trendhunter. "The grass-fed collagen also supports antioxidants and collagen production, which carries further implications for overall health."
probiotic+
And finally, it wouldn't be an mbg supplement line without a gut supporter in the rotation. probiotics+ contains—count 'em!—four strains designed to beat bloating, aid digestion, and promote nutrient absorption.* "Any ounce of bloat I felt disappeared," health and fitness coach Melissa Wood says of her experience with the product.*
To learn more about any of these supplements and read up on how people are working them into their well-being routines, click around below.