mbg Reviewers Share All The Clever Ways They Use Organic Veggies+ Greens Powder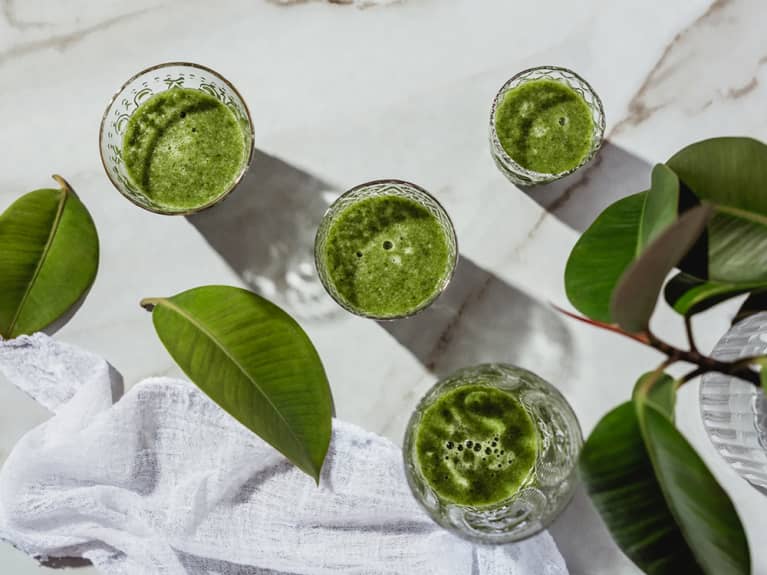 What's your favorite way to get your veggies? While we're all for getting your fill of fresh produce, we also know it's not always so easy to get your recommended daily amount of fruits and vegetables. That's precisely the reason mbg developed our organic veggies+ greens powder: We wanted to offer an easy way to eat more fruits and veggies, plus a number of other powerhouse ingredients.
The greens powder features a nutrient-rich blend, including organic dark green leafy vegetables, sea vegetables, a fiber blend, probiotics, antioxidant-rich fruits, plus immune-supporting turmeric and ginger.* What's more, when mbg developed organic veggies+, taste was a priority (many reviewers have even complimented its pleasant flavor), to make it more versatile and palatable for daily use.*
That's why we love hearing all the tasty ways mbg reviewers use this functional greens powder. Consider their testimonials a bit of inspiration.
"I use it to boost my baking."
"This is such an amazing product. I use it daily to boost my smoothies, in baking (mbg pumpkin loaf recipe, which was a huge hit) and even by itself in water with the addition of an Emergen-C packet from time to time. I feel so much more energized and focused the day after having it, I really can't recommend it enough!* I also find that I am less sore now from workouts (I do a lot of functional weight training and HIIT), and seeing as this is the only variable that changed in my life, I'd say consistently drinking the organic veggies powder is the reason why.* As I said, I can't recommend this product highly enough!"
—Antonia P.
"I drink it with coffee and tea."
"I was hesitant to try this—as I hate most powders—especially the 'green ones.' Nothing I hate more than a powder that tastes like the bottom of a swamp...but this...is amazing!!! I cannot get enough of it. I drink it with coffee, with tea and added turmeric, or in soup. I have suffered from debilitating and extremely painful (also horrific-looking) unexplained eczema, and severe systemic inflammation; and using this daily along with following Will Cole's inflammation spectrum book; there is a light at the end of the tunnel.* For the first time ever, my eczema is almost gone, my hair and nails and skin look great, my joints feel significantly better, and digestion issues are subsiding.* I'm finally not forcing veggie intake on myself because with this, not only do I love it, but I know with adding this to my diet, I am guaranteed the best kind of organic veggies daily.* Right now I get a delivery every two weeks and absolutely love it."
—Reilly B.
"I've tested it in overnight oats, and next I want to try banana nice cream."
"I love veggies, but I don't always have the chance to eat as many servings per day as I'd like. Enter veggies powder! I knew I could likely mix this into smoothies and enjoy it, which I certainly did. However, I really wanted to test this product by adding it into other things, like my overnight oats for instance. The results were amazing! It mixed in so well, no gritty texture, no harsh/bold flavors. It paired so well with berries and gave my oatmeal a very rich flavor. So easy to add in and such a bonus getting all the benefits (some of my faves being anti-inflammatory properties and increasing my intake of sea veggies) of this product all before 9 a.m.* My next attempt will be adding this to banana nice cream for an end-of-day treat and attempt at more veggies 😊. Give this a try, even if only for your smoothies or for any other daring culinary adventure, and I think you'll be pleasantly satisfied and surprised!"
—Clara
"I add this to my kid's shake."
"I know we don't get enough veggies, especially green ones. I add this to my kid's shake and mix with my orange-vanilla collagen mix."
—Jennifer G.
"I love it in smoothies and various beverages."
"organic veggies+ is a great way to know you're getting a dose of veggies and super-nutrients, no matter what's on your daily agenda!* It mixes well with beverages, smoothies, and soups, so it's very versatile! It gives you peace of mind knowing that you're taking care of your health and nutrient intake each and every hectic day!"
—Melissa A.
"I've even mixed with soups and salads."
"Great way to get my daily greens, especially these days when it's harder to get fresh veggies.* Tastes great and have even mixed with soups and salads! Highly recommend!"
—Brian P.
"It's great simply diluted in water."
"This is hands down the best green veggie powder I have tasted. It's easy to mix with your favorite smoothies or simply diluted in water."
—Alexandra A.