This Probiotic Supplement Has Bonus Skin-Clearing Benefits, Say mbg Reviews*
Assistant Managing Editor
By Abby Moore
Assistant Managing Editor
Abby Moore is an assistant managing editor at mindbodygreen. She earned a B.A. in Journalism from The University of Texas at Austin and has previously written for Tribeza magazine.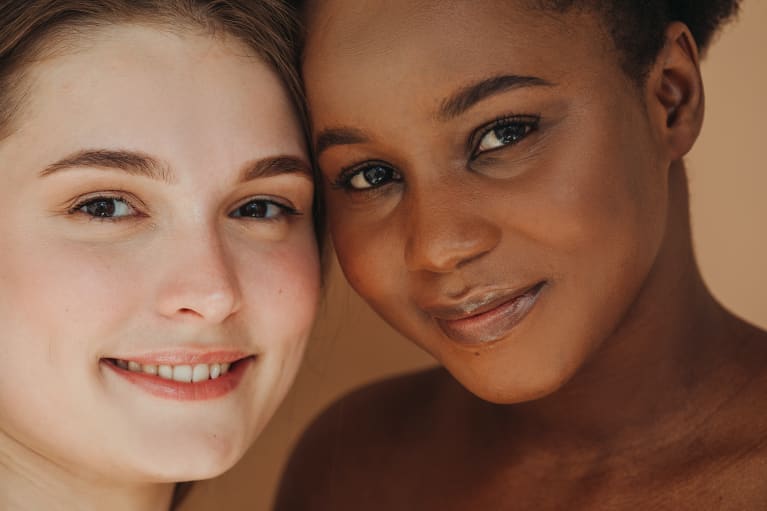 Probiotic supplements' claim to fame is the fact that they add good bacteria to the gut, which helps to maintain or promote balance within the gut microbiome.* Because of their gut-friendly benefits, plenty of people turn to probiotic supplements for digestive health issues, including irritable bowel syndrome (IBS), constipation, frequent gas, or bloating. That said, the benefits of probiotics go beyond the gut.*
While a healthy gut microbiome plays a critical role in the digestive system, it's also connected to other bodily systems, including the immune system, the nervous system, and even the integumentary system (read: skin health).
According to one study, intestinal dysbiosis—an imbalance of good versus bad bacteria—can lead to three common skin disorders: acne, atopic dermatitis (AD), and psoriasis. Researchers call this connection the gut-skin axis and have found probiotics to be a useful tool in managing skin inflammation caused by these disorders.*
Because the gut controls so many bodily systems, many functional medicine practitioners believe it's the center of health. To help support this influential part of the body, mbg created probiotic+. While digestive health and bloating is the main focus of probiotic+'s particular strains, some mbg reviewers have also shared the supplement's positive impact on their skin health:*
"My skin is so clear (even on my cycle).*"
"Honestly this changed my body.* I'm vegan and have tried literally 50 different brands over the past few years and every single one made me bloat like crazy or made me break out. This probiotic+ though?? My skin is so clear (even on my cycle!) and ALL of my bloat is gone. ALL OF IT!* I just subscribed to a monthly bottle—seriously, order it. It is worth every cent." —Kristine K.
"It has helped my skin, too.*"
"Love this probiotic. Bloating is hardly ever an issue anymore, and I think it has helped my skin, too!*" —Alyssa R.
"I've noticed a difference in my skin and digestion."
"I was hesitant to purchase the probiotics from mindbodygreen since they are relatively new to the market. After reading all of the positive reviews, I decided to try them. I have been taking them for 30 days, and I've noticed a difference in my skin and digestion!* I am so happy I tried them! I look forward to trying more of their products." —Emily F.