Caky Concealer Is The Worst: A Makeup Artist's Go-To Trick For Dewy Under-Eyes
mbg Associate Editor
By Jamie Schneider
mbg Associate Editor
Jamie Schneider is the Associate Editor at mindbodygreen, covering beauty and health. She has a B.A. in Organizational Studies and English from the University of Michigan, and her work has appeared in Coveteur, The Chill Times, and Wyld Skincare.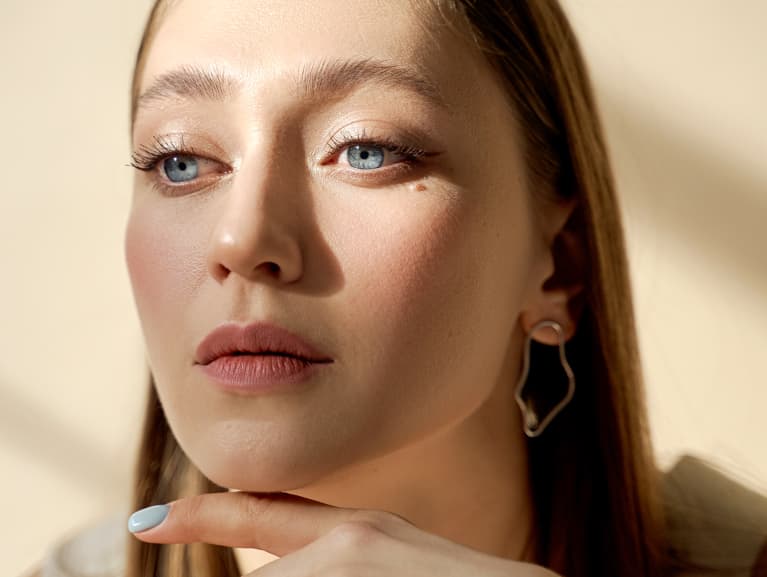 Our editors have independently chosen the products listed on this page. If you purchase something mentioned in this article, we may
earn a small commission
.
When it comes to choosing makeup for dry skin, cream formulas are the gold standard. This rings especially true for your under-eyes, as the skin there is so thin and prone to dryness already. But sometimes, no matter how buttery and delectable the formula, your concealer creases. Or pills. Or feels like sandpaper every time you rub your eyes—which you know you shouldn't do, but hey, it happens during dry-eye season!
First, let's be clear: Your perennially dry under-eyes likely signal a skin care issue and are not the fault of your poor concealer. It takes more than makeup to help them become dewy and smooth—no matter how seamlessly a formula may melt into your skin.
But if you need a quick fix before stepping out the door, here's a helpful little trick from celebrity makeup artist Mary Irwin.
A makeup artist's trick for bright, dewy under-eyes.
Two words: eye cream. Generally, you want to give your eye cream a few minutes to sink in before applying makeup so you can let those active ingredients get to work. But after your eye cream is dried down, Irwin suggests applying another layer—this time, "right before you apply concealer."
One big caveat to mention here: If you have a water-based eye cream, you'll need to snag a water-based concealer (like Tarte's Hydrocealer Concealer). Otherwise, the two formulas just won't blend—oil repels water, remember? It's not a problem when you let your eye cream fully absorb before applying makeup, but if you're hoping to layer one right on top of the other, they need to have the same working base.
If you don't have a water-based concealer in your arsenal, you can always mix a little facial oil with your oil-based concealer. This helps the formula smooth out even further and may even keep it from drying out during the day—plus, it adds a nice glow to the skin. Mix a few drops of oil with your concealer of choice before tapping it onto the under-eyes (Bonus: It doubles as a DIY highlighter, too, so feel free to press it onto your cheekbones for a little sheen as well.)
For bone-dry under-eyes, applying concealer is a bit of a battle. While you should ultimately approach the root of the issue (which is skin care, not makeup), you can always fake a dewy glow for the time being with Irwin's go-to trick.