3 Makeup Artist Tricks For A Fuller Pout, No Matter Your Specific Lip Shape
mbg Editorial Assistant
By Jamie Schneider
mbg Editorial Assistant
Jamie Schneider is the Editorial Assistant at mindbodygreen with a B.A. in Organizational Studies and English from the University of Michigan. She's previously written for Coveteur, The Chill Times, and Wyld Skincare.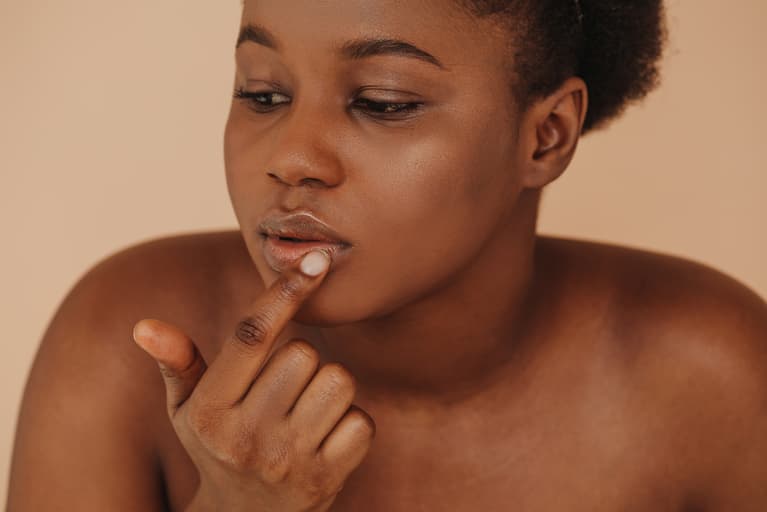 Our editors have independently chosen the products listed on this page. If you purchase something mentioned in this article, we may
earn a small commission
.
While "full lips" has a different definition for everyone, generally those looking for a plumper pout are gunning for supple, hydrated, and healthy-looking lips—all of which start with proper lip care (see our tips here). But in a pinch, makeup sure works wonders. A flick of liner or touch of gloss can create the illusion of fuller lips by day, all while you put in the work to naturally plump that pout.
And speaking of makeup, there's much you can play with to enhance your particular lip shape (for example, those with heart-shaped lips can smudge their liner a bit to soften out a hard V; those with thin lips can draw slightly past their natural lip line for some added volume; and so on). Although, makeup artists have compiled some universally flattering full-lip tricks over the years, ones that take mere seconds to master.
Below, they've shared some of their wisdom for fuller lips, no matter your specific lip shape.
How to create the illusion of fuller lips. 
Here are three ways you can use makeup to enhance your pout, whether you're barefaced or going for a full beat:
Celebrity makeup artist A.J. Crimson suggests adding a dab of gloss (or highlighter—whatever your jam) to the middle portion of your bottom lip, smudging it out gently with your fingertip. It might not seem like much, but a little sheen goes a long way: "Anytime you add anything that is reflective to the lip, it's going to add more of that pop, more of that poutiness," he says. Just like how you'd tap on a highlighter on top of your cheekbones to create the illusion of plump, dumpling-like skin, a smidgen of shimmer can catch the light on your pout as well.
After highlighting your bottom lip, you can also apply a bit of pearly highlighter onto the cupid's bow as well. That sheen accentuates the top lip and creates the illusion of a more open, lush pout.
If you're going for a more natural "no-makeup look," Alexandra Compton, product development manager at clean beauty retailer Credo, recommends snagging your nude lip pencil ("around one to two shades deeper than your skin tone," she once told us) and carefully outlining your lips. By choosing a deeper (yet still natural) shade, you can create the illusion of shadow—and, thus, a fuller-looking pout. Don't forget to accentuate the cupid's bow and smudge it out with your fingers for a seamless blend.
If you're looking to plump your pout for the time being, these no-fuss tips have you covered. Of course, a naturally fuller pout requires much more than a swipe of highlighter, but you can certainly use makeup to your advantage—especially if you're looking for fuller lips, like, right now.