These Makeup Artist Tips Will Help You Revive All Your Winged Liner Mess-Ups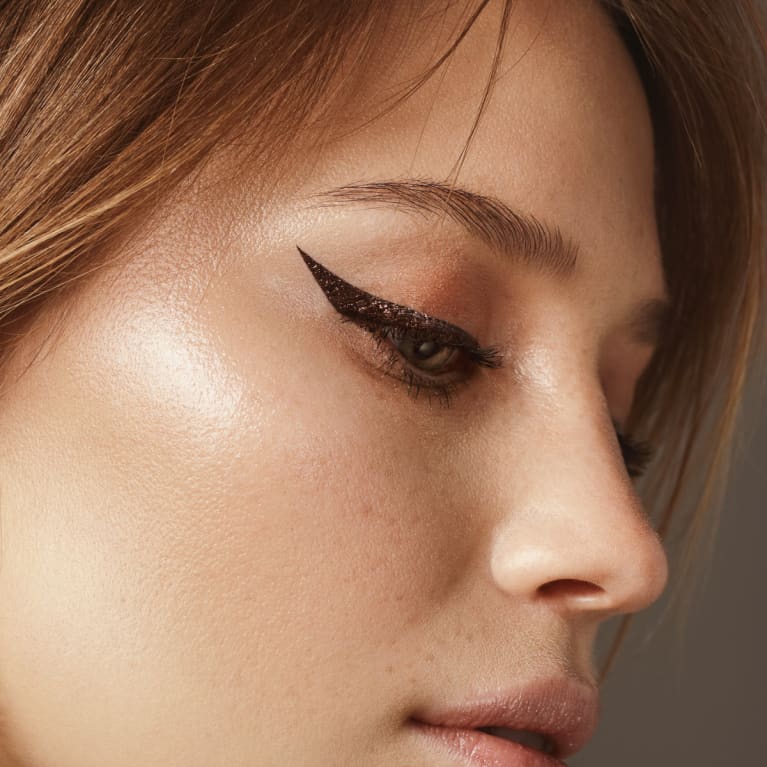 Our editors have independently chosen the products listed on this page. If you purchase something mentioned in this article, we may
earn a small commission
.
So, you've finally decided to take a stab at a cat eye. (Cue the applause.) You go in with a steady hand, a flick at the corner, and—oh, the line looks jagged and bumpy, the wing a bit wilted. Not so cute.
Rather than grabbing your makeup remover and attempting again (and again, and again, and…), makeup artists have a few tricks up their sleeves to clean up the messy bits. No need to start over on a blank canvas—just lean on these tips to revive the wing back to razor-sharp.
What to do if you've butchered your cat eye.
Instead of swiping away all your progress, Alexandra Compton, product development manager at clean beauty retailer Credo, recommends wielding a micellar-water-soaked cotton swab for some precise cleanup. Use the tip of the cotton swab to erase any jagged edges and sharpen the line. (Since micellar water can dissolve both oil- and water-based products, the pigment should lift right off). Then, she suggests grabbing your concealer and applying it just under the wing. You might even want to use a flat precision brush to reach right under that line. "The contrast of the bright concealer and liner will define the line even more," says Compton.
Or, you don't have to use remover at all. Take this technique from Savannah St. Jean, makeup artist and owner of Savannah Rae Beauty: "[If] I can see a jagged line, I will go in with a black eye shadow and a fine brush, and I'll just dab it over the line to soften that edge and make it look clean," she says. Basically, you're filling in the edges with a smudgeable product, which also gives it a slightly smoky effect. Just don't overdo it, here, as filling in the gaps over and over again can result in a pretty thick line.
It ultimately depends on what end result you're looking for: If you love a softer line, St. Jean's shadow trick can help you smudge it out to perfection. If you're hoping for a bold, so-sharp-it-could-cut-glass winged liner, Compton's tip can help you reach that precision. Both require minimal effort, though, even if you've royally stuffed up the first attempt.
Want to turn your passion for wellbeing into a fulfilling career? Become a Certified Health Coach! Learn more here.