It's Nesting Season — Here's How To Make Your Bed The Coziest On The Planet

mbg Sustainability + Health Director
By Emma Loewe
mbg Sustainability + Health Director
Emma Loewe is the Senior Sustainability Editor at mindbodygreen and the author of "Return to Nature: The New Science of How Natural Landscapes Restore Us."
Image by Megan Doty / mbg Creative
January 11, 2019
The term "hygge" first popped up on the American scene in 2016, and unlike other home trends come and gone, the Danish philosophy that prizes cozy, comfortable spaces has withstood the test of time.
It makes sense: Who wouldn't want to walk in their front door and immediately feel wrapped in a warm hug? Typical hyggelig fodder includes fuzzy socks and roaring candles, but to ring in winter 2019 we're calling for the next iteration of a wellness-approved hygge bedroom: one that makes us feel cushy and safe while also promoting a better night's sleep.
Go forth and make the bed of your dreams with these eight add-ons:
1. A reading lamp that won't disrupt your circadian rhythm.
2. Herbs for a facial steam.
Talk about a fantastic winter ritual—facial steams cleanse and hydrate the skin while delivering a mood-boosting hit of smell-good herbs. This steam kit from Klei Beauty is packed with uplifting scents plucked from nature, like rose, hibiscus, and orange. Keep it on your bedside table to prompt you to take a few minutes to make things steamy every once in a while.
Klei Uplift Floral Facial Steam ($22)
3. A weighted blanket or eye mask.
Weighted blankets have emerged as a popular sleep aid recently, and mbg's food director Liz Moody swears by them for her occasional insomnia. "Similar to a deep-tissue massage, the pressure of the blanket on your body stimulates your body to release serotonin, which then converts to melatonin, the sleep-inducing hormone," she explains. "I love mine—when I use it, I fall asleep faster and get a deeper, more satisfying rest with less tossing and turning." She's into the Napper from Bearaby because it's breathable, made from 100 percent cotton, and chic-looking. If you don't want to shell out the cash for a full blanket, ease into things with a weighted eye mask, like this one from Gravity.
Gravity Weighted Sleep Mask ($29.99)
4. All-white bedding.
All-white bedding always reminds me of hotel beds, and ever since I made the switch, getting under the covers has somehow become even more relaxing. While it means washing your sheets more, we could all probably stand to do that anyway! When it comes to bedding, linen and organic cotton tend to be the most comfortable and environmentally friendly materials. Check out these six nontoxic brands that mbg has vetted or this newcomer Eucalypso, made from sustainable sourced eucalyptus fibers.
Eucalypso Classic Sheet Set ($129)
5. An Amazon Echo.
Sales of Echos have skyrocketed recently (more than 60 percent of Prime members have one), and for good reason: The gadget can do a whole lot more than you might realize. To use it to promote sleep, you can set it to play white noise through the night, pop on a guided meditation to do in bed, or use it as an alarm clock instead of your phone so you're not tempted to start scrolling first thing in the morning.
Amazon Echo Dot ($29.99)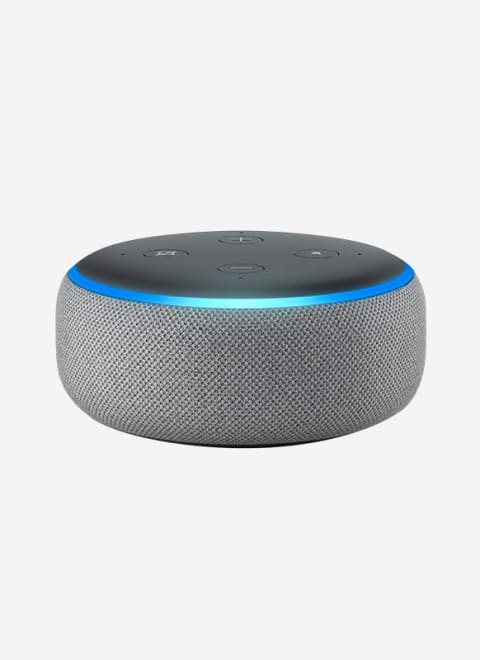 Amazon Echo / https://www.amazon.com/gp/product/B0792K2BK6/ref=as_li_qf_sp_asin_il_tl?tag=mind0a3-20
6. Reminders of people (or pets!) you love.
Placing a reminder of someone or something you love right across from your bed basically guarantees that you wake up in a good mood every morning. It can be a photograph from a family trip, a dreamy landscape, or an ode to a furry friend.
When you're hanging yours, take a cue from feng shui design philosophy and place it a little higher on the wall than you think you need to. "If someone has issues with depression and low energy, I often notice that their artwork, photographs, and mirrors are hung low on the walls. The low artwork can bring down your chi," feng shui expert Anjie Cho explained in a piece about bedroom design. "It's also good to fasten frames in two places so the art isn't crooked."
Petsy Pet Portrait (starting at $59)
7. Some cozy sleepwear.
Comfortable pajamas just make everything better. These ones from Kala, a new sustainable sleepwear company, are a breathable blend of organic cotton and lyocell (made from plant fiber). You can mix and match the colors of your sleep set, and the company even claims the entire garment is biodegradable.
Kala Night Cami ($60)
8. A cozy craft of your own.
Ask any doctor or sleep expert about how to optimize sleep and they'll tell you to make your bed a phone-free zone. To wind down sans tech, you can grab a good book, take a few minutes to journal, or make some art. Working with your hands in this way can help you get into a meditative flow state, so why not make this the year to start a new craft? We Are Knitters kits are marketed toward stitching newbies and they provide "the softest yarn ever" that you can turn into a blanket to comfort you through the season.
We Are Knitters Matcha Blanket ($195)