3 Make-Ahead Recipes Perfect For A Healthy Christmas Breakfast
mbg Nutrition & Health Writer
By Eliza Sullivan
mbg Nutrition & Health Writer
Eliza Sullivan is a food writer and SEO editor at mindbodygreen. She writes about food, recipes, and nutrition—among other things. She studied journalism at Boston University.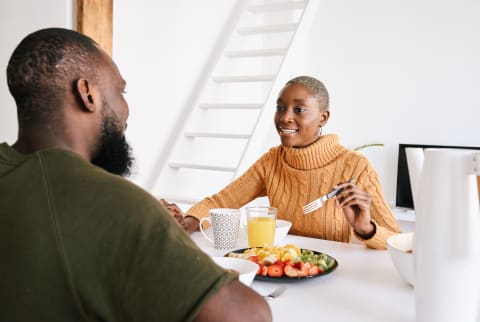 Image by Ivan Gener / Stocksy
December 24, 2020
Our editors have independently chosen the products listed on this page. If you purchase something mentioned in this article, we may
earn a small commission
.
There's just something about Christmas Day that always (always) makes it feel like there is no time to make breakfast. Even this year, when we're skipping large gatherings in favor of cozier stay-at-home plans, I have a feeling that the morning of December 25 will still feel like something of a mad rush—especially for families with young children.
Rather than stress about not burning pancakes or perfectly poaching eggs, why not opt for a make-ahead meal that you can prep the day before for a low-stress morning? In fact, why not do this...all the time? If you're someone who struggles with eating breakfast because of the prospect of cooking first thing, you may already have a strategy for ready-to-go options in the fridge—but if you don't, consider these a bit of inspiration.
Advertisement
This ad is displayed using third party content and we do not control its accessibility features.
Whether it's for Christmas Day or any other manic morning, find inspiration (and a bit of peace) in our favorite make-ahead breakfasts:
1. Homemade Creamy Coconut Yogurt Bowls
Granola bowls might seem like a simple breakfast, but this recipe from Unbelievabowl Paleo dials up the wonderful by giving directions to DIY each element (from the compote to the yogurt). You can make these components up to two weeks in advance: Store them all in airtight containers, the yogurt and compote in the fridge, and the granola in a cool, dry place.
Ingredients
1 14-oz. can full-fat coconut milk
2 capsules probiotics
Advertisement
This ad is displayed using third party content and we do not control its accessibility features.
For the Chunky Paleo Granola
½ cup chopped walnuts
½ cup slivered almonds
½ cup raw cashews, chopped
¼ cup almond flour
½ tsp. salt
1 tbsp. chia seeds
1 tbsp. melted coconut oil
1 tbsp. cashew butter
2 tbsp. honey
1 tsp. vanilla extract
For the strawberry compote
1 cup frozen strawberries
2 tbsp. orange juice
1 tsp. vanilla extract
Advertisement
This ad is displayed using third party content and we do not control its accessibility features.
Method
To make the coconut yogurt: Place the closed can of coconut milk in a bowl of warm water for about 10 minutes to soften it. Shake vigorously, then pour it into a clean glass jar or bowl. Open the probiotic capsules into the coconut milk, and use a wooden spoon (no metal) to stir them in and disperse them evenly. Cover the jar with cheesecloth or a thin tea towel, and secure it on top with a rubber band. Let it sit in a warm environment—by a window if the sun is shining, or near your stove—for 24 to 48 hours, then transfer it to the refrigerator.
To make the strawberry compote: In a medium saucepan combine the frozen strawberries, orange juice, and vanilla. Place the pan over medium heat and cook for 5 minutes until the strawberries break down. Transfer the compote to a bowl, and place it in the fridge until cooled.
To make the granola: Preheat the oven to 350°F and line a baking sheet with parchment paper. In a large bowl, combine the walnuts, almonds, cashews, almond flour, salt, and chia seeds.
In another bowl, combine the coconut oil, cashew butter, honey, and vanilla. Pour the wet ingredients over the nuts. Stir well to combine. Pour the mixture on the baking sheet, and press into one even layer. It will look like a large cookie.
Bake for 13 to 15 minutes, or until lightly browned all over. Remove the granola from the oven and let it cool completely. Once cool, break the granola into small, bite-size pieces.
To make the bowl: Scoop the coconut yogurt into a bowl, and top it with strawberry compote or fresh fruit and the granola.
2. Healthy Quiche
This quiche recipe, created by registered dietitian Maggie Michalczyk, R.D., is perfect for feeding a larger group or prepping a few days' worth of breakfasts for a smaller group. Not only is it easy to make; it's also packed with nutrients to set you up for a healthy holiday, thanks to a double dose of vegetables: chopped, fresh varieties and mbg organic veggies+ greens powder.
Advertisement
This ad is displayed using third party content and we do not control its accessibility features.
Ingredients
6 eggs
¼ cup almond milk
1 cup spinach
1 cup mixed veggies of your choice (i.e., sliced bell peppers, zucchini, tomatoes, or broccoli or cauliflower florets)
⅓ cup crumbled feta cheese
1 tbsp. mbg organic veggies+
1 tsp. garlic powder
Salt and pepper to taste
Method
Preheat the oven to 400°F and grease an 8- or 9-inch skillet.
Whisk the eggs and almond milk together.
Add the garlic powder, salt, and pepper.
Add spinach and mixed veggies.
Sprinkle ½ tablespoon of organic veggies+ into the egg mixture (reserving the other half for sprinkling on top).
Add the cheese.
Pour into the greased skillet, and sprinkle the remaining tablespoon of organic veggies+ on top.
Bake for 40 minutes, let cool, and enjoy! Store covered in the fridge.
Advertisement
This ad is displayed using third party content and we do not control its accessibility features.
3. Vegan & Gluten-Free Cinnamon Rolls
If you're not a big breakfast person but still like to enjoy a little something with a cup of coffee, consider these cinnamon rolls. While you will have to do a bit of work in the morning, it's limited to pulling a few out of the freezer, popping them in the oven, and whipping up a bit of glaze. And there's certainly something celebratory about cinnamon rolls, isn't there?
Ingredients
For the Cinnamon Filling:
1 cup coconut sugar
2 tablespoons ground cinnamon
1 tablespoon coconut oil
1 tablespoon maple syrup
¼ teaspoon Himalayan sea salt
1½ cups gluten-free all-purpose flour
2 tablespoons psyllium husk powder
1 tablespoon coconut sugar
½ teaspoon baking soda
¼ teaspoon Himalayan sea salt
1½ cups coconut milk
3 tablespoons coconut oil, melted and slightly cooled
1 tablespoon fresh lemon juice
1 tablespoon apple cider vinegar
½ teaspoon vanilla extract
2 tablespoons fresh orange juice
½ cup powdered sugar
1 tablespoon coconut milk, plus more if needed
Method
To make the cinnamon filling: In a medium bowl, combine the coconut sugar, cinnamon, coconut oil, maple syrup, and salt, and mix well. The mixture will be dense and crumbly. Set aside.
To make the dough: Line a baking sheet with parchment paper or a silicone baking mat and set aside.
In a large bowl, sift together the flour blend, baking powder, psyllium powder, coconut sugar, baking soda, and salt.
In a medium bowl, whisk together the coconut milk, coconut oil, lemon juice, apple cider vinegar, and vanilla.
Add the wet ingredient mixture to the sifted dry ingredients and mix to combine. The dough will be quite dense, so at some point, you'll want to start using your hands and begin kneading. Continue working the dough until it is smooth, 2 to 3 minutes.
Preheat the oven to 325°F.
To assemble the rolls: Lightly dust a board or clean surface with the flour blend. Transfer the dough to the prepared work surface. Using your hands, gently stretch and form the dough into a rectangular shape. Use a rolling pin to roll out the dough until it is roughly 12 inches by 4 inches and approximately ½ inch thick.
Spread the cinnamon filling over the dough in a thin, even layer, pressing it lightly into the dough.
Roll the dough up the long side into a long tube shape, rolling tightly to prevent the cinnamon filling from escaping. You should be able to roll the dough 2 full rotations.
Cut the tube into 6 rolls, each about 2 inches thick. Place each roll, swirl-side up, onto the prepared baking sheet. Take the opportunity to gently pat the rolls down so they're flat on top, and adjust them, if needed, to make sure they are nice and tight.
Using a pastry brush, brush each roll with the orange juice. This will give the rolls a nice golden tone when they're baked, much like a traditional egg wash.
Bake for 20 minutes. Check the rolls at 15 minutes to see how they are doing; they should be golden but still soft to the touch when they come out of the oven. If you're baking previously assembled rolls straight from the freezer, just add 3 to 5 minutes to the baking time. Allow the rolls to cool completely in the pan.
To make the glaze: In a small bowl, whisk together the powdered sugar and the coconut milk. This will create a rather thick glaze. For a thinner glaze, you can add 1 or 2 more teaspoons of coconut milk. Drizzle over the cinnamon rolls.
None of these recipes appeal? There are plenty of healthy breakfast options to choose from—and no matter what you're in the mood for, you can probably find a way to update it to make it a little bit healthier and more festive.
Eliza Sullivan
mbg Nutrition & Health Writer
Eliza Sullivan is an SEO Editor at mindbodygreen, where she writes about food, recipes, and nutrition—among other things. She received a B.S. in journalism and B.A. in english literature with honors from Boston University, and she has previously written for Boston Magazine, TheTaste.ie, and SUITCASE magazine.