The Solution That Ended My 20-Year Struggle With Sleep (When Nothing Else Worked)*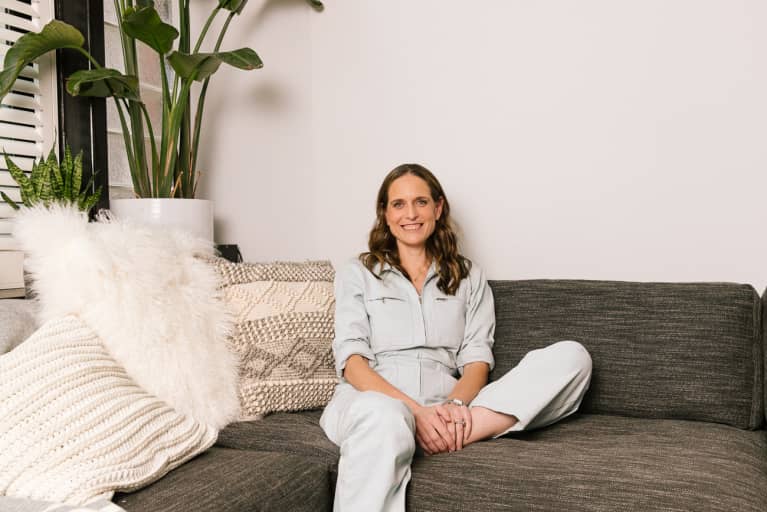 Our editors have independently chosen the products listed on this page. If you purchase something mentioned in this article, we may
earn a small commission
.
Last updated on March 18, 2021
For the past 20 years, I have struggled with my sleep. My biggest issue is a combination of difficulty falling—and staying—asleep, which these days seems harder than ever due to heightened anxiety about the pandemic and its effect on our world. On top of this, my husband Jason and I run mindbodygreen together and have two very young daughters, which means sleep time is sacred.
In my 20s, I tried to aid my sleep with everything from Tylenol PM to Xanax and Ambien (just to name a few). I was never really comfortable with any of these options. Tylenol PM left me feeling super groggy the next morning. Taking a prescription medication on a regular basis for sleep didn't align with my values, nor did it address the deeper issues of why I was having so much trouble sleeping in the first place.
So I spent a lot of time in my 30s addressing the underlying issues of my sleep difficulties and adopting the right practices for better sleep hygiene. This strategy included learning how to deal with my stress in more productive ways, being diligent about consuming caffeine before noon, enforcing an electronic sundown, purchasing blackout shades for the bedroom, and investing in a better mattress and amazing, comfortable linens. These things helped, but my long, restless nights were still all too frequent.
I became obsessed with getting high-quality sleep.
My review of sleep support+.
When mindbodygreen started developing its sleep support+ formula, it was a personal passion point for me to find a drug-free solution for falling asleep, staying asleep longer, and waking up feeling rejuvenated.
In our blend, the key ingredient is magnesium bisglycinate, a highly absorbable form of the mineral, so it can be taken relatively close to bedtime. Our sleep support+ formula also contains two extensively studied powerhouse ingredients for improving sleep quality: jujube extract, which supports healthy cortisol levels; and pharmaGABA, the only naturally sourced dietary form of a major neurotransmitter that helps calm down an overexcited mind so you can think more clearly and relax. I always need help calming my overactive, racing mind, especially if I am working late at night.*
It's this symphony of thoughtful, synergistic ingredients that make sleep support+ work so well for me every time I take it—both for deep, uninterrupted sleep and well-rested, clear-minded mornings. I love tracking my sleep with my Oura ring (yes, I am a sleep geek), and it's great to see my overall sleep score improve, as well as the amount of deep sleep.*
The easiest way to get my deepest sleep—and also benefit my body.
Since Jason and I are business partners, it's hard for us to leave our work behind. Sometimes we find ourselves discussing work in bed, which is never a great way to fall asleep. These days we find ourselves talking more about what's happening in the world late into the night too, though we are careful to turn off the news before we start getting ready for sleep.
Regardless of my daily stress levels (truthfully, I can't predict if my mind will start racing the moment my head hits the pillow), I take two capsules of sleep support+ every night—at least one hour before I ideally want to fall asleep—to ensure I get my deepest sleep. On nights when I know it's going to be hard for me to get to sleep, I take three or four capsules. The dose works! I can now ensure quality, restful sleep any night.*
This kind of deep sleep helps me to be more present with my family—and more productive at work. Good sleep is the foundation of a healthy lifestyle, and I finally am able to feel the positive effects of being well-rested.
The added benefit for me is knowing that the ingredients in sleep support+ also support my body, from brain to bone health.*
I've felt a profound positive impact on my sleep quality and recommend sleep support+ to all my friends and family members who have the same struggles I did. Of course, my sleep hygiene is a constant work in progress, but taking sleep support+ has had the single biggest and healthiest impact on the quality of my rest—and my life.*