"Magical" Benefits mbg Reviewers Noticed After Taking This Greens Powder Daily*
Health Writer & Editor
By Kristine Thomason
Health Writer & Editor
Kristine is a writer, editor, and editorial consultant who lives in Long Beach, CA.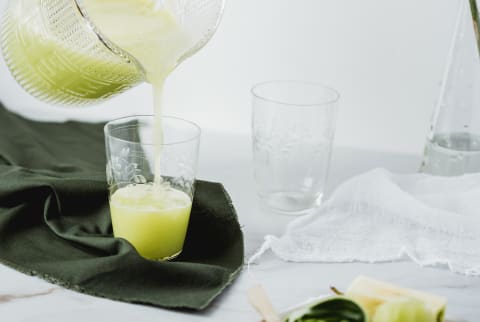 Image by TATJANA ZLATKOVIC / Stocksy
November 9, 2020
Let's face it: Getting enough veggies in your diet can be a challenge. That's one of the reasons mbg created organic veggies+, a greens powder that makes it easy to get 26 powerhouse ingredients in just one spoonful.*
It includes a blend of organic dark green leafy vegetables along with hard-to-find sea vegetables, which are rich in magnesium, calcium, iron, and vitamin C.* The ingredients in organic veggies+ were strategically formulated to promote a number of benefits, like aiding healthy digestion, supporting immune function, and helping your body better absorb nutrients.*
In addition to those perks, we love hearing about all the bonus perks organic veggies+ reviewers notice:
"Yes. This is a magical powder.*"
"I'm not a supplements person, but when I started noticing digestion/bloating issues becoming the new norm in my life, I found this product. I've been using it in combination with the mbg probiotic for three to four months, and everything has literally changed.* My stomach is less achy and bloated.* I feel great after meals.* I do eat clean and drink lots of water to help boost the benefits. But, my clean diet and exercise alone didn't get me back to how I used to feel pre-gut issues. So grateful to have found MBG."
"It makes me feel wonderful.*"
"For some reason, I always feel wonderful after taking my daily dose of this powder in my smoothie.*"
"There is a light at the end of the tunnel.*"
"I can not get enough of it. I drink it with coffee, with tea and added turmeric, or in soup. I have suffered from debilitating and extremely painful (also horrific-looking) unexplained eczema and severe systemic inflammation, and using this daily, along with following Will Cole's inflammation spectrum book, there is a light to the end of the tunnel.* For the first time ever, my eczema is almost gone, my hair and nails and skin look great, my joints feel significantly better, and digestion issues are subsiding.*"
"It energizes me for the whole day.*"
"I love this, especially when I am not able to fill up my meals with a lot of veggies. I use it in my smoothies and sometimes I just add it in my juice. It energizes me for the whole day."
"My skin is glowing.*"
"I love starting my morning with a nice green smoothie to get in my greens first thing. The recent addition of the organic veggies powder has taken it to the next level for sure! Who knew sea veggies packed such a punch, and I mean...who gets enough sea veggies, right? Makes me feel like I'm definitely increasing the diversity in what I'm eating, plus I've noticed a real difference in my skin.* For the first time EVER, someone told me that my skin has been glowing!"
"It replaced my second cup of coffee.*"
"I've tested out many brands, and most greens powders have overpowered the taste of my morning smoothie or have a rather pungent smell. This veggies powder didn't change the flavor of my favorite smoothie recipe, and I loved knowing how many sea veggies and antioxidants I was getting. One unexpected bonus was an energy boost in the mornings; there were some mornings that it even replaced my second cup of coffee!*"
"My inflammation is down.*"
"I could not be more excited about this veggies powder—seriously. I have been adding it into my morning smoothies over the last few weeks and the positive effects have been almost immediate.* I've always struggled to get enough leafy greens in my diet, so adding a greens powder into my smoothie has been an awesome way to round out my breakfast. It tastes great, and it feels like I have an extra step of energy in the morning whether I'm heading off to the gym or going straight to the office!* As a result, inflammation is down, and so is my caffeine intake, which has helped reduce stress/anxiety.*"
Want to turn your passion for wellbeing into a fulfilling career? Become a Certified Health Coach! Learn more here.
Kristine Thomason
Health Writer & Editor
Kristine is a writer, editor, and editorial consultant who lives in Long Beach, CA. Kristine is a New York University graduate with a degree in journalism and psychology, and also a NASM-certified personal trainer. She has spent her editorial career focused on health and well-being, and formerly worked for Women's Health and Health. Her byline has also appeared in Men's Health, Greatist, Refinery29, HGTV, and more. In her current role she oversees, edits, and writes for the health, food, and movement sections of mindbodygreen.