When we think of self-care, well-being, longevity, and staving off dis-ease, lymph-moving practices should be one of the first things that come to mind.
Per the Mayo Clinic, the lymphatic system is a network of channels that's part of the immune system. It connects important glands and systems like the spleen, thymus, lymph nodes, tonsils, and adenoids (nodes in the roof of your mouth designed to fight infection). The relatively new organ "discovered" earlier this year, the interstitium, is a sign that the Western medical community is beginning to recognize the role of lymph and other connective tissues and fluids in the body and in the prevention and treatment of diseases like cancer. It provides a more scientific explanation for homeopathic and holistic healing remedies like acupuncture, massage, craniosacral therapy, and many others.
"The lymphatic system is composed of plasma or clear fluid and as many as 500 lymph nodes," said Jasmine Scalesciani-Hawken, founder of Olio Maestro, a new-ish brand at the forefront of the lymph treatment movement. "It is a sewage system that drains our 'house' of unwanted toxins. If it gets clogged, the health of our body can become compromised," she told mindbodygreen.
Where did the lymph trend come from?
If 2018 was the year of the jade roller, tools will help: jade roller, gua sha board, dry brushes, suction "facial" cups. And 2019 is going to enjoy the rise of lymph-based treatments with folks like Britta Plug, gua sha expert, and Anna Zahn, detox and lymph specialist who attracts clientele like Moon Juice's Amanda Chantal Bacon.
But it's not just for treatments. There's an emerging breed of body and personal care products that purport to stimulate the lymph. While some experts like Zahn doubt the capabilities of products to make real, lasting, lymph change, Plug maintains that some plant-based ingredients can stimulate the lymph, even if it's just a little. "Lymph-stimulating products are a way to enhance what you're doing,' Plug said. 'If you apply after body brushing, it will help continue to get things moving but in smaller capacity than physical manipulation of the skin," she said.
What makes a good lymph-stimulating product?
Lymph-stimulating products increase circulation, Plug said. She recommends looking for oil rather than creams because creams contain emulsifying waxes and other plastic-type ingredients that make the system "sluggish" over time. While acids have a mild lymph-stimulating effect, it's often counteracted with a stress response. "The body will mobilize an external stressor" to deal with the acid, Plug said. In other words, if you're using your lymph products to de-stress, acids might not be the best way to go.
These are the best lymph-stimulating products on the market right now:
Olio Maestro Oil Treatments
While Olio Maestro brands itself as "anti-cellulite," we caught up with founder Jasmine Scalesciani-Hawken and realized that it has less to do with the cosmetic erasing of skin dimples (because let's be real—here at mbg we do our best to love all our parts) and more about the functional circulation-stimulating nature of the oils. Both blends in the Olio Maestro line promise to move lymph and improve the appearance of the skin. Ingredients like citrus "are powerful medicine for lymph circulation," Scalesciani-Hawken told mindbodygreen, especially grapefruit oil, one of the key actives. Blended in squalane and almond oil with other stimulating ingredients like black pepper, lavender, geranium, and bitter fennel, it's a body oil like you've never smelled before—in a good way.
Treatment, Olio Maestro, $90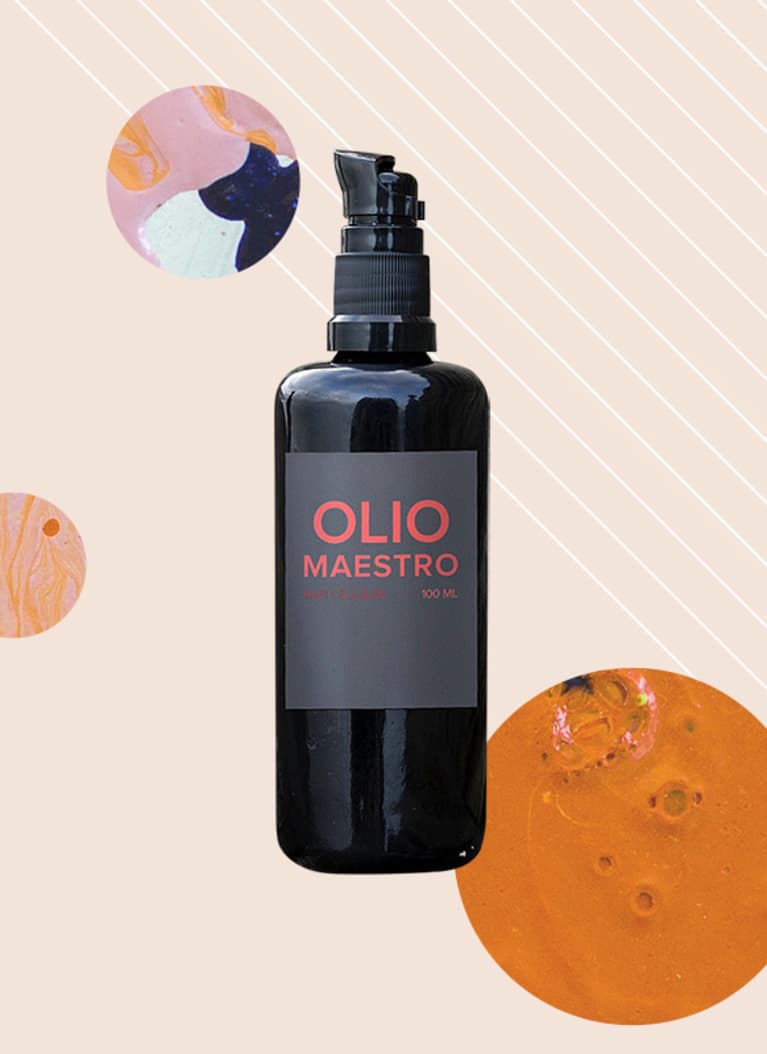 mbg Creative / Megan Doty
Living Libations Verve + Tonic
Essential oils of cypress, rosemary, eucalyptus, and laurel work to stimulate your lymph and smell amazing together, too. The brand recommends pairing the blend with your dry brushing routine by putting a drop or two in the palm of your hand and running the brush through it prior to starting your routine. You can always use it alone in a bath, add it to a scentless oil, and use as a body oil or, one of our favorites, add to a carrier oil and give yourself a scalp massage.
Verve + Tonic, Living Libations, $30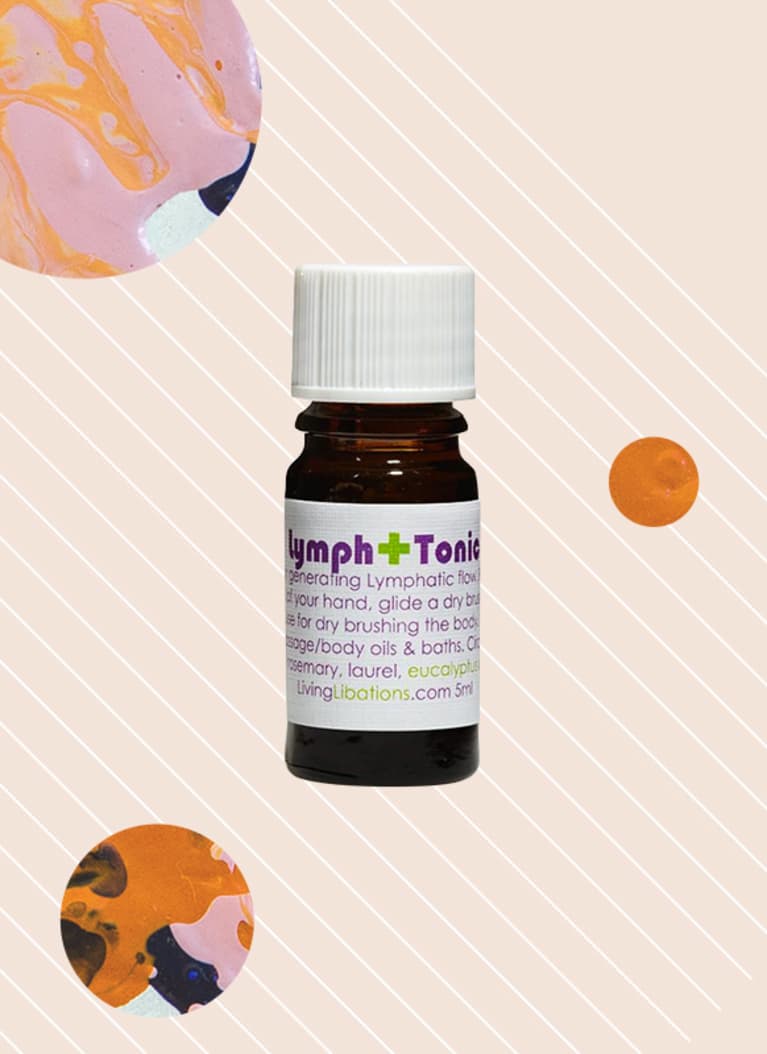 mbg Creative / Megan Doty
Red Flower Nature: Recover Lymphatic Phytopower Sea Cleanser & Masque
Typically, lymph-stimulating products tend to be a little, well, stimulating, which can be tough for sensitive skin. This one is especially gentle and recommended for sensitive, dry, and more mature skin types. The citrus essential oils inside boost lymph flow, but they are counteracted with nourishing aloe, algae, and organic adaptogens—chaga, reishi, and maitake mushrooms. Bonus: You have to love a product you can use as a cleanser, a moisturizing mask, and an overnight mask.
Nature: Recover Lymphatic Phytopower Sea Cleanser & Masque, Red Flower, $42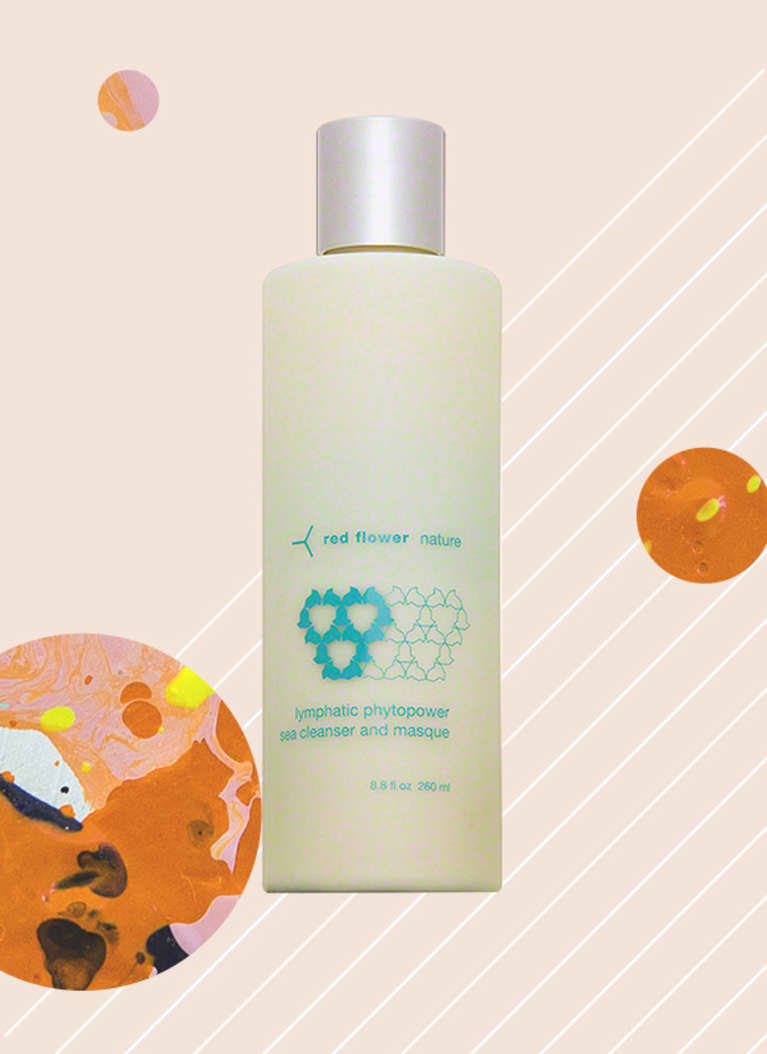 mbg Creative / Megan Doty
Kaia Naturals Detox Hot Bath
Spearmint and wintergreen help calm and soothe achy muscles, yes, but they can also be lymph stimulators. If you're under the weather, have poor circulation, or simply want to help your body with the detox process, these magnesium-based bath salts might be just the thing. Of course, you'll want to clear it with your doctor before soaking, especially if you have any electrolyte imbalances.
Detox Hot Bath, Kaia Naturals, $15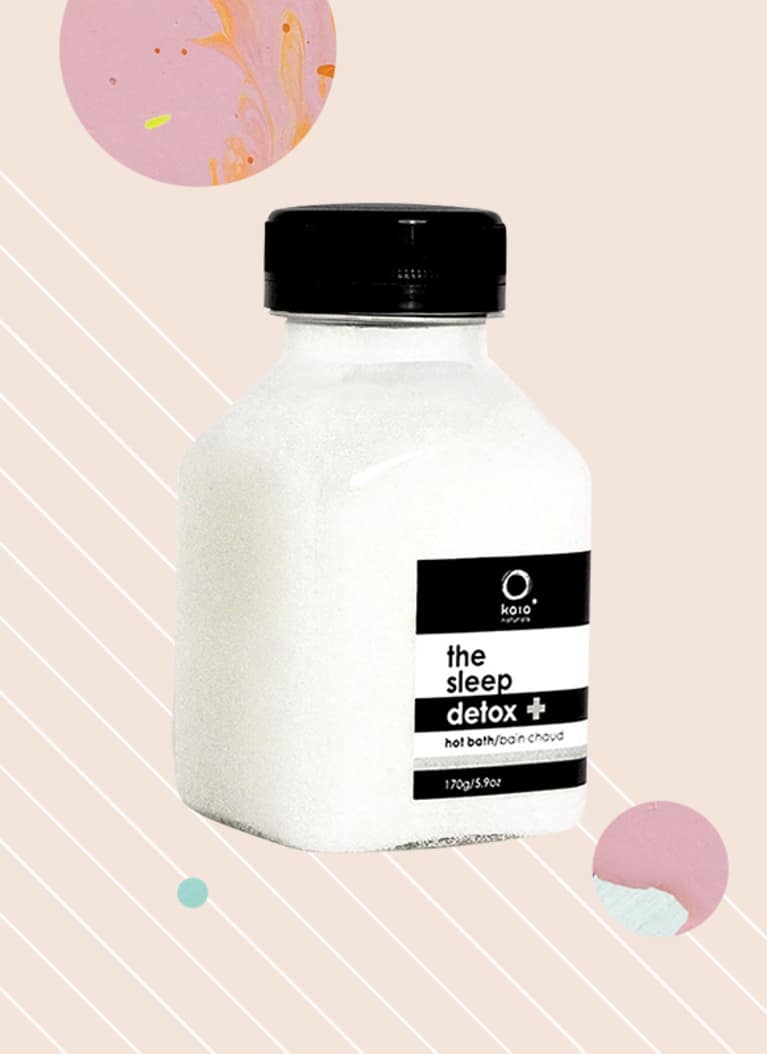 mbg Creative / Megan Doty
Wildling Empress Oil
Given that facial gua sha expert and the queen of all things lymph, Britta Plug, is one of three partners behind new green beauty range Wildling, it's fair to expect a lymph-promoting quality of its products. "Balm of Gilead is one of the ingredients in our Empress Oil, and it's known for stimulating lymphatic circulation," Plug told mindbodygreen. "We wanted to formulate products that specifically support the gua sha practice." A toner and special gua sha stone are included in Wildling's debut line too. This isn't your standard botanical oil—it smells different from any other facial oil on the market right now, a refreshing and bold move by Wildling. Fun fact—the stone won mindbodygreen's first annual Beauty Awards for best tools and rituals.
Empress Oil, Wildling, $79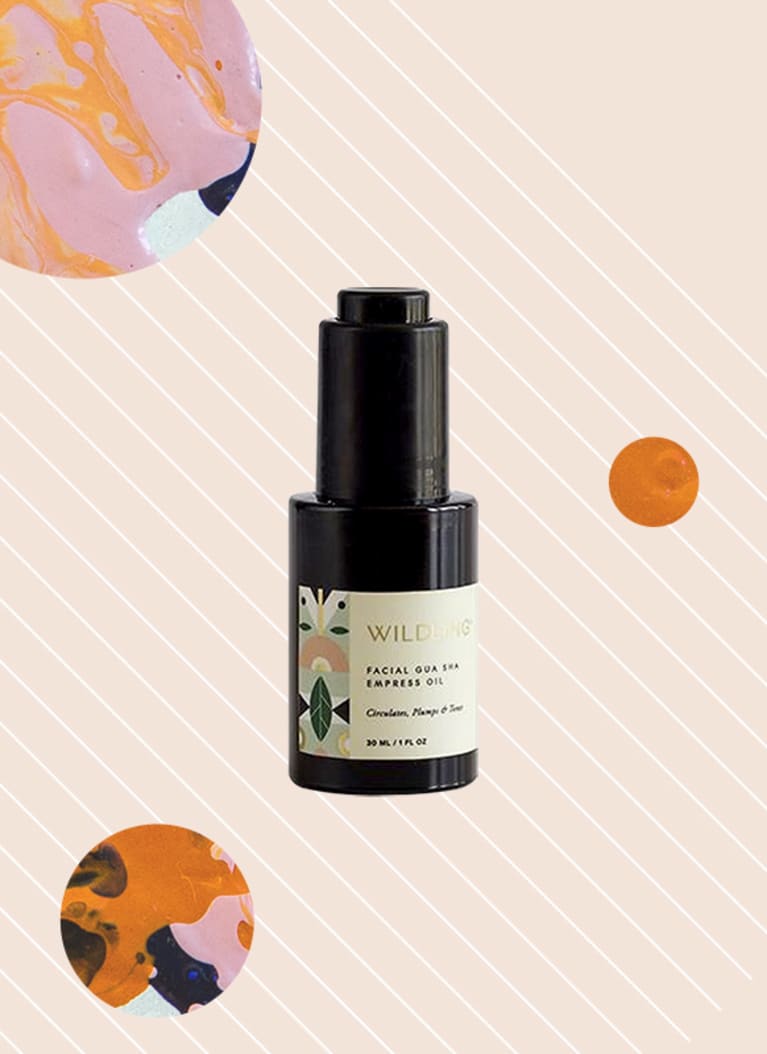 mbg Creative / Megan Doty
Rocky Mountain Oils Lymph Support
This essential oil blend smells energizing thanks to the spearmint and nutmeg, but the chamomile and sage melt stress away. This one is safe to use directly on your skin, as it's diluted in coconut oil, but patch test as always. Use this lymph-stimulating oil on your dry brush and around your neck, jaw, and anywhere else you feel tension.
Lymph Support, Rocky Mountain Oils, $20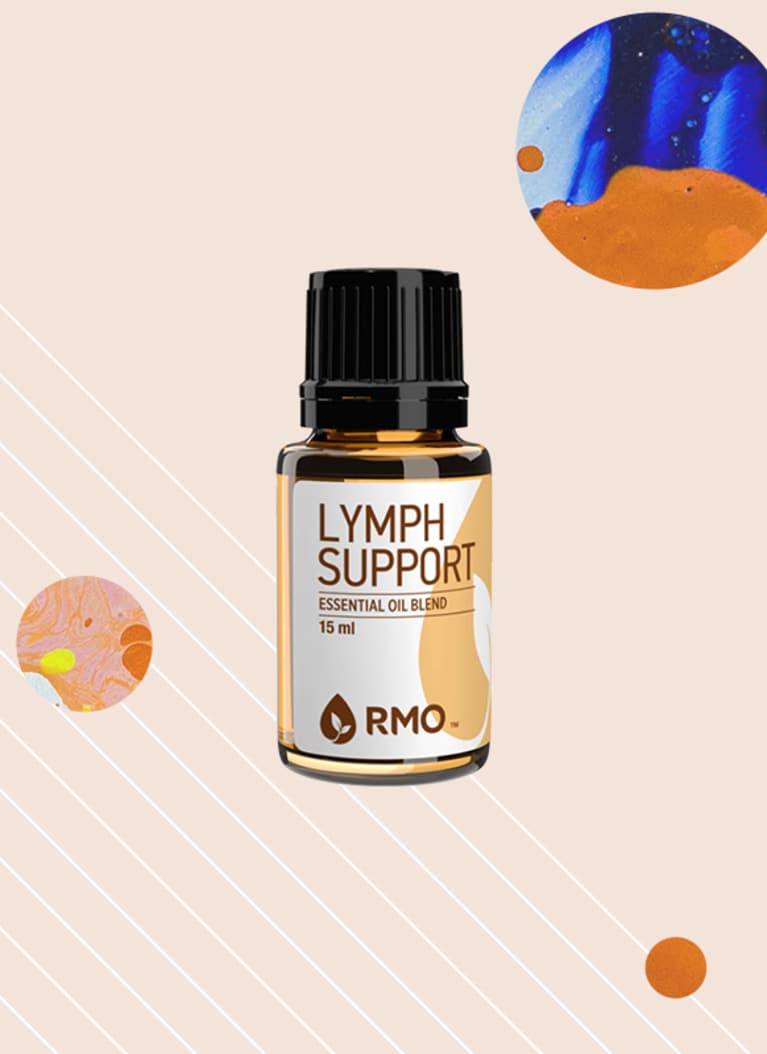 mbg Creative / Megan Doty
And do you want to turn your passion for wellbeing into a fulfilling career? Become a Certified Health Coach! Learn more here.