The Full-Body Lymph Treatment We Can't Wait To Try

Contributing Wellness & Beauty Editor
By Lindsay Kellner
Contributing Wellness & Beauty Editor
Lindsay is a freelance writer and certified yoga instructor based in Brooklyn, NY. She holds a journalism and psychology degree from New York University. Kellner is the co-author of "The Spirit Almanac: A Modern Guide to Ancient Self Care," with mbg Sustainability Editor Emma Loewe.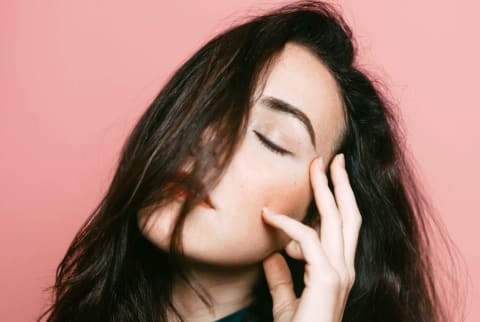 August 20, 2018
A cursory Google image search of "LPG machine" yields photos of a vacuum-like med-spa device that promises to banish cellulite—doesn't sound like a very wellness-y device, right? Well, surprisingly, it is—but not in the way you think. Instead of using these devices for removing cellulite (which, by the way, there's nothing wrong with cellulite), people into New Age wellness are flocking to Anna Zahn, owner of LA-based Ricari Studios who employs this device, and others, to move the lymph for better circulation, improved skin appearance, and to help alleviate symptoms of chronic illness sufferers. Several of her clients with autoimmune diseases, like Hashimoto's, Reynaud's, and Lyme, see a huge benefit in how they feel after a treatment.
Her signature $325 lymph-moving treatment includes LED light therapy, gentle suction from the LPG machine, which was initially created to help people with lymphedema (chronic extremity swelling) and burn victims1, and some time tucked into the Ballancer Pro called pressotherapy, a limb-compression device that bedridden patients have historically used to increase circulation to their arms and legs. "I like to call it benevolent technology," Zahn said of this new wave of lymph-friendly gadgets. They can move lymph underneath the skin on the face and body in a way that most massages do not. "It's very hard for Americans to believe that you can achieve results with a light touch," Zahn said, but growing demand for her work is proof that, if nothing else, people like the results. Among her clients is wellness trendsetter and founder of Moon Juice Amanda Chantal Bacon—who tells mbg that she hasn't exercised in more than a year and credits Zahn for her feeling of well-being.
Advertisement
This ad is displayed using third party content and we do not control its accessibility features.
"The biggest benefit my clients report is a reduction in pain," Zahn said, "but they also say they have more energy and feel a reduction in swelling overall." Zahn's particular brand of bodywork, along with other treatments—like gua sha, foam rolling, dry brushing, cupping, and acupuncture—all manipulate the lymph, which helps the body detoxify and eliminate waste so it can function optimally. In March of 2018, the medical community recognized the interstitium as a "new organ" that includes the skin, lymph, fascia, and other intracellular spaces that went largely unrecognized in mainstream health. The news was huge for integrative and alternative medicine, as it validated that the lymph may play an important role in health and that, in some cases, these alternative healing therapies can actually help.
Zahn offers three types of bodywork sessions, and the most popular one (and Amanda Chantal Bacon's favorite) is the Ricari signature, a $325, 90-minute treatment that includes a mixture of gentle suction, LED lights, and pressotherapy that's tailored to the client's needs. If you can't get to Ricari Studios anytime soon or don't have that kind of money lying around, don't fret. You can still get your lymph moving. This checklist from Zahn can help restore and refresh your lymph flow:
Drink more water—really—at least half your body weight in fluid ounces a day.
Dry brushing is great for circulation, and specifically for legs, as it allows you to get into that tissue a bit more.
Massage that stimulates the skin and the tissue with gentle touch—not just the muscles.
Rest. When your body and nervous system returns to a parasympathetic state, it's able to recover.
Lymph-stimulating compression wear—Zahn is launching a line of stylish lymph-friendly apparel this fall.
Advertisement
This ad is displayed using third party content and we do not control its accessibility features.