Close Banner
Advertisement
This ad is displayed using third party content and we do not control its accessibility features.
12 Kabuki Brushes For Seamless, Pillowy Makeup + How To Use Them Correctly

Beauty & Health Editor
By Jamie Schneider
Beauty & Health Editor
Jamie Schneider is the Beauty Editor at mindbodygreen. She has a B.A. in Organizational Studies and English from the University of Michigan, and her work has appeared in Coveteur, The Chill Times, and Wyld Skincare.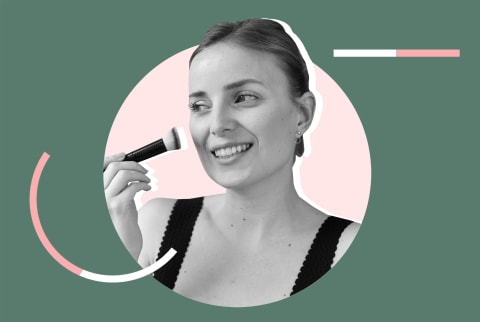 We carefully vet all products and services featured on mindbodygreen using our
commerce guidelines.
Our selections are never influenced by the commissions earned from our links.
Everyone has their favorite set of makeup tools, but there are some options experts deem fit for any cosmetic bag. Kabuki brushes fall into that category.
These dense-to-fluffy, compact brushes (named after Kabuki theater, a Japanese form of dance-drama where performers would frequently pat on powder for shows) lend a pillowy makeup application without ever appearing caky—a balance considered the gold standard when it comes to full-coverage makeup.
You can use them in slightly different ways (scroll below for a tutorial), but each brush can effortlessly pick up loads of pigment—from foundations, powders, bronzers, you name it—and deposit the formula evenly onto the skin.
Oh, and did we mention it fits innocently in the palm of your hand? Find our all-time favorite kabuki brushes below, with tips to use each and every shape.
W3LL PEOPLE Kabuki Brush
The soft, synthetic bristles feel featherlight, yet they're tightly packed—so you'll get more bang for your buck with your product of choice (as a general rule: The denser your brush, the more pigment you'll deposit on first blend).
Kabuki Brush, W3LL PEOPLE ($25)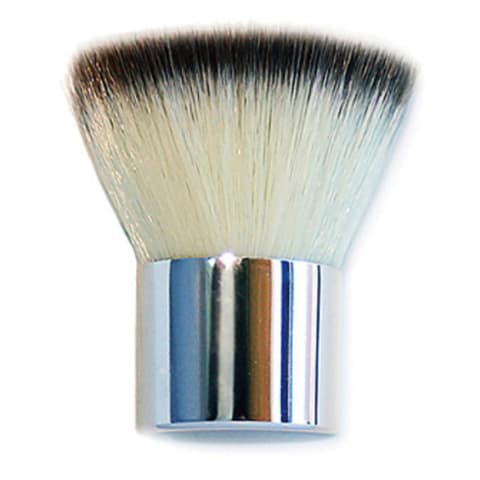 W3LL PEOPLE
Artís Palm Brush
Kabuki brushes tend to have shorter stems, but this takes it up (or down?) a notch with practically no handle at all. Rather, you hold the entire brush in the palm of your hand, resting your finger on the indent on top for maximum control. For those who typically love to fingerpaint with makeup, this is the brush for you.
Palm Brush, Artís ($65)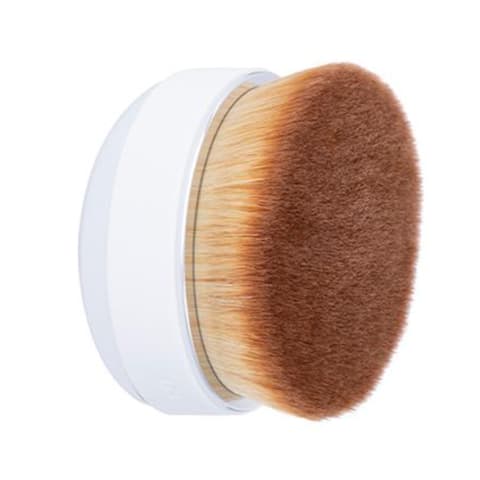 Artís
Tarte Airbuki Bamboo Powder Foundation Brush
The flat top on this brush is perfect for stippling (read: patting) on foundation for the most seamless coverage or tapping on a setting powder to finish off your look. Not to mention, the luxe handle is made from sustainably harvested bamboo.
Airbuki Bamboo Powder Foundation Brush, Tarte ($18)
Tarte
bareMinerals Seamless Buffing Brush With Antibacterial Charcoal
You should regularly clean your makeup brushes—you know this, we know this, we wrote an entire article on this to virtually burn it into your brains. But the activated-charcoal- and silver-infused fibers on this number contain antibacterial properties that can help the brush stay cleaner for longer—plus, it makes applying makeup a touch easier on acne-prone skin.
Seamless Buffing Brush With Antibacterial Charcoal, bareMinerals ($22)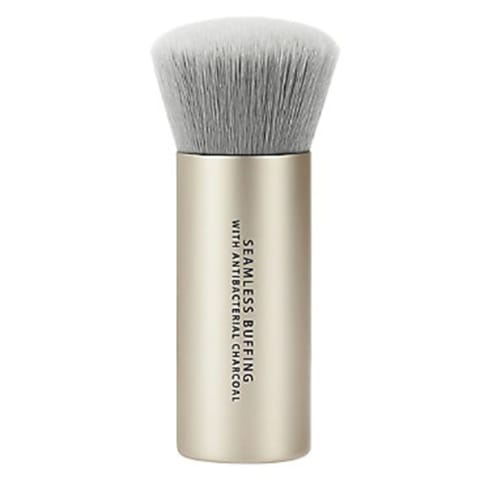 bareMinerals
Shu Uemura Sadaharu AOKI Paris Limited Edition Petal 55 Brush
This sleek, modern design is oh-so-versatile: Pat the flat top on larger surface areas for a velvety finish, and use the narrow edges to blend more precise areas, like around the eyes and nose. The bristles are super soft and tightly, tightly packed—so it's A+ for full-coverage looks.
Sadaharu AOKI Paris Limited Edition Petal 55 Brush, Shu Uemura ($50.70)
Shu Uemura
Isle Of Paradise Kabuki Blending Brush
Kabuki brushes and self-tanners are a match made in heaven: The dense bristles provide even coverage, and the short handle helps you sweep in precise sections so you never miss a spot (you want to avoid long strokes, which can look streaky).
Kabuki Blending Brush, Isle Of Paradise ($24)
Isle Of Paradise
ULTA Retractable Kabuki Brush
Round kabuki brushes are perfect for powders—be it a soft finishing powder or ethereal highlight. The handle is longer than most you would find on the market, but for a subtler sweep of powder, a looser grip is just right. It's also retractable and comes with a cap for easy on-the-go application.
Retractable Kabuki Brush, ULTA ($16)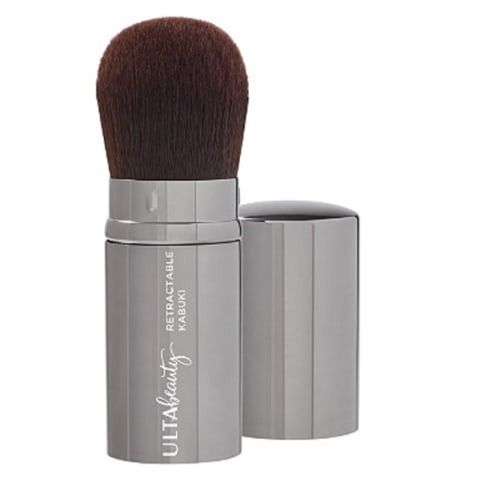 Ulta
Nanacoco 912 Kabuki Brush
This round, fluffy brush (again, great for powders) is pillow-soft and blends with ease—it picks up plenty of pigment but deposits it on your skin evenly. The end result looks diffused and veil-like, never pilled or congested in one area.
912 Kabuki Brush, Nanacoco ($20)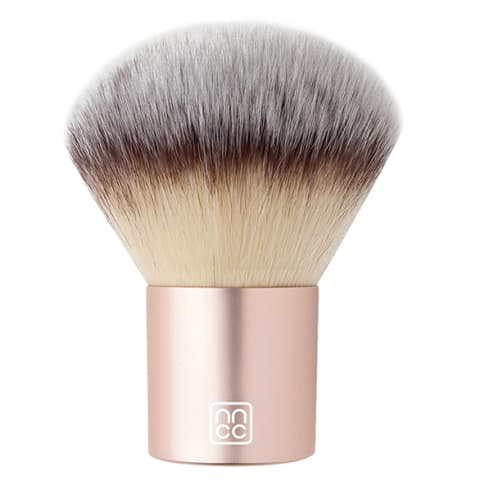 Nanacoco
RMS Beauty Kabuki Polisher
Another retractable brush, this number lets you gauge how precisely you want to sweep on product. It's rounded with a flat top, which makes it a fabulous option for both liquid and cream formulas—just dip it into your product of choice, tap off the excess (if you're using powder), and buff to blend.
Kabuki Polisher, RMS Beauty ($40)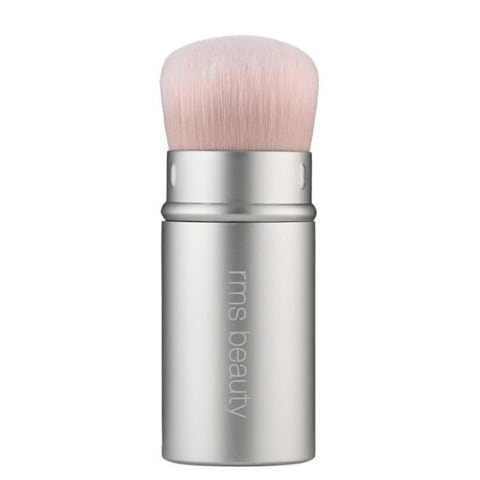 RMS Beauty
Lily Lolo Super Kabuki
This dome-shaped brush is practically made for highlighter and blush: A couple of swirls of pigment, and the high-quality synthetic fibers fan out the formula oh-so-seamlessly. Opt for this brush whenever you want a soft shimmer that makes an impact.
Super Kabuki, Lily Lolo ($21)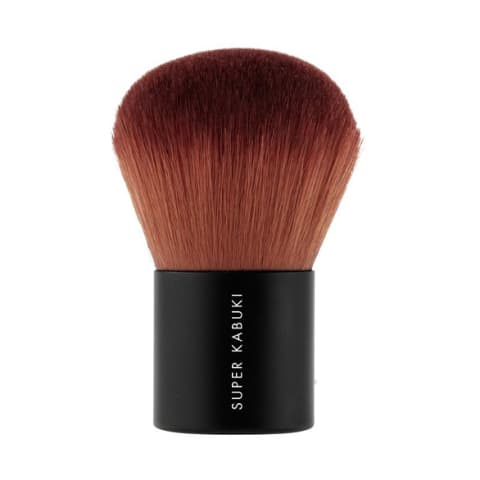 Lily Lolo
jane iredale Kabuki Brush
For a soft, airy finish, reach for this luxe brush. The rounded shape is perfect for loose powders, and it's quite large—so it can cover a good amount of ground. Say, if you'd like to use a finishing powder for a plush, skinlike sheen, this one has you covered.
Kabuki Brush, jane iredale ($38)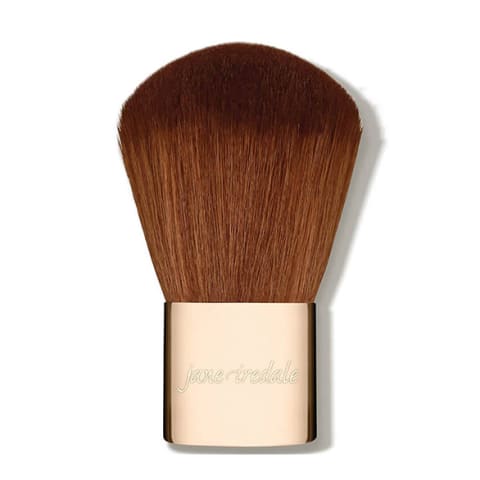 jane iredale
Sigma F80 Flat Kabuki Brush
The longest stem of the bunch, this flat kabuki brush pairs well with just about any product—it can buff foundations and concealers into your skin for just the right amount of coverage, tap on a setting powder for extra-long wear, and you can also hold the handle toward the top and gently sweep on a highlighter. Truly a multifunctional tool that will be the star of your brush lineup.
Flat Kabuki Brush, Sigma F80 ($25)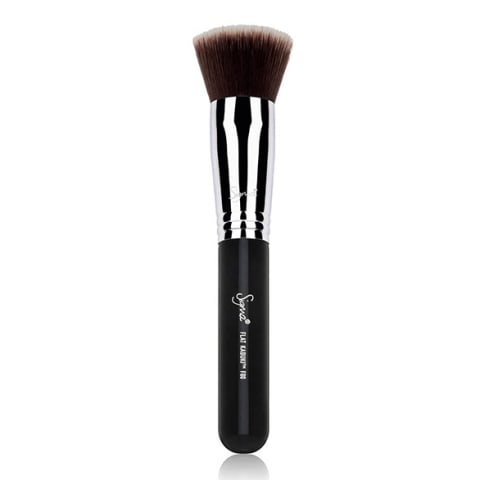 Sigma F80
What is a kabuki brush used for?
Kabuki brushes are primarily used with complexion products—think foundations, powders, blushes, and the like—as the dense bristles can buff on a product and provide an effortless blend.
They come in a range of shapes and sizes (round, flat, dome-shaped, et al.), but most brushes will have short handles with tightly packed fibers so you can land a precise application without caking on product.
How do you use it?
It depends on the product you're using, as well as the shape of your kabuki brush. Here are some general guidelines:
Flat kabuki brushes: Brushes with a flat top are top-notch for blending foundation. It's similar to using a beauty sponge, as you can bounce on product for precise coverage—but the brush gives you some flexibility to swirl and diffuse it further into the skin.
Round kabuki brushes: If you're using powder, opt for a round number. Sweeping and swirling are your techniques, here: Dip your brush into the pigment and use light strokes to deposit the product.
Dome-shaped kabuki brushes: Similar to round brushes, dome-shaped tools are still fluffy but typically smaller in size—so you can apply on a smaller surface area with a bit more precision. They're great for highlighter and blush: Again, dip your brush into the pan and use light, sweeping motions to apply.
The takeaway. 
From foundation to powder to highlighter and blush, kabuki brushes can do it all. Any of these options above would make a supreme staple for your makeup bag.

Jamie Schneider
Beauty & Health Editor
Jamie Schneider is the Beauty Editor at mindbodygreen. She has a B.A. in Organizational Studies and English from the University of Michigan, and her work has appeared in Coveteur, The Chill Times, and more. In her role at mbg, she reports on everything from the top beauty industry trends, to the gut-skin connection and the microbiome, to the latest expert makeup hacks. She currently lives in Brooklyn, New York.