I've Tried Hundreds Of Eco & Non-Toxic Skin Care Products & Techniques. These 8 Are The Best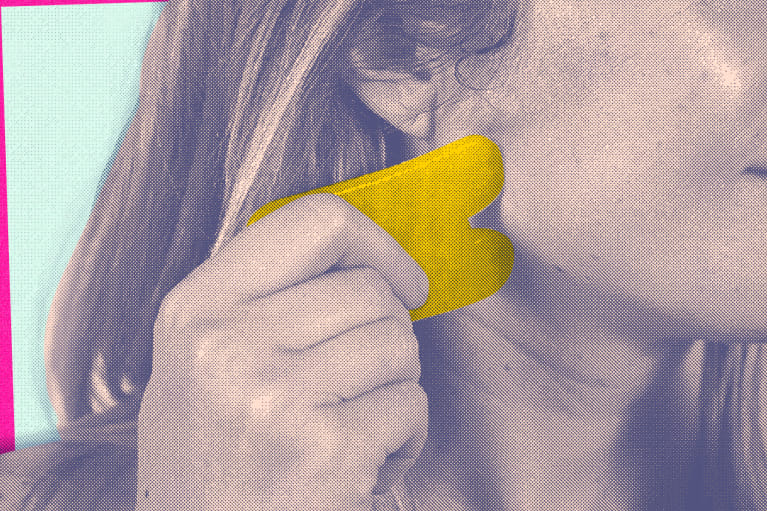 In my time as senior wellness and beauty editor at mindbodygreen, I've tried dozens of treatments, hundreds (maybe thousands) of products, and many, many self-care experiments in the name of better skin and health.
While many of them were productive, I had my fair share of duds…like the time I tried a waterless routine and it wrecked my skin for two weeks, or the time I did a DIY paprika-infused scalp oil treatment from Instagram and wound up causing horrible, enduring, stabbing pain in both eyes and a coughing fit that lasted for hours. These are the things we beauty editors endure so you don't have to!
So here, a collection of the best routines, products, and techniques that truly made a difference in my skin and overall well-being.
1. Employing a muslin cloth.
I cannot emphasize how much using a simple muslin cloth smoothed out texture and boosted glow-factor of my skin. Muslin is key because the fabric is cross-grained, which allows for a more thorough exfoliation than a face cloth of any other fabric.
A stand-alone concept borrowed from the now-famous 10-step K-beauty (Korean beauty) routine, double cleansing has made my skin brighter and less prone to breakouts, especially for days when I wear sunscreen or makeup. It's a whole-is-greater-than-the-sum-of-its-parts scenario—using an oil cleanser and water-based cleanser in tandem begets a glow that neither do on their own.
3. Harnessing the power of acids.
Sometime last year, the beauty world decided it would explode with all kinds of exfoliating acids. After adding Biologique Recherche's P50 (thanks to Danuta, founder of Rescue Spa's recommendation) and Drunk Elephant's glycolic acid serum to my routine, plus their Babyfacial once weekly, my skin was able to better absorb other treatment products and therefore looked brighter, even-toned, and more "awake."
4. Masking with Manuka honey for hormonal breakouts.
I replaced my cleanser with Manuka honey for a month, and that month, I didn't get my usual chin zits. Coincidence? I think not. While I don't think forgoing cleanser is necessary, I do think a daily quick two-minute mask in the shower—I usually isolate my chin because that's where I tend to get acne—can be a huge help for the skin. Manuka honey is well known for its antimicrobial properties, and I like to have a jar on hand at all times. I regularly use Activist Manuka and highly recommend Wedderspoon and Comvita, too.
5. Committing to regular gua sha.
I was quite skeptical about the long-term effects of gua sha. How could rubbing a stone over your face actually change its contours? Speaking from experience, it does. Especially if you experience facial puffiness (from food, medication, or the stress of life), working with the lymph can be transformative. After committing to two weeks of consecutive gua sha, I try to do it most days, and it's not only changed my skin but helps melt the stress from my head, face, and neck, which really does wonders for feelings of well-being and mood.
6. Getting weird with this crazy-looking Neutrogena zit-zapping LED mask.
I had my doubts about a plastic mask from the drugstore that claims to zap acne. But this is a perfect example of why I try everything, despite other reviews and my personal bias—this mask, when I use it regularly, imparts a lit-from-within look, zapping the dullness and tiredness from the skin while revamping collagen production, nourishing it from the inside out.
I really hate to admit it, but changing my diet to exclude dairy made my skin less prone to redness and irritation. I also think it helped decrease the size and severity of monthly hormonal breakouts. Even now, when I have dairy, I notice it immediately: My skin gets puffy, splotchy, and easily reddens.
8. Switching to face oils and learning the absolutely essential proper application technique.
It took a while for me to transition completely to face oils, but now I almost never use creams or lotion. The key was learning proper technique. You must evenly spritz toner or hydrosol before pressing the oil into your skin. Technique matters! Without toner, the oil will seal your skin off from moisture, which can actually dry it out over time. Doing this daily has enabled me to use cleaner, greener products (face oils don't need preservatives like water-based lotions do) and has strengthened my skin's barrier.
Want to turn your passion for wellbeing into a fulfilling career? Become a Certified Health Coach! Learn more here.