The Case For Clutter: Why I Love Being A Maximalist In A Minimalist World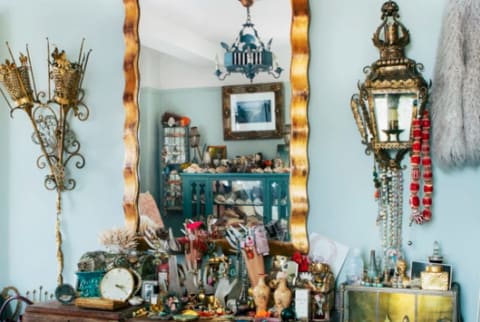 January 13, 2017
A few weeks ago, mindbodygreen shared skin care icon Linda Rodin's secrets for inside-out beauty. And once we peeked into the Rodin Olio Lusso founder's routine, we couldn't take our eyes off of her crowded, colorful, dazzlingly daring apartment. Here, Linda makes the case for maximalism and explains what makes her space so special.
I've been living in my Chelsea apartment for about 35 years, and I've always been a "more is more" type of person when it comes to décor. Maybe it's because of my mother—she was a stylish interior decorator who owned a charming, very tiny antiques shop. Growing up, I was always surrounded by beautiful objects that told their own unique stories mixed with her own indelible style. It was a very eclectic mix of everything.
Fast-forward to today, and every object I own holds a special meaning, whether it connects me to my memories or its beauty simply brings a smile to my face and a joy to my eyes.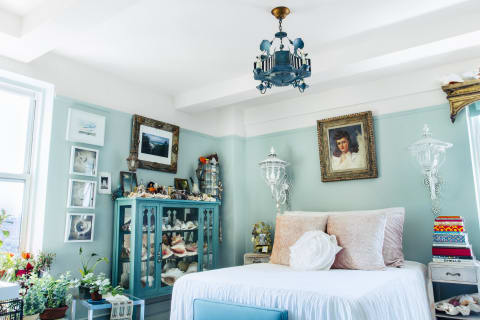 The ones with sentimental value—photographs taken by my late sister, the 1939 portrait of my mother when she was 20 years old hanging above my bed—all of these are the most special to me. The plants, trinkets, and furniture that compose my external landscape all come from my internal landscape. The outside reflects the inside. A wonderful example is my shell collection. When I look at these unique and wildly gorgeous mollusks, I can totally remember the beach I was on, the place I was staying at the time. I can smell the sea air and transport myself right back to those wondrous times.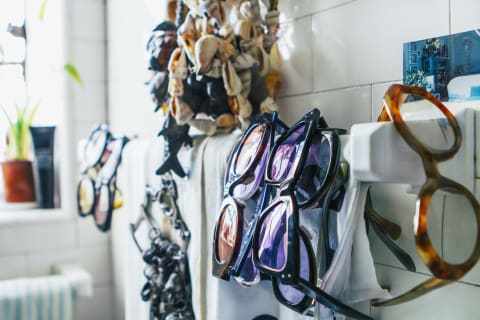 Minimalist interiors seem to be all the rage these days, but I don't see them as holding the same capacity for personal expression. I love having many things to look at that take me somewhere else. It's like traveling to me, yet I'm home with the memories of where I've been, who I was with, why that object appealed to me. It's the same feeling I get when I'm watching an old black-and-white film. I'm flooded with memories of wonderful times gone by. I'm sentimental and nostalgic. My home expresses my past and my present.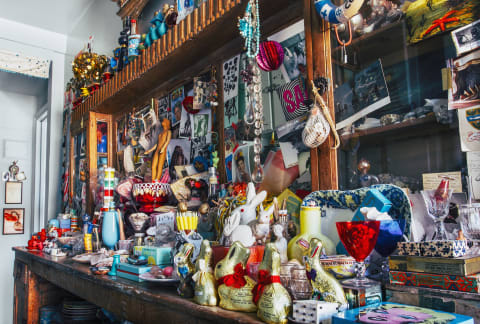 I'm a Pisces and my space speaks to this love of all things water. I have created an aquatic fantasy of sorts, and it's not minimalist in the least. My walls are painted a very pale turquoise, like the Caribbean Sea, and the floors are painted white. I feel as though I'm always by the ocean, and I'm surrounded by shells that I collect passionately. It's dotted with plants that speak to the progression of my green thumb (I had trouble keeping greenery alive until about two years ago when I suddenly got the hang of it). Now, I must have 50 plants that I nurture. I love my succulents and my orchids, and every green creature in between. It takes a lot of time, but I love every moment. I talk to my plants like old friends.
To anyone who has tried to live more minimally and found the paring-down process to be discouraging, know that it's fulfilling to live with beauty and memory. I've always found that surrounding myself with objects feels like an embrace, and this warmth translates when guests come over. It's like entering someone else's world. It's always interesting seeing friends' reactions to my little home.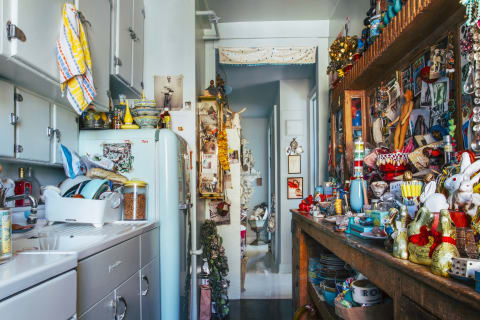 I remember one afternoon in particular, when a dear friend of mine, who is 95 years old and totally "gets it" and knows I'm a total homebody, came over to visit. She took one look at my apartment and said, "Ah! Now I understand why you never want to leave your home. You've got all of your best friends right here." And that's it in a nutshell. My friends are here and they give me joy and keep me company. With my doggy Winky by my side, home is clearly where my heart is.

Linda Rodin
In her sixties today, Linda Rodin is the model of spare elegance. She says of herself, "I really don't spend too much time getting ready! I like to be out the door in no time." It's this natural, devil-may-care brand of beauty that won her modeling jobs when she moved to Italy to study at age eighteen. That was in the Mod Sixties, when Rodin wowed all with her Twiggy eyelashes, over-the-knee boots, maxi coat, and five-inch skirt "That was more like a handkerchief."
Returning to New York in the Seventies, Rodin ran a successful boutique, perhaps one of the first "concept" stores in New York's Soho. She had stints as a stylist at Henri Bendel in the Gerri Stutz days, and then as a fashion editor at Harper's Bazaar. Eventually, she became a freelance stylist— acknowledged as one of the best in the business.
Rodin has dressed the most gorgeous and charismatic women in the world; from Laetitia Casta, Madonna and Halle Berry to supermodels Gisele Bundchen and Adriana Lima.
Despite access to ultra-exclusive skincare lines in this heady milieu, Rodin became disillusioned with their anti-aging claims and complicated regimens.
"What I longed for was something far simpler—products for the here-and-now, that caress the skin noticeably and without any delay. Nothing out there did quite that." So she brought her style smarts, her instinct for beauty, and her demand for perfection to the skincare arena. After experimenting with essential oils in her bathroom for nearly two years, Rodin put the finishing touches on her first dream elixir, the original RODIN olio lusso face oil, in 2007. (The name—which translates as luxury oil —is in honor of the easygoing Italian beauty that has long inspired Linda's own style). The models and makeup artists she worked with tried and loved it, and soon RODIN olio lusso was selling to a cult following at a few select stores. Magazine coverage and an international buzz followed.
As venues worldwide began selling RODIN olio lusso, customers began asking, is there more? Yes, the RODIN olio lusso collection is growing—each new item containing a similar, near-magical blend of essential oils, starting with a body oil, then a hair oil (a collaboration with renowned hair stylist Bob Recine), and most recently a lip balm, hand –body cream, perfume, scented candle and a facial cleansing powder launching June 2013.
In a New York Times profile of Linda, the design editor Jeffrey W. Miller, had this to say "About Linda, about any person with real style … they make you look at the world in a different way …. and rethink everything. They know how to create tension." And tension, he added, "is what creates beauty."