I Tried Craniosacral Therapy To Heal My Flaky Scalp: Here's What Happened

Contributing Wellness & Beauty Editor
By Lindsay Kellner
Contributing Wellness & Beauty Editor
Lindsay is a freelance writer and certified yoga instructor based in Brooklyn, NY. She holds a journalism and psychology degree from New York University. Kellner is the co-author of "The Spirit Almanac: A Modern Guide to Ancient Self Care," with mbg Sustainability Editor Emma Loewe.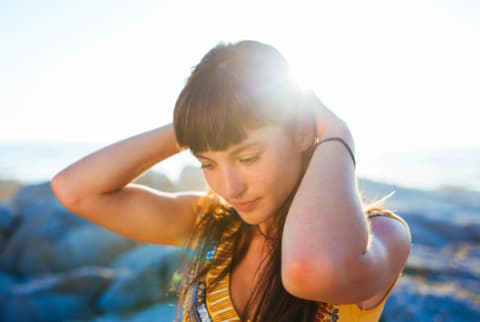 May 20, 2017
"I have to warn you, my scalp has this weird thing…" I started, probably a little prematurely. I was standing in a tiny West Village apartment, a temporary working space for Ramesh Narine, one of those under-the-radar healers you find out about from a well-connected friend. I was there to get craniosacral therapy, and I purposefully allowed myself one and only one quick Google search… "what is craniosacral therapy?"... before going to see him. Other than feeling exhausted, being a little under the weather, and my chronic scalp condition—nothing specific was bringing me to craniosacral therapy other than my burning curiosity.
After chatting a bit, I stood naturally, without any self-adjustments or alignment corrects, in front of Ramesh. He put his hand on my scalp with a firm but gentle downward pressure and proceeded to palpate the left back side of my body, mainly around my ribs. "Did you and do you have asthma?" he asked. Yep, spot on. I had breathing issues as a child and still take medication to manage my asthma today. This shit is no joke.
Advertisement
This ad is displayed using third party content and we do not control its accessibility features.
That part was quick. For the remainder of the session, I lay down on the bed, shut my eyes, and dropped into a deep state of not-quite-sleep rest. As in, I'm sure my mouth was hanging open, but I was still aware of ambient sounds and the treatment itself kept me awake.
It started off with a narrated body scan, simple enough. He cradled my head in his hands while his voice made each body part glow with awareness, from baby pinkie toe to the back of my heart space and through the crown of my skull. It was a little strange at first—almost like a meditation app come to life—but as soon as I fully surrendered, any weirdness dissolved completely. The only thing making it awkward was my aggressive mouth breathing, a lingering side effect of this spring's seasonal allergies.
After narrating each limb, extremity, every individual digit, and of course up and down the core, he went silent and we moved to myofascial release—one of my all-time favorite things. I'm an avid foam roller, love taking active recovery classes, and commit to a once-monthly massage with a miracle healer who's well-studied in fascia manipulation. I take my fascia-care very seriously! But this was different: somewhere between Reiki and massage. Ramesh focused on releasing any tissue holds and, as he would explain to me later, helping cerebrospinal fluid move through the system where it's gotten stuck. "Cerebrospinal fluid bathes the whole spine and cushions it," he said when I asked why this was important. His touch was firm: On a scale of one to ten, we were working with a five to eight. He used both hands, one to steady one part of the body while the other manipulated.
Presses started with the head, and he even strategically pulled my hair to relieve tension in the scalp. That was one of my favorite parts of the whole treatment—I'd later learn it was because I hold a lot of tension in my scalp. Next, he moved down my arms, focusing on the armpit area, then descended to the forearms, wrists, and hands. This was excellent because I spend most of my days hovering over a keyboard, fingers moving rapidly, and I could feel palpable tension release. I always underestimate how much my hands could use some TLC. Finally, the core work began. He used another, different but related technique called visceral manipulation, which is like a massage for your organs. One hand applied pressure from the back of my spine while another pressed on my sternum, stomach, and hip bones. The pressure from above was never directly down, it was more lateral (to the side) or toward my head or feet. I have to admit that organ massage was my least favorite part: Things felt a little tender, and even a light touch elicited a lot of digestive gurgles. Fun, right?
He closed the session with a few relaxing savasana-like shoulder adjustments. After the treatment, I felt like a lot of time had passed, and it had. One of the key things about craniosacral therapy I noticed was the pace: It's much slower than any other massage or Reiki experience I've had. Why? Because that's what the fascia requires to respond, Ramesh said. Fascia demonstrates "tensegrity" or tension and integrity, as it is a tension-structure that envelops our entire body. This also means that compression in one area of the fascia could translate to a blockage or hold in another. Meeting the fascia with slow, firm pulls helps the manipulation: Going in too aggressively without a proper warm-up could have an adverse effect, Ramesh said.
Ramesh suggested developing a nighttime routine: 10 minutes of diaphragmatic breathing in crocodile pose, which is lying down on the belly, propped with your elbows under your shoulders and head down. Of course, like any holistic treatment, it hasn't had an immediate effect on my scalp (and despite its name isn't designed to solve itchy, flaky scalps), but I'll keep you posted on whether 10 minutes a day of deep breathing is helpful. Ten minutes can make all the difference in the world, especially for New Yorkers. Indeed, it can.
Advertisement
This ad is displayed using third party content and we do not control its accessibility features.