I Never Used Clean Red Lipstick — Until I Found This Game-Changer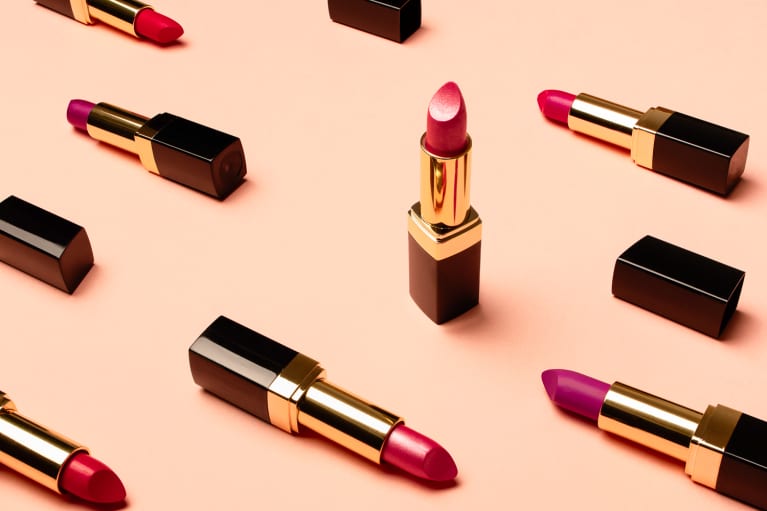 Our editors have independently chosen the products listed on this page. If you purchase something mentioned in this article, we may
earn a small commission
.
My default red lipstick has always been of the traditional variety—I thought that classic Hollywood reds were only perfected by the old-school and megawatt color brands. It was their wheelhouse, after all. And since I rarely wear lipstick, I figured it wasn't doing much damage since it's such limited exposure: It was only a dinner here or meeting there!
Or so I thought. While many natural and clean brands default to more natural hues or sheerer finishes, there are a few potent reds that level up to any occasion. Case in point: Kosas' Weightless Lip Color in Electra. It's a bright, lush cherry with a satin-shine finish. Upon application, it blankets the lips: It feels less like a lipstick and more like a lip mask. And the payoff is nothing short of va-va-vavoom. As for staying power, it sticks. No, not as long as a 24-hour liquid lipstick; yes, your coffee cup will still get that lip print. But it stays on in all the ways that count: It will not bleed into fine lines and creases, it won't transfer to teeth, and you're not going to be stuck pulling out a mini mirror all day to reapply.
And while I believe beauty can be just for your enjoyment only, I personally like to be seen when I'm wearing a red lip. Like a thick cat-eye liner or new haircut, it just demands to be seen. And when I wear Electra to work dinners or out with friends, it brings out the compliments. Upon walking into an event, the very first thing someone said to me—not "Hello!" or "How are you?"—was "What is this lip color?"
There are a few others that have come my way that I've come to adore. (See below.) Which has all made me realize: Traditional brands might have more options for bold lipsticks, but it's not an exclusive area to them.
A quick caveat: A true, pigmented red lipstick is either going to include carmine (making it not vegan-friendly) or synthetic dyes. At this point in color cosmetics, there are no natural dyes that deliver that potent, blazing red. I am personally not a vegan, nor do I shy away from safe synthetics. So I've tried all of the below and am a fan.
Also of note, these lipsticks are not matte, matte—or at least not the type of matte that dries down like car paint. At most, these have a demi-matte finish. Since these lipsticks have bases of oils and butters, there's going to be some hint of sheen. So if you want that flat finish, you might have to find another option.
Kosas Weightless Lip Color Lipstick
Made with jojoba and rosehip seed oils, and a hint of mango seed butter, this melts into skin, while providing a flash color, along with moisture, antioxidants, and omega fatty acids. Obviously, I'd recommend the red hue, but any of the bold options will make a capital-S statement.
Weightless Lip Color Lipstick in Electra, Kosas ($28)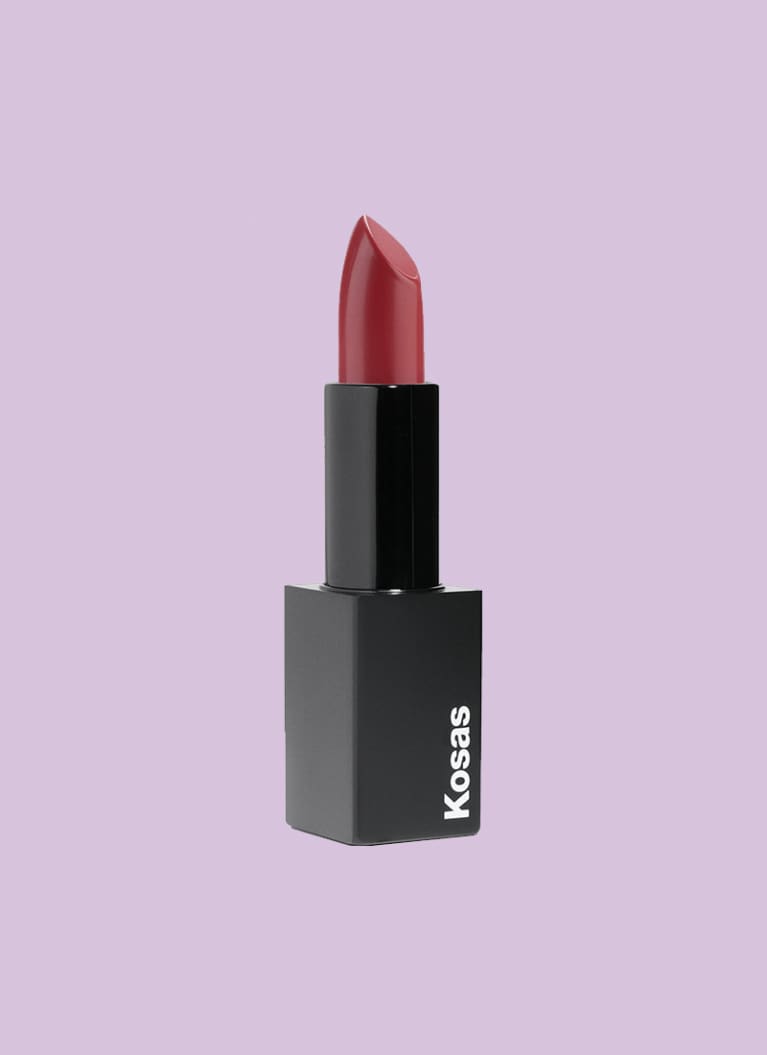 mindbodygreen
W3LL People Optimist Lipstick
A vibrant coral-red, this pops from the moment of application to late in the day. And if you fear orange or coral tones, fear not: This is pretty universally wearable. Also made with an oil and butter combo (this time: cupuacu butter and jojoba oil), this additionally contains soothing aloe. Optimist Lipstick in Brave, W3LL People ($16.99)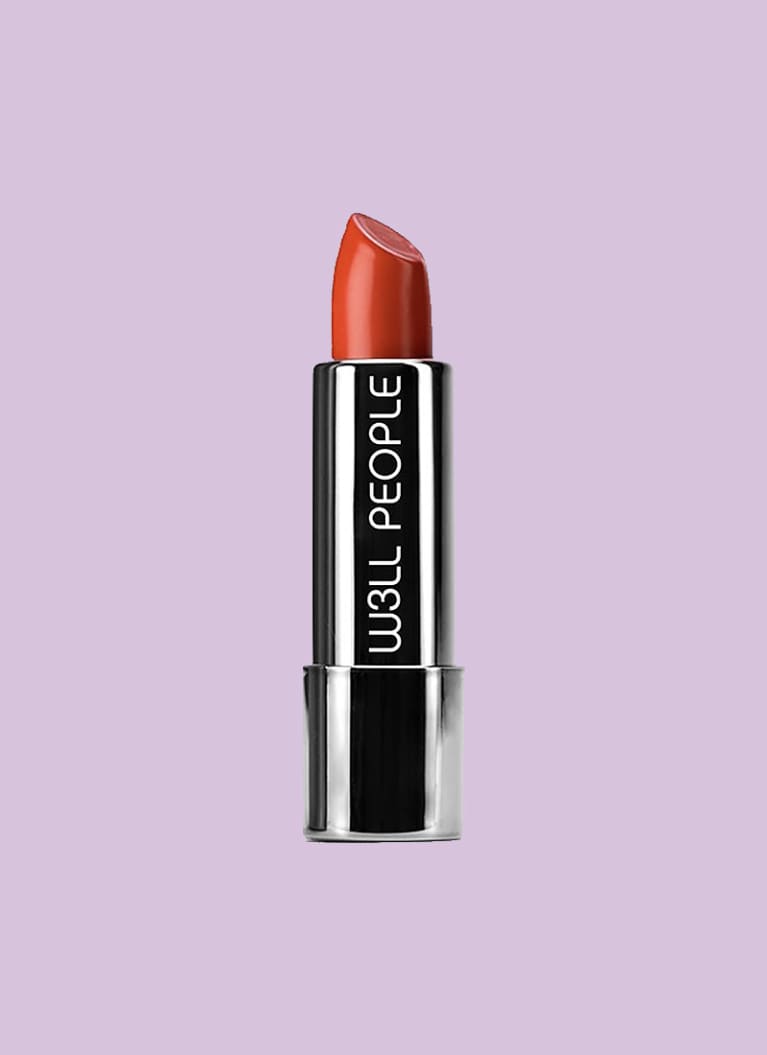 mindbodygreen
BeautyCounter Color Intense Lipstick
This is what I call a French Girl Red: It has neutral undertones and looks best with little more than a softly lined-and-mascara-rimmed eye. The cream sits plushly on lips with that soft-focus satin finish. Unbelievably wearable and unbelievably sultry at the same time. Color Intense Lipstick in Girls' Night, BeautyCounter ($34)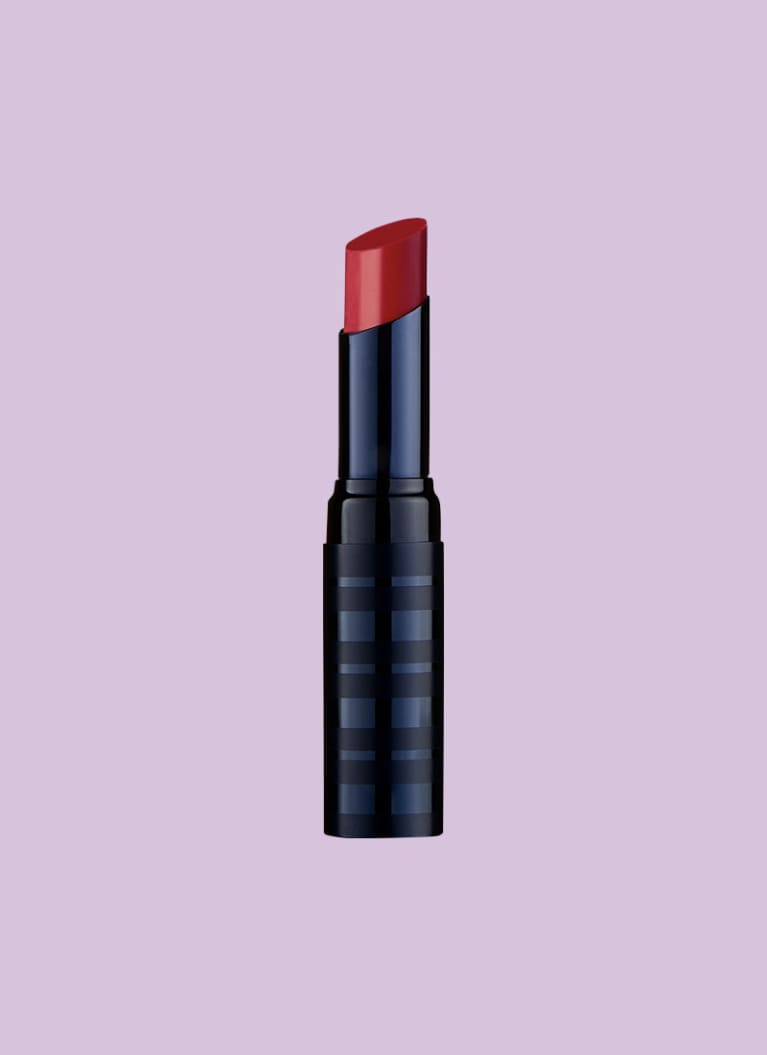 mindbodygreen
Vapour Beauty High Voltage Lipstick
This will be your closest to true matte option on the list (here's a makeup artist hack from the brand: If you want to make it even a bolder matte, apply one layer, pat your lips with a tissue, then reapply; lightly blot your second layer). This contains coconut oil and vitamin E, so it remains soft—not tacky. High Voltage Lipstick in Blaze, Vapour Beauty ($35)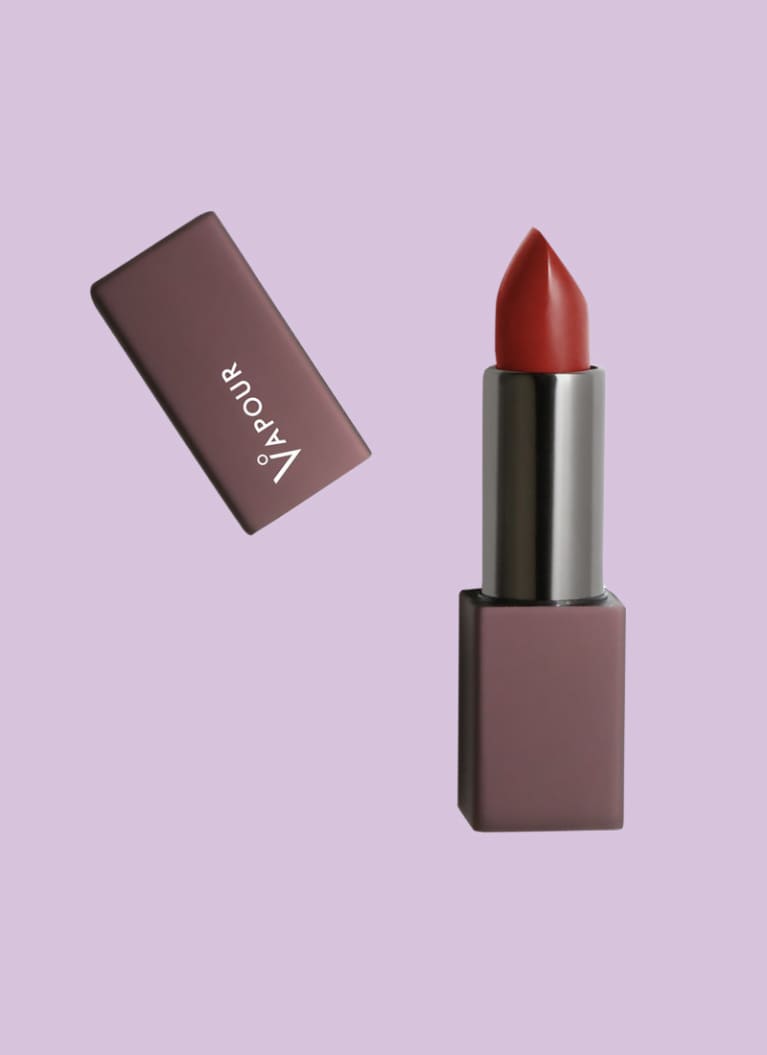 mindbodygreen
Clove + Hallow Lip Crème
This brand is known for two things: intense pigment color cosmetics (it's a proper makeup lovers' dream) and sticking to 15 ingredients or fewer. They're proof you can love a bold look without going overboard. This is made with natural and organic jojoba, castor, and sunflower oils.
Lip Crème in Damsel, Clove + Hallow ($23)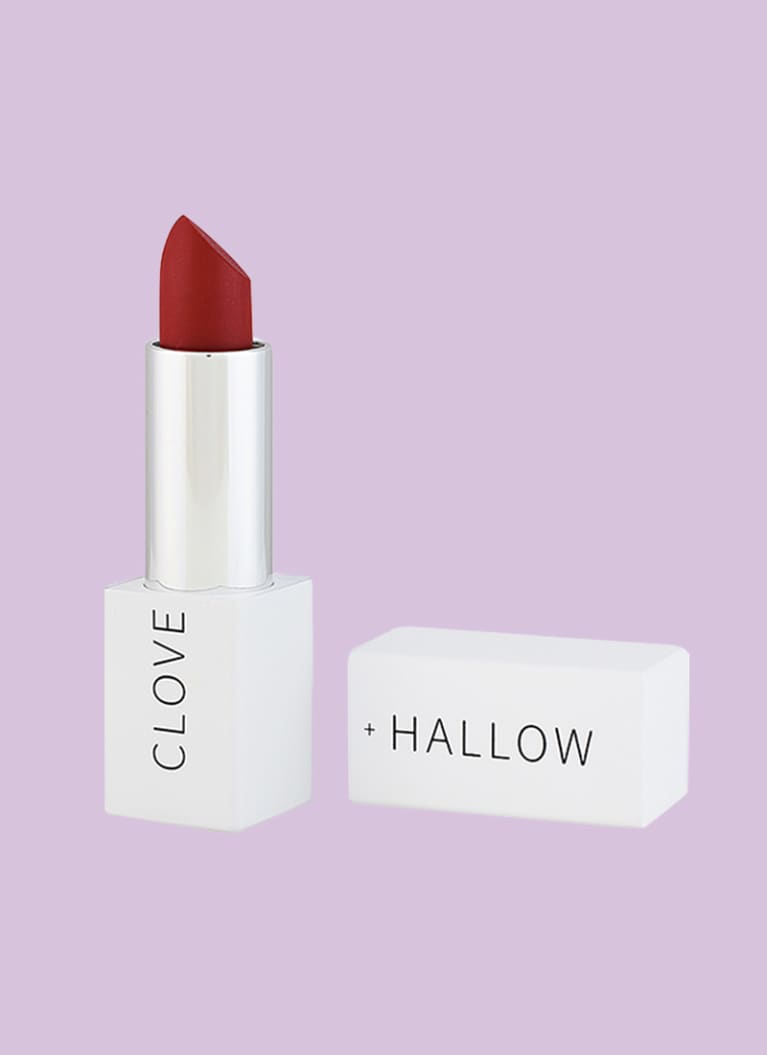 mindbodygreen