I Have Lupus: This Is What Living My Best Life Looks Like
Dana Jackson looks like the picture of health: Her skin is clear, she's active and in amazing shape and is almost always is photographed outdoors, living and loving life. Have a cursory glance at her skin care company, beneath your mask (BYM), and you might assume she's been this way forever. And you'd be wrong. Jackson is living with lupus, and even though she's almost symptom-free now, she was in critical condition only a few years ago. BYM was part of the healing process.
Complications with long-term medication for her skin lead to lupus symptoms.
"Before my diagnosis, I thought I was healthy!" Jackson said enthusiastically at the Indie Beauty Expo in New York City, where they were voted "Most Notable Newcomer" and "Cleanest and Greenest." The brand, a happy by-product of Jackon's lupus diagnosis, was exhibiting for the second time.
She'd had cystic acne since high school and her dermatologist suggested antibiotics to fix it. The problem? Taking the medication lead to the symptoms—joints locking, eyes swelling shut, rashes—that prompted her dermatologist to recommend I take an ANA (anti-nuclear antibody) test.
"If I could have managed my stress, the lupus may have never manifested."
She also endured debilitating migraines about once a month—headaches, dizziness, and sensitivity to light, which are classic migraine characteristics, are all symptoms of lupus. She was still eating processed food, including ample sugar and alcohol, and working a high-stress career in entertainment in Atlanta.
"If I could have managed my stress, the lupus may have never manifested," she said, citing one of the reasons she's grateful for her diagnosis. Lupus can go undetected for years. In fact, it's often called the "imitation disease" because symptoms are diverse and mimic other diseases.
When the "go-go-go" lifestyle takes a physical toll.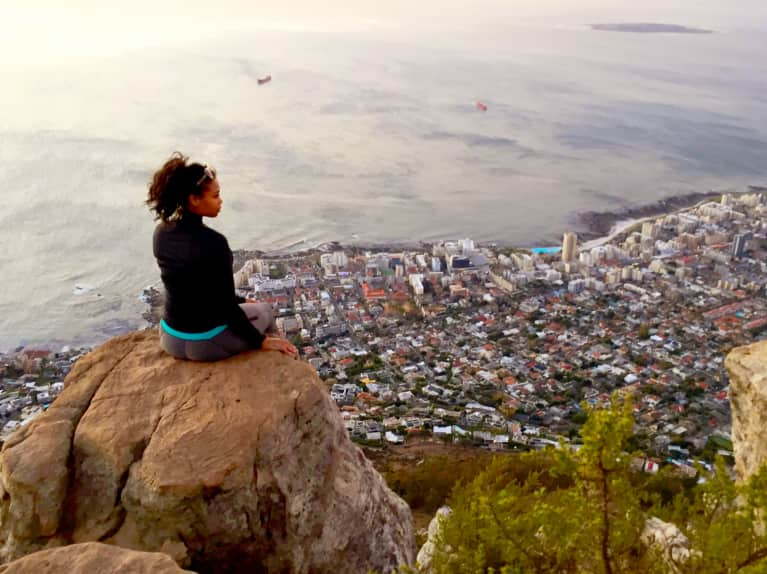 Eventually, Jackson did an anti-nuclear antibody (ANA) test, and the results came back positive If this test comes back positive, it means antibodies are attacking healthy proteins and further testing is needed to confirm autoimmune status, including lupus. This promptly launched her into a state of denial. Her symptoms were more than just problematic skin, headaches and stress—she'd have to act.
"I locked myself into my apartment. I wouldn't answer the phone or talk to anyone. It was the only thing I could do."
At first, she stayed home and threw herself into work—which she now realizes probably exacerbated the issue. A good friend urged her to see a holistic doctor who was well-versed in traditional Chinese medicine. Jackson obliged to an herbal regimen and agreed to travel to L.A. for an in-person visit with a rheumatologist in L.A. and her holistic doctor's husband.
As soon as she arrived, the rheumatologist sent her to an emergency treatment center because her kidneys were failing. "The doctors were treating me like a done deal," Jackson said and giving her weeks to live. In a short time, she gained 100 pounds of water weight because her kidneys weren't processing correctly, which was stretching her skin and causing major hair loss. After finally coming to terms with the severity of her condition, and accepting that she needed both the Eastern and Western Medicine (which included Chinese herbs, vitamin supplements, a strict vegan diet, chemotherapy, steroids and a lot of mental and spiritual work), her health began to turn-around. Once she was stable enough, she knew she needed to return to Chicago to see her family. "I didn't know what was going to happen with me," she said. "I wanted time with my family."
Of course, everything happens for a reason. Enter: beneath your mask.
"It all needed to happen. I'm a stubborn person, so this was His way of getting my attention," Jackson said, referring to God. While she continued to work in the entertainment industry, she stopped centering her life around her career and moved back to Chicago to spend time with her family. After getting treatment, she also changed her diet, skin care regimen, and lifestyle, and eventually her symptoms started to improve. "To this day, when I'm stressed, I can see it in my labs," she said.
"Healing is a process: First it's physical, before the mental and spiritual elements come into play."
After paying close attention to her diet and supplements, she realized that her skin care needed a green overhaul too. "Before this, I never ever treated my skin like an organ," she said. She experienced severe itching, burning, and pain from the stretching and tightness of the skin, but she wanted a cleaner skincare option. Jackson, a self-proclaimed product junkie, started doing diligence on healing, potent, and natural ingredients and "just wasn't satisfied with what I was finding."
Seeking to heal her stretch marks, rashes, and all-around irritated skin, she started experimenting with formulas in her kitchen. Eventually, she landed on her current best-seller, the heal whipped skin souffle, a decadent combination of shea, avocado, jojoba, and almond oils, as well as essential oils for scent, in her own kitchen. In addition to the skin souffle, beneath your mask includes a hair and skin oil, body oil, and a body scrub.
She "would give it as gifts to friends, co-workers, and clients at the time," and people kept demanding more, she said. She never intended to start a natural skincare company, but her true purpose began to come through. When her former employer was acquired in 2014, she was at a crossroads of continuing in the entertainment field or pursuing her passion. She took this as a sign to solely focus on herself and her health for 6 months. "Healing is a process: First it's physical, before the mental and spiritual elements come into play," she said.
Owning her own skincare company allowed her to work at her own pace, prioritize healing, and help others do the same. That's how beneath your mask got its name—releasing her fear-based habits, letting go of who and what she felt like she was supposed to be, and embracing true purpose allowed Jackson to reveal what was beneath her mask. She hopes to inspire others to do the same.
Here's the routine that helped her heal.
To this day, she is free from lupus symptoms and hasn't had a flare up since 2012. She swears by a clean diet first and foremost. She starts the day off with an anti-inflammatory tonic, burdock root, turmeric root, a splash of apple cider vinegar, oil of oregano, lemon, and cayenne pepper. "I can really feel the difference when I don't have it," Jackson said, citing benefits in her skin as well as her digestion.
Breakfast is usually a smoothie made with pea protein, veggies, and greens. During the day, she loves eating food from the Korean food market and often drinks from a fresh coconut every day, a habit she picked up while getting chemo in L.A.—the coconut water helped with nausea. She cooks vegan dinners at home, but when she goes out she'll indulge in high-quality fish.
She loves doing yoga and Pilates to keep stress at bay and to feel strong. And of course, she uses her own line of natural products to keep her hair, skin, and her spirit, feeling good. "I am grateful for the fact that I can take my own pain and help others heal," she said.
Here's how Dr. Sarah Villafranco healed her skin from perioral dermatitis, and the routine a French beauty guru swears by for bright, happy skin.