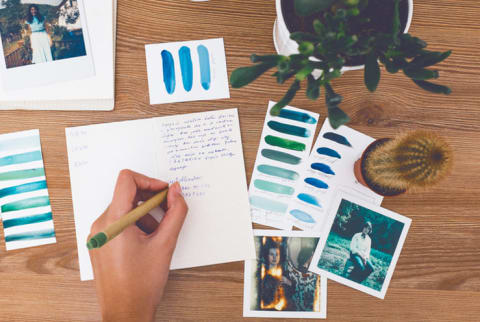 February 2, 2016
Advertisement
This ad is displayed using third party content and we do not control its accessibility features.
Those of us who grew up in the pre-Internet age can probably recall putting a pen to paper and writing someone a love letter. Maybe it was a childhood crush or a high-school sweetheart. Either way, a love letter was a beautiful way to express your emotions and display gratitude that a text message or email can't quite capture.
Sadly, letter writing appears to be a dying art. But I think there's something important and special about writing a love letter today.
And I recently learned there are actually some important health benefits to writing them too. So in honor of Valentine's Day this month, here's what you should know about the surprising wellness aspect to love letters:
We've known for a while that gratitude and kindness can reduce social anxiety, improve our relationships and lower stress hormones. But I recently came across this report about love-infused letter writing, which also revealed:
Engaging in joyful activities such as love may activate areas in the brain responsible for emotion, attention, motivation, and memory.
The nervous system pattern in the brain exerts protective effects throughout the body, including on the brain itself.
Pleasurable experiences may reduce stress by promoting an inhibitory tone in specific areas of the brain.
Love and pleasure stimulate health, well-being, and (re)productivity!
But even more surprising was my discovery that "affectionate writing" can even lower cholesterol levels, too!
So I'd like to challenge you to write love letters to the people in your life: on pretty paper, in ink. Letter writing — even just a thank you note — won't take much of your time, but it will have an enormous impact on the person receiving it.
Choose five people in your life to whom you'd like to express love, appreciation, and gratitude. Write one love letter or note a day for five days, then drop them in the mail or hand-deliver them. Your letters will not only be an amazing and unexpected treasure for the recipients — they'll provide both you and them with wonderful health benefits.
Advertisement
This ad is displayed using third party content and we do not control its accessibility features.
Meghan Telpner
Toronto based author and nutritionist Meghan Telpner, brings her healthy and awesome life inspiration to fans across the globe. As founder of the Academy of Culinary Nutrition and author of the bestselling UnDiet: Eat You Way to Vibrant Health and The UnDiet Cookbook, she is fast creating a revolution in health and wellbeing. Inspiration is waiting at MeghanTelpner.com and follow her daily #UndietLife adventures @meghantelpner