Use Sulfate-Free Shampoo? Here's The One Thing You Need To Know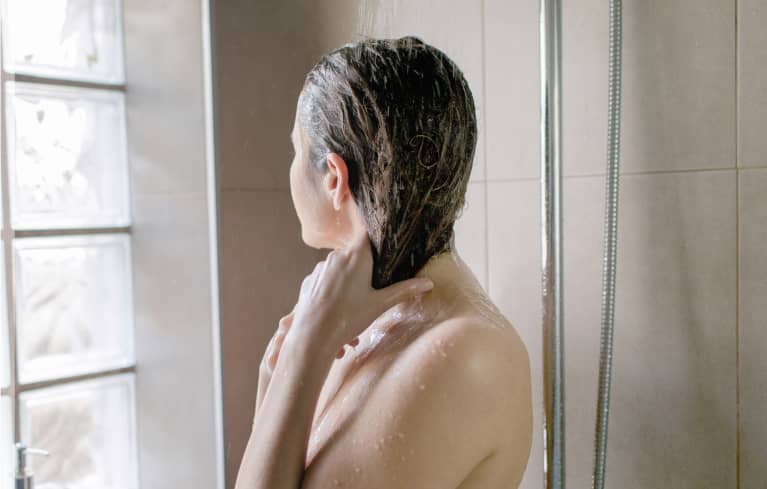 Our editors have independently chosen the products listed on this page. If you purchase something mentioned in this article, we may
earn a small commission
.
One of the biggest complaints I get from my friends and fellow sulfate-free shampoo users is they miss the lather of traditional shampoos. I get it: A satisfyingly sudsy shower is simply a different hair-washing experience. And even if it's just in your head, building a lather makes you feel cleaner (even if sulfate-free shampoos do the job just as well, sans the damage).
Well, according to hair colorist Sharon Dorram, that might be because you are doing it wrong. Here's how most people apply shampoo: Squirt a bit into your hand, immediately start running it through the hair and scalp, scrub around until you feel little bubbles forming, and then rinse.
With sulfate-free shampoos, you're missing one key step: You need to pre-lather the product in your palms before applying it to the scalp.
"The shampoo needs to be emulsified first in your hands with a bit of spray from the shower," she says. "You'll notice it lathers almost immediately and definitely activates the shampoo much better than directly applying the shampoo to the hair."
I heard this tip from Dorram a few months ago, and tried it on my very next hair wash. Let me tell you: It. Works. After depositing Virtue Recovery Shampoo (my go-to) in my cupped palm, I let a bit of water splash onto it. Then I built up a subtle lather—it almost feels like a creamy whipped mousse—by rubbing my palms together several times. Only then did I start working it into my scalp.
"It won't be as much as a traditional shampoo, but by activating it in your hands before you apply it to the scalp, you'll get something a bit more," she says. And she's right. You're never going to get a full-blown bubble situation. But, in my opinion, this method feels even better—sensorily and because you're not putting harmful ingredients on your hair.